The post-pandemic world has transformed our work habits and the landscape of conducting business. Organizations now take the hybrid approach to work, wherein employees may work from an office, while travelling, or from a remote location.
This fundamental shift has accelerated the pace of cloud adoption, as the cloud makes data access possible from anyplace, anytime.
But the cloud brings with it a set of complexities that must be managed. Most companies today adopt the multi-cloud model to enjoy pricing benefits and redundancy. This necessitates a compatible communication system to establish connection with their cloud service providers.
Ways to establish connection with your CSPs
While thinking about establishing communication between your network (WAN) and the CSP, it is important to consider these factors:
Latency
Security
Consistency in connection (jitter, packet loss)
When you connect over a public internet network, you may face issues such as latency, packet loss, or jitter, as these connections are influenced by various factors, making them unreliable for remote work. Further, public Wi-Fi does not offer the level of security that your organization requires.
Private channels
This is why it's important to establish connections over private, virtual channels, which offer a reliable, consistent, and secure connection.
Depending on your organization's requirements and scale, you may use one or more CSPs, which will determine the type of communication channel.
If you have opted to use only one CSP such as Microsoft Azure or AWS, then you can establish a direct connection.
Using a direct connection, your organization establishes communication with the cloud provider over a private link network. The link connects you and the cloud service.
The other type of connection is via cloud exchange providers. These exchange providers are third-party vendors who act as a platform for communication.
The cloud exchange provider you choose must also support the CSP you want to communicate with. For example, Equinix is a prominent cloud exchange provider that support major CSPs such including Microsoft Azure and AWS.
You can access the exchange provider's services via a web browser, select the cloud provider, and then easily establish the connection.
This type of communication is a one-to-many connection, unlike the direct connection, which falls under the one-to-one category.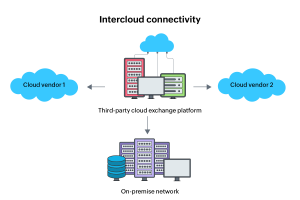 Data exchange between cloud services
Companies generally go for the multi-cloud or hybrid cloud approach, as it gives them the flexibility to choose the best vendor for each functionality. For example, you may choose vendor A for your CRM and vendor B for mail services.
If you have a hybrid network, you may run a few workloads from the cloud and still depend on the on-premises network for other functions, like routing and provisioning infrastructure computing resources.
Communication challenges in a hybrid or multi-cloud network
Interoperability helps you resolve the following common challenges and makes collaboration between multiple cloud platforms possible.
Most of the apps running in a multi-cloud environment operate in siloes because of lack of a common interface and APIs.
The base technology stack of each cloud vendor varies, and that makes inter-communication difficult.
What is interoperability?
Interoperability, in general, means the ability of two entities to communicate in a language that is understandable to each other.
Cloud interoperability is the ability of two cloud ecosystems to communicate and exchange information in a way that is understandable to each other.
Why is interoperability important?
Imagine purchasing IaaS from a cloud vendor who is competent in delivering seamless computing services, and then purchasing a cloud-based container solution from another cloud vendor to develop applications faster.
To develop applications using the container platform, you need the CPU and memory resources provisioned by the IaaS vendor, and this means both the cloud ecosystems must work closely with each other.
So, if you have more than one cloud platform, you need a common set of processes and an integration platform such as a standard API or interface that would enable seamless data exchange between the two cloud platforms.
Cloud interoperability helps you achieve this.
Migrating applications between interoperable clouds platforms
The cloud gives you an added advantage in terms of agility, speed of operations, and enhanced decision making.
In order to achieve high-quality performance in a multi-cloud environment, you need to choose the best vendor for any given facet of your operations (e.g., mail, ticket desk, CRM).
It is wise to choose vendor platforms that are interoperable. Many leading cloud vendors have forged partnerships to enable mutual customers to enjoy the best of both clouds.
This will give customers more flexibility. For example, you can depend on one platform for database needs, and run all mission-critical workloads and applications from the other platform.
When you opt for cloud solutions that are in partnership, you can:
Migrate workloads between solutions easily.
Enjoy a common identify management system like SSO.
Migrate apps without rearchitecting or changing basic configurations.
Experience excellent after-purchase support.
These benefits can give you an advantage and effectively improve time to market and drive innovation.
Complete your cloud strategy by instituting a robust monitoring mechanism
Businesses of all sizes, especially small and midsize businesses (SMBs) and mid-size enterprises, have adopted the cloud model. Even though many companies do not have a complete cloud model, they usually still have cloud as a part of their network. This has given rise to the hybrid network model, a combination of cloud and the on-premise network.
There can be multiple cloud vendors within your hybrid ecosystem, so a vendor-agnostic cloud monitoring platform is essential to track performance issues. This will help you report the issues to the corresponding cloud vendor as soon as you discover them.
OpManager Plus is a full-stack IT infrastructure monitoring tool that empowers you to monitor all layers of your IT and cloud services deployed in various platforms, like AWS, Azure, and Office 365, from a unified console.
So, it doesn't matter if you follow a multi-cloud approach or depend on a single in-house data center hosted private cloud platform—OpManager Plus has got you covered.
Interested in trying OpManager Plus? Check out our 30-day, free trial or request a personalized demo with a product expert.