Quik Pick Express, a California-based trucking company, provides a variety of services, including container drayage, warehousing services, container shipping, transloading, and much more. The company services seven locations in the state of California, with its IT infrastructure network being critical for its business. After a thorough evaluation, Quik Pick Express' IT team chose OpManager, an all-inclusive network monitoring solution, to monitor its business-critical IT infrastructure network.


Read the complete case study.
Quik Pick Express' network
Quik Pick Express services different locations in North and South California, operating from a central data center. The company's IT infrastructure network is distributed with 400 devices, 45 servers, and a central data center. The company's business-critical IT network elements require constant monitoring to ensure that operations are running smoothly.
Solution: OpManager
Quik Pick Express chose ManageEngine OpManager as its network monitoring solution. The IT staff started using OpManager to address troubleshooting and network downtime issues and were able to achieve minimal downtime, reduce effort dedicated to troubleshooting, and improve network performance. Kirk Woloshyn, network engineer at Quik Pick Express, says OpManager's scalability, functionality, affordability, user-friendly UI, and easy installation process were some of the most compelling factors that convinced his team to choose OpManager.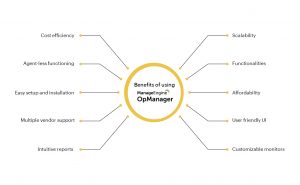 Find the complete case study here.
About OpManager
ManageEngine OpManager is a network management platform that helps enterprises, service providers, and SMEs efficiently and cost-effectively manage their data centers and IT infrastructure. Automated workflows, intelligent alerting engines, configurable discovery rules, and extendable templates enable IT teams to set up a 24/7 monitoring system within hours of installation. Do-it-yourself add-ons extend the scope of management to include network change and configuration management; IP address management; and monitoring of networks, applications, databases, and virtualization. For more information about OpManager, visit manageengine.com/opmanager.