The ITIC 2020 Global Server Hardware, Server OS Reliability Report released in April found that reliability declined in 67 percent of servers over four years old when corporations failed to retrofit or upgrade the hardware to accommodate increased workloads. This highlights the pressing need for hardware monitor solutions and the need for immediate alerting mechanisms to ensure the longest possible lifespan for hardware.
Why hardware monitors are crucial to enterprise networks
When IT decision makers effectively manage power supply units, it not only reduces the organization's carbon footprint, helping with green initiatives, but it also improves data center efficiency and increases the lifespan of servers and other IT equipment.
Which hardware monitors are most important to enterprise networks?
A hardware monitor enables fetching and representing data from different sensors to monitor hardware properties. These hardware properties usually define the health, condition, availability, and performance of the hardware along with the network the hardware is part of. In simple terms, hardware monitors can tell you about the wellbeing of your devices.
Hardware monitoring software typically use hardware monitors to measure critical metrics. Most commonly measured hardware monitors are temperature sensors, fan speeds, power supply units (PSUs), batteries, motherboards, CPUs, memory units, disks, etc.
A hardware performance monitor should be able to measure:
 Fans
 Processors
 Power
 Temperature
 Voltage
 Battery
 Memory
 Storage
 Disk array data
Partition details
Just like we don't use all home appliances of the same brand, networks don't always have hardware made by the same vendor. This is why multi-vendor and vendor-agnostic hardware monitors are crucial for network hardware monitoring.
A remote hardware monitor is a must if your IT environment is distributed across different locations, as you need to make sure that you can remotely monitor your hardware devices.
The hardware monitoring tool needs to support distributed network hardware monitoring right from your server or network operations center (NOC).
OpManager:A comprehensive server hardware monitoring tool
ManageEngine OpManager has dedicated hardware monitors for HP, Dell, and Supermicro servers; Cisco; and Juniper devices.
Monitoring power supply units with OpManager
Knowing about power fluctuations can help with avoiding possible outages caused by device failures. Power supply to hardware components such as voltage and current can be monitored and measured by OpManager. PSU redundancies are monitored to prevent device failure or short circuits.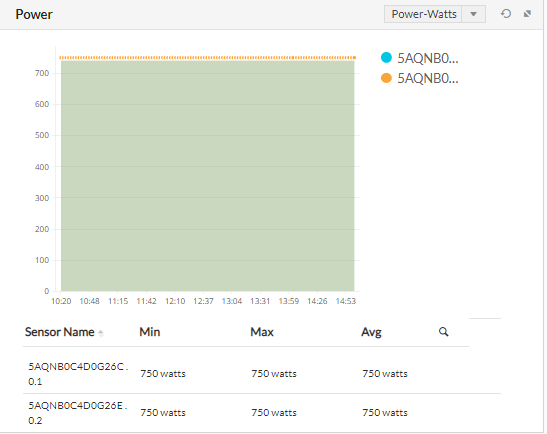 Monitoring fan speed with OpManager
OpManager can monitor the fan status of A10 Networks Load Balancer and WAN Accelerator via SNMP, measure Cisco UCS fan speed and exhaust temperature, and measure CPU fan speed for F5 Network load balancers using SNMP.
For IBM servers, fan speed in the form of Tachometer readings can also be fetched by OpManager using SNMP protocol.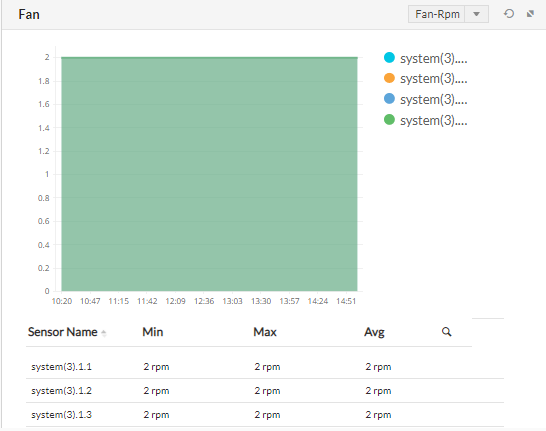 Monitoring CPU temperature with OpManager
Apart from monitoring the power supply and fan speed, monitoring CPU temperature is vital, because it has a direct impact on your network device's performance. The CPU temperature variation directly affects both the power supply and fan speed, directly impacting the server's performance.
OpManager monitors CPU temperature, displaying all available temperature data from your network devices. It shows data for fan speed, memory utilization, clock speed of the processor(s), and other chassis-related info.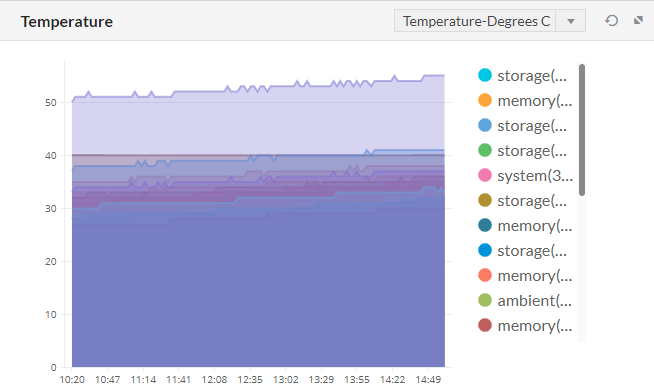 Hardware alarm suppression offered by OpManager
Sometimes, network admins remove or unplug power cards during maintenance or downtime, during which alarms may flood the network monitoring solution UI. To avoid this, OpManager offers a hardware alarm suppression feature. To Suppress Hardware Monitoring Alarms for a particular device in OpManager, alarm status and suppression actions can be configured.
Is OpManager the best hardware monitor for your IT infrastructure needs?
OpManager tracks the health, availability, and uptime of all devices on the network. It also monitors the temperature, fan speed, power supply, and more. OpManager goes the extra mile by monitoring hardware such as CPU, memory, and disks. These are critical resources that power services and monitoring metrics such as utilization, speed, idle time, I/O reads and writes, free space, and processor queue.
 OpManager uses SNMP to monitor hardware metrics and KPIs of HP, Cisco, Juniper, Checkpoint, and Nexus network devices; Dell servers; and VMware VIJava API for VMware ESX(i) servers.
With OpManager's notification and alerting profiles and mechanisms and extensive hardware health reports, you won't need to worry about unexpected hardware failures causing downtime. Moreover, with Slack, ServiceNow, ManageEngine ServiceDesk Plus, pre-integrated in OpManager, IT monitoring is a cakewalk.
Learn more about what OpManager for your hardware monitoring needs. Schedule your free demo, or get a 30-day free trial now!