Networks are growing more complex by the day and to monitor them effectively, organizations need to invest in technical know-how, expensive tools, and costly operations. To avoid the overheads of cost, effort, and time, and to ensure constant availability of networks, more and more organizations are turning to managed service providers (MSPs) to manage their network. In fact, the global market for MSPs has been steadily growing and is expected to cross $300 million in the next few years.
The result of this growth is that MSPs have to increasingly focus on ensuring high availability of their monitoring systems, train technicians on the latest technologies, improve their operational efficiency, be more agile, and more. All growth comes at a cost, and for MSPs, the increase in business prospects comes with a huge challenge: offering a proactive multi-client monitoring environment in which every customer is offered a consistent, seamless, and proactive network monitoring experience.
Challenges in multi-customer network monitoring
The goal of an MSP is to ensure continued operation of client networks. Let's take a look at the challenges faced by MSPs.
Client network visibility: Discover and monitor devices in client's network.
Remote troubleshooting: Perform network troubleshooting regardless of client location.
Automatic fault remediation: Automate basic tasks like L1 fault resolution.
Visualizing and segregating network performance data by clients.
Customization: Create custom monitoring solutions specific to the client's requirements.
Scalability: Scale services without sacrificing on functionality.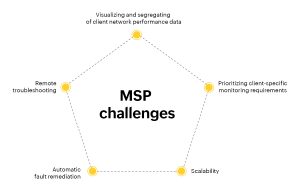 Client network visibility challenges
With the growth in the number of clients, it becomes increasingly difficult to have in-depth visibility into all the client networks simultaneously. Total visibility into multi-client network environments helps eliminate network blind spots. When coupled with real-time network monitoring, multi-client network visibility enables MSPs to quickly understand the status of all the IT infrastructure devices in their client networks.
Remote troubleshooting challenges
A more complicated challenge than consistent remote monitoring is remote fault management. The MSP's ultimate goal is to ensure strict compliance to client service-level agreements (SLAs) and make sure any fault proactively identified in a client's device is resolved before it causes any serious issues, irrespective of whether the client device is remote or not. Neglecting remote MSP client fault management can lead to client networks running into serious downtime and may even lose the MSP customers.
Automatic fault remediation challenges
Manually performing monotonous, repetitive tasks for multi-client networks is not only tedious and time-consuming, but it introduces human error to the equation. Automating tasks like basic fault management activities will help MSPs avoid wasting costly human resources and eliminate human error.
Visualizing and segregating client network performance data
As MSPs grow, their operations become more complex. With more parameters to be monitored for an increased client base, network admins have to not only rethink their multi-client management strategies, but also ensure they have a clear perspective of individual client ecosystems. Mixing up of data that belongs to different clients can lead to disastrous consequences for both clients and MSPs.
Prioritizing client-specific monitoring requirements
As the demand for network monitoring services continues to skyrocket, MSPs are now tasked with the challenge of ensuring consistent network performance across multiple client segments. Every client network is unique and to monitor them, custom monitoring requirements specific to each client network need to be configured.
This requires careful analysis of the individual client networks including the devices and interfaces present in them. MSPs also need to identify the ideal performance monitors, which will vary based on the client, and apply it to the respective devices to achieve maximum network performance.
Scalability challenges
Scalability is the primary concern of an MSP, since monitoring an increasingly large number of client networks simultaneously is no easy feat. The scalability of an MSPs services largely depends on the capabilities of the network monitoring tool they're using. When scaling in size, MSPs should ensure that quality of service should not take a hit. MSPs need a tool that can help them monitor multiple client networks simultaneously without overwhelming them with an endless barrage of alert messages and updates.
How do MSPs resolve these challenges?
Join us for a free webinar on March 10th where we'll be discussing how to build a cost-effective, functional network management strategy.
In this webinar, you'll learn about:
Centralized monitoring of all your client networks.
Troubleshooting issues across remote locations.
Gaining enhanced visibility into clients' networks.
Deploying secondary servers for uninterrupted services.
Automating IT tasks to save time and effort.
What is OpManager MSP?
OpManager MSP is a remote monitoring and management tool that provides out-of-the-box, ready-to-use systems monitoring features for MSPs. It helps MSPs manage multi-client networks proactively without compromising on the quality of monitoring and by ensuring strict compliance to client SLAs. You can learn more about what OpManager MSP can do by trying it free for 30 days.