E-commerce continues to be a game changer in the retail industry. But the change isn't always for the better. Along with its promise of enormous growth and competitive advantage, e-commerce poses scores of security issues, including poorly managed, third-party vendor access that leave retailers vulnerable to  data theft and other criminal hacks.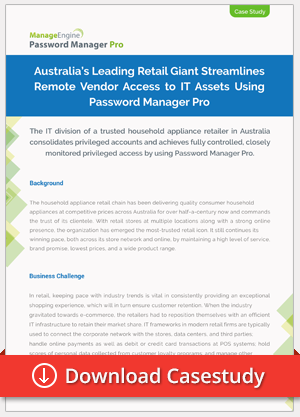 When that access risk was made obvious to a leading retail giant in Australia, the company stepped up its security controls by replacing its existing password management tool with Password Manager Pro. With ManageEngine's privileged access management solution in place, the retailer has secured its privileged accounts and established strong controls to manage both remote vendor and internal access. 
Read the full story of the retailer's security overhaul here.
Anusha
Password Manager Pro – Quick Video | Free Trial Download | White Papers | Success Stories