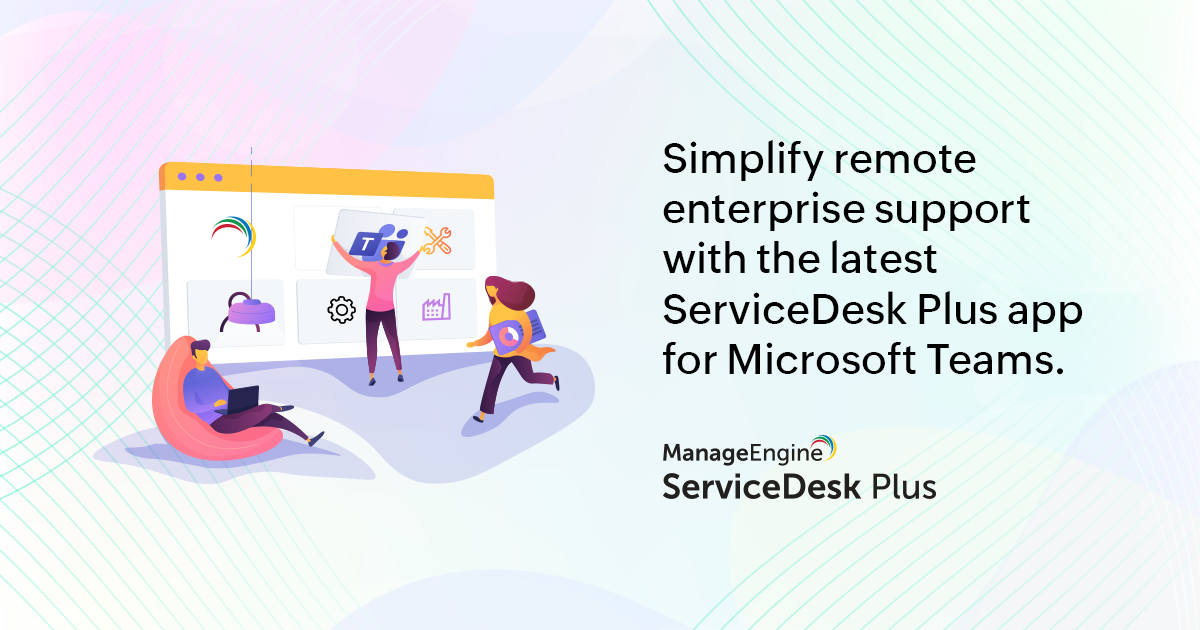 2020 has seen a surge in the number of organizations embracing remote work to adapt to the new normal, leading to increased reliance on digital collaborative workspaces like Microsoft Teams. As organizations migrate critical business processes to such digital workspaces, IT service management teams need to leverage these platforms as channels for delivering IT and enterprise support.
ServiceDesk Plus, with its tight integration with Microsoft Teams, helps organizations achieve this by taking the service desk into Microsoft Teams and bridges the gap between end users and service delivery teams.
What's new?
On the heels of the successful reception of the ServiceDesk Plus Cloud app for Microsoft Teams, we're delighted to bring you a host of new updates this fall. This second iteration adds several capabilities within Microsoft Teams, helping deliver a native service desk experience for end users while empowering technicians to manage their tasks better. The ServiceDesk Plus app for Microsoft Teams now features a redesigned tab interface based on the all-new minimalist, user-centric UI of ServiceDesk Plus Cloud.
A single-window service desk within Teams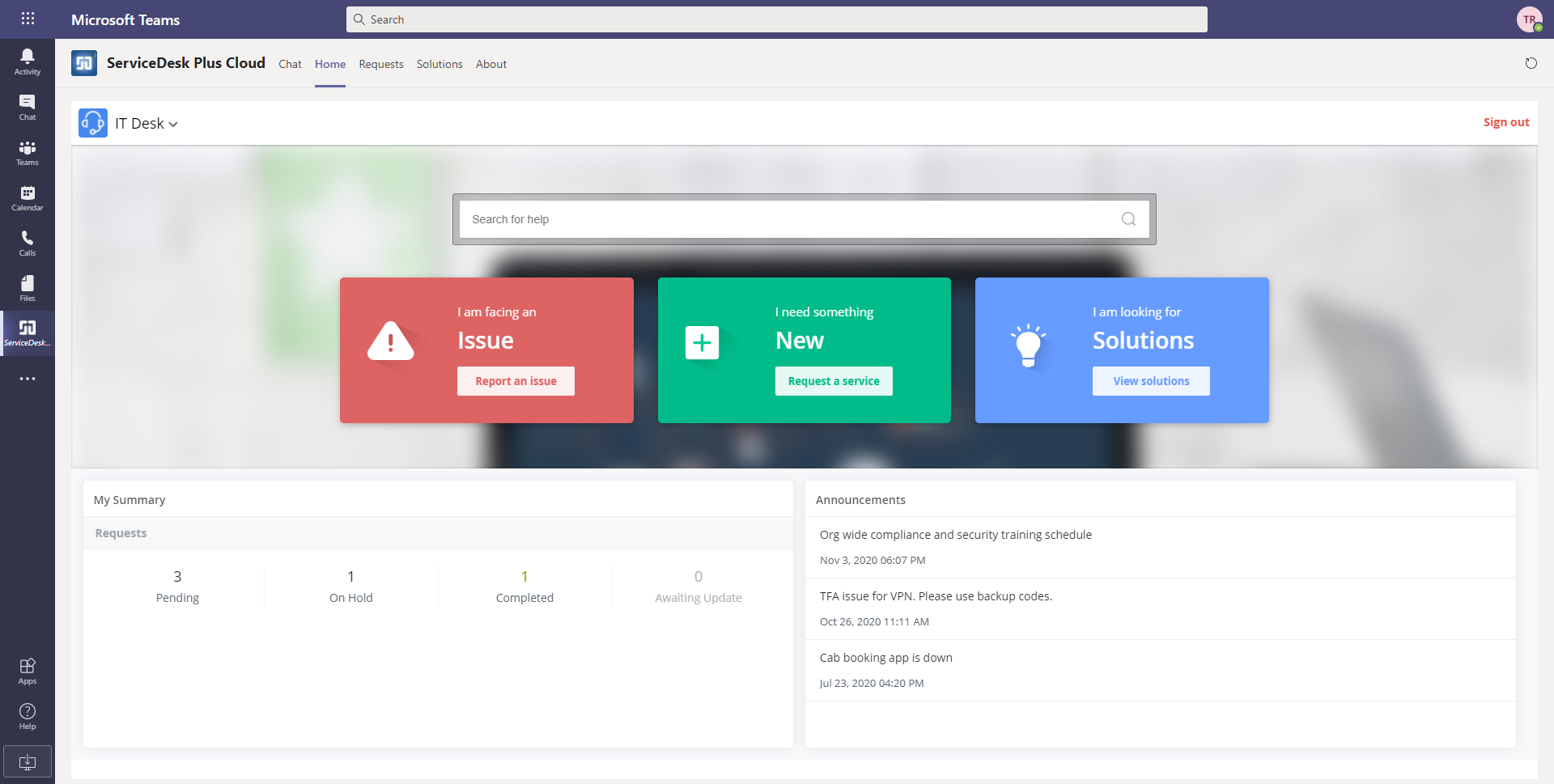 Expanding the scope of ticket management in the Microsoft Teams chatbot, the ServiceDesk Plus Cloud app features a redesigned interface that adds the self-service portal, solutions, and request tabs to the chatbot. From reporting an incident and requesting a new service to browsing the knowledge base for solutions, users can perform a host of activities right from within the chatbot interface, cutting down turnaround times while guaranteeing easy access.
Seamless service delivery with enhanced ESM capabilities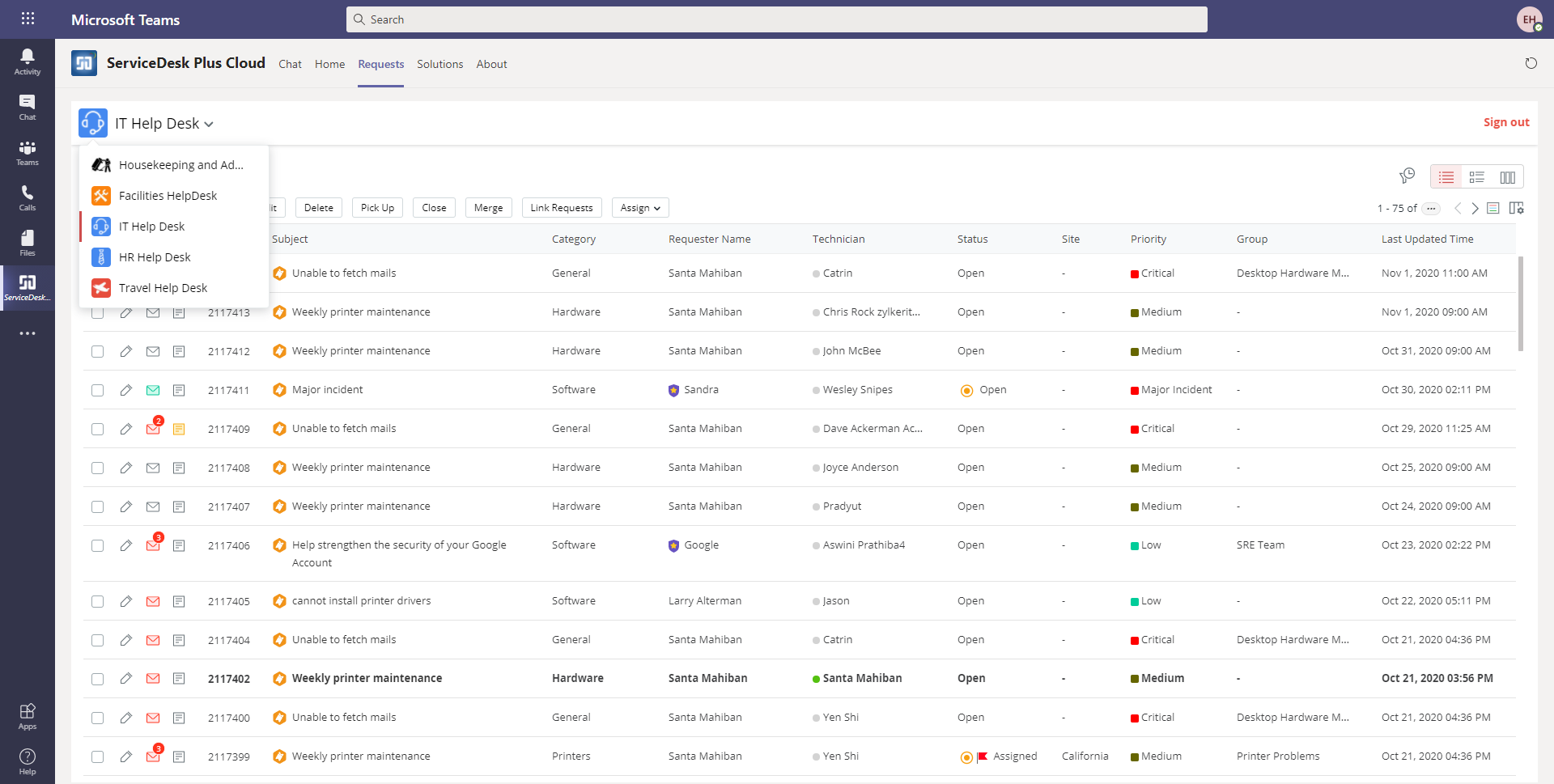 Organizations can now make it easier for end users to access the service desks of multiple departments, like facilities, HR, and legal, to log tickets and request services. End users can report an incident or request a new service from different departments quickly with the ability to navigate between service desk instances in a single click instead of opening up multiple tabs.
Elevated productivity for service desk teams
The ServiceDesk Plus app adds an expansive set of functions within Microsoft Teams to maximize the efficiency of service desk teams operating in digital workspaces. Technicians can now provide quicker resolutions to tickets while staying on top of the tasks at hand by accessing the knowledge base and the list of assigned tasks within Microsoft Teams.
Check out the new enhancements in the ServiceDesk Plus Cloud app here.
We've already started working on bringing more exciting new capabilities to the app to help your organization bridge the gap between service desk teams and end users.
Have suggestions? Leave a comment below or write to the ServiceDesk Plus team at hello@servicedeskplus.com.