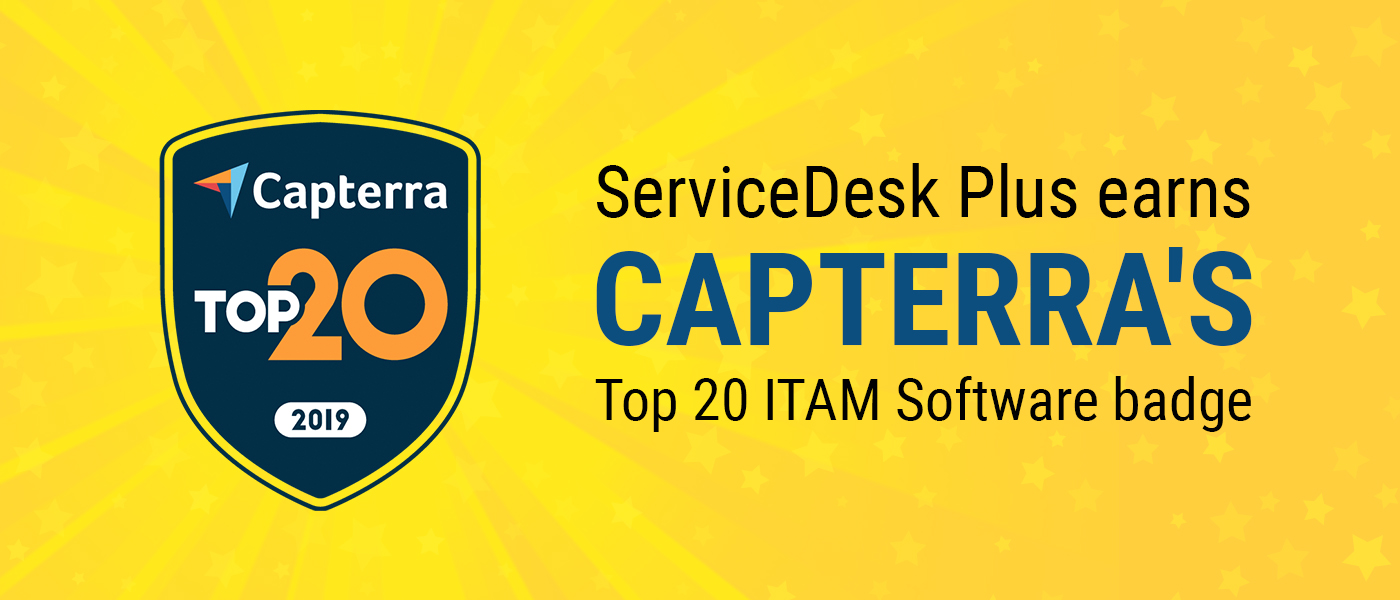 ServiceDesk Plus' latest recognition comes from Gartner's Capterra, which has awarded ServiceDesk Plus a position in its Top 20 IT Asset Management Software report. This recognition affirms ServiceDesk Plus' commitment to providing all that a business needs as a full-fledged IT service desk tool with a robust built-in IT asset management (ITAM) module.
 Capterra offers free online services to help business owners choose software based on validated user reviews and independent research across hundreds of software categories. The Top 20 IT Asset Management Software list by Capterra helps business owners analyze various ITAM solutions available in the market and judge whether a particular product can meet their organization's needs.
 The ranking showcases the leading ITAM software based on two metrics: overall user rating and search volume. With more than 450 reviews—where reviewers rate ServiceDesk Plus based on criteria such as features, functionality, customer support, and value—potential customers can gain valuable insight into how existing users of ServiceDesk Plus feel about the product.
 ServiceDesk Plus' ITAM module  
ManageEngine understands the ITAM needs of service desk teams. Our ITSM software, ServiceDesk Plus, comes with a built-in ITAM module that allows businesses to securely track and control all their hardware and software assets; this means service desk teams don't have to switch between multiple tools to carry out their ITAM tasks.
 With ServiceDesk Plus' integrated purchase order and contract management system, users can rest assured that all their organization's assets are managed from the day of purchase until end of life (EOL). ServiceDesk Plus enables admins to scan IT assets, maintain audit history with proper reporting, manage software licenses, and ensure compliance. It also offers enterprise-wide asset visibility, and gives service desk teams control over both IT and non-IT assets. The ITAM module in ServiceDesk Plus supports and complements other ITSM processes such as incident management, problem management, and change management.
 Some of the other ITAM capabilities of ServiceDesk Plus include supplier management, inventory management, license management, cost tracking, and compliance tracking. As one customer put it, "ServiceDesk is a great tool to manage the tickets you are working on, as well as keep track of all the assets within your company. This provides a great audit trail for all of the work that we do. Overall, my experience with ServiceDesk Plus has been great, and I would recommend it to any other company I work for."
 ServiceDesk Plus has been placed among the top help desk and ITSM solutions in multiple rankings issued by Gartner companies. The recognitions keep coming as more businesses benefit from our solutions. Read more about Capterra's Top 20 IT Asset Management Software report.
 Visit our website to learn more about ServiceDesk Plus' ITAM capabilities, or download a free trial of ServiceDesk Plus.