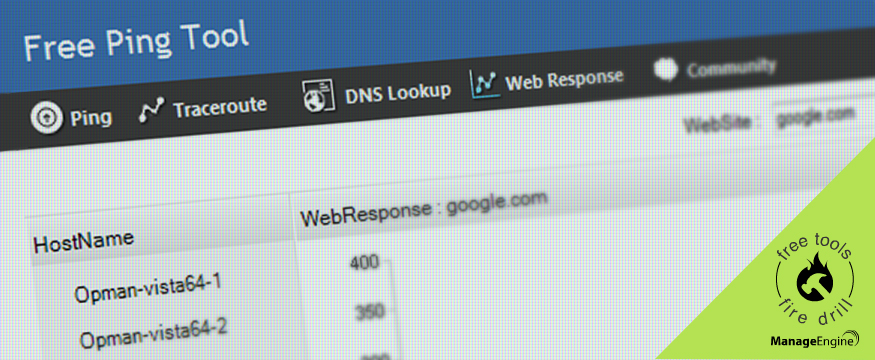 A ping tool such as the ManageEngine Free Ping Tool helps you monitor network connections, devices, and websites. Our tool uses the Internet Control Message Protocol (ICMP) to reach computers and network devices and, in turn, verify whether IP addresses exist and can accept web requests. The mobile version of our ping tool lets you ping computers and devices while you're on the move. Now, let's see the four major advantages of using the ManageEngine ping tool.
Ensures availability
The ManageEngine Free Ping Tool lets you monitor network devices and track their round trip time, time-to-live (TTL), and the number of packets received. This data provides you vital information about any device's availability. The color code alerts in the tool ensures that the server status is available to you at a glance.
Monitors websites closely
The ManageEngine ping tool helps monitor the web response time. It measures the response time, redirection time, and TCP connection time of any website. Using this data, you can estimate the time required for the website to load and then optimize the website for better performance. In addition, the tool fetches the details about the website's DNS records.
Solves network path issues using traceroute
The ManageEngine Free Ping Tool uses the traceroute utility to track the network path from the source to host. You can acquire details about the round trip time and how many hops the data packets took to reach the host. Using these details, you'll be able to decipher accurately why any latency occurred.
Monitors on the move
With our free iPhone ping tool, you can monitor network devices and websites while on the move. You can also scan for open ports and view the SSL certificate details of any website.
Download the ManageEngine Free Ping Tool here and the ManageEngine Free iPhone Ping Tool here and start monitoring your network today. Happy pinging!