Efficient capacity management involves  proper planning and execution. To plan effectively, you must first acquire an in-depth understanding of the available disk space in the host system. Deploying applications is not difficult. However, knowing which drive  has adequate space to accommodate your new application is quite a challenge. Not if you have ManageEngine's Free Disk Monitor Lite. This tool helps you drill down the required information and understand the disk usage status on servers such as Hyper-V, Windows, and VMware.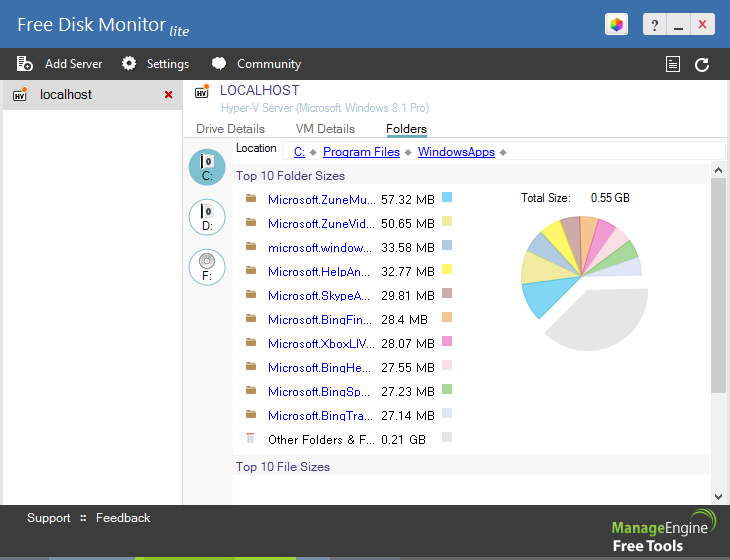 Monitor disk space utilization
Using Disk Monitor Lite, you can analyze the capacity breakdown of the disk space, such as used and unused space. This information helps in deploying Windows applications or monitoring load distribution.
With Disk Monitor Lite, you can gain insight on:
Average disk read and write rate so that you can analyze the disk performance and execute flawless operations.
Files and folders available in each disk, along with granular details such as name and size of the local hosts.
Such insight helps you prioritize you tasks, such as cleaning  or rearranging the folders and files in your drive. In addition, Disk Monitor Lite allows you to track disk space utilization and proactively manage the space before it affects the device performance.
Using this free tool, you can perform the following tasks:
Configure auto-refresh cycles so that you can view the most recent update and set thresholds to stop disk space violations.
Report disk performance so that valid records are available for audit.
Update the team about disk status by sharing the reports.
For more information about this free tool, click here