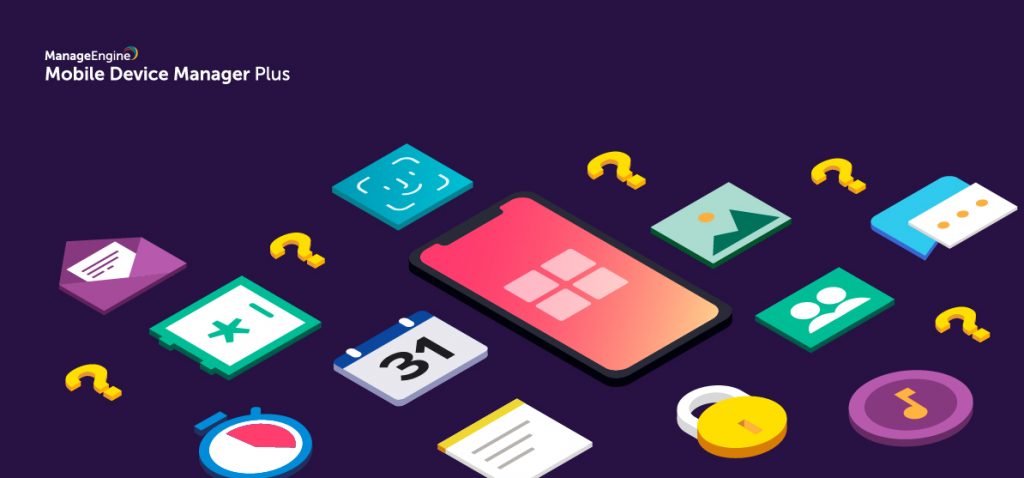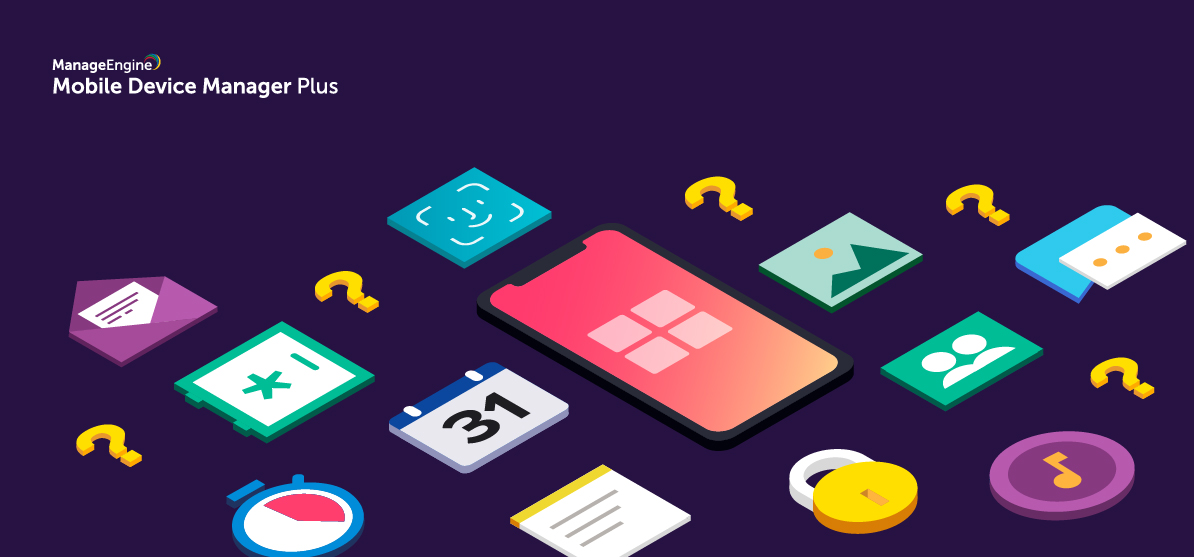 According to the recently released Verizon Mobile Security Index 2019, 69 percent of respondents said that the risks associated with mobile devices have grown in the past year. Organizations are now working double time to secure their mobile devices and the data present on them. Whether it's a personal or corporate application, securing data on devices begins with managing the apps available on them.
What is mobile application management?
Mobile application management (MAM) is a term that refers to managing the complete life cycle of apps, including installing, updating, and uninstalling apps from devices. Along with managing a device throughout its life cycle, MAM also includes securing the data accessed by the apps, and removing malicious apps when found on devices.
Why is mobile app management essential for organizations?
With mobile devices taking center stage in organizations, app management can no longer be sidelined. Most organizations that are growing to be mobile-first either provide mobile devices to their employees, or allow them to access corporate data from their personal devices.
Organizations that provide devices to users must ensure these devices are equipped with the required apps and accounts to access corporate data. They also need to determine the level of freedom users can have on these devices—whether or not they can install personal apps, whether or not they can access their personal email accounts from these devices, and more. Considerations like these make MAM a necessity in organizations.
Bring your own device (BYOD) policies are becoming more common and are estimated to reach a market value of almost $367 billion by 2022, according to research by Global Market Insights, Inc. But simply managing corporate apps on devices isn't sufficient, since personal apps installed on BYOD endpoints are an additional data breach risk for organizations. A review of 250 popular Android apps by NowSecure determined that 70 percent of those apps leaked users' personal information. This problem gets more complicated because devices with malicious apps might also contain corporate data; in such cases, just managing corporate data is not sufficient, and it's equally essential to containerize the data and prevent personal apps from accessing it.
How to manage apps in organizations
Organizations looking to manage apps in bulk can choose a standalone MAM solution, or opt for an enterprise mobility management (EMM) solution with both mobile device management (MDM) and MAM capabilities, along with additional capabilities to manage content and secure email on devices.
A standalone MAM solution utilizes the management capabilities the developer built into their app using app wrapping or software development kit (SDK) tools. While standalone MAM solutions give organizations the opportunity to manage only the apps on a device instead of the complete device, they have the following disadvantages:
Not all apps can be managed using a standalone MAM tool. MAM solutions can only manage apps that inherently include management capabilities, or those that have the developer's consent to modify their apps.
Apps managed by standalone MAM solutions take longer to develop since they need to be wrapped or have an SDK incorporated. This could cause problems every time the app is updated, since the wrapping or SDK will also need to be updated.
Since the app management framework is proprietary to the standalone MAM solution, if the organization decides to move to a different MAM tool, each app will have to be modified to be compatible with the new solution.
As the number of mobile devices in the workforce grows, IT admins prefer a single solution to handle their device management and app management needs. For this reason, most standalone MAM solutions have evolved into EMM solutions by incorporating MDM capabilities.
An EMM solution has built-in capabilities that help differentiate personal and corporate apps on devices. Organizations adopting an EMM solution can choose to manage only the corporate apps on the devices, or manage both personal and corporate apps. Plus, they can manage any type of app without making changes to the app, whether it's store-bought or developed in-house. However, the device needs to be enrolled in the EMM solution.
The final decision to make when deciding to use a standalone MAM solution or an EMM solution depends on the type of apps to be managed, the type of management capabilities required, and whether devices are owned by the organization or employees.
How to pick an EMM solution for mobile app management
If you're looking for an EMM solution to manage apps in your organization, you need to ensure it fulfills the following criteria:
Manages the entire life cycle of apps: The EMM solution should not only handle the installation of apps, but also update them when required and remove them when a user leaves the organization. Most EMM solutions now support installation, updates, and uninstallation without user intervention; they've achieved this by integrating with portals like Apple Business Manager, Managed Google Play, and Windows Business Store. 

Manages permissions and configurations: Most of us have noticed that apps request a list of permissions once they're installed. Some of these permissions are essential for the app to function on the device, while others are only required to enhance the user experience. Your organization can decide which permissions to grant based on the app's functionality.

Apps available by default on devices, like email clients, require additional information before they can be used. This information generally includes server and port details, which might not be known to all the users in your organization. EMM solutions can distribute these configuration details to devices when an app is installed so it's ready to use immediately.

Manages multiple versions of apps: In addition to installing corporate apps from app stores, many organizations develop their own apps, called enterprise or in-house apps. These apps are managed and tested by the organization. EMM solutions ease the testing process for these apps by allowing your organization to distribute multiple versions of the apps to different devices and, upon successful testing, mark and distribute the required version to the production environment.
Prevents installation or uninstallation of apps: Depending on whether employees are using apps on corporate devices or devices they own, your organization must have an option to prevent users from installing apps on corporate devices and prevent the uninstallation of corporate apps from personal devices.
Blacklists apps: Apps are the easiest target for hackers to access data on mobile devices. To ensure that corporate data available on mobile devices is secure, an EMM solution allows your organization to detect and remove malicious apps from devices.
Locks down devices to specific apps: With organizations using mobile devices for a single purpose, like point of sale (POS), it's important to ensure users cannot misuse these devices. EMM solutions have an option to lock down either a single app or a group of apps, thereby restricting other device functionalities and settings.
Leverages containerization: Containerization plays a crucial role in securing data in a BYOD environment. When managing apps, EMM solutions can differentiate between personal and corporate apps, allowing admins to create a virtual container on devices and prevent data from being shared between containers.
Secures app access: Since users can access corporate data from anywhere using mobile devices, it's important that organizations ensure the data is accessed securely only from approved devices. An EMM solution allows your organization to mandate the use of VPN for corporate apps, and configure single sign-on (SSO) to enable users to sign in to multiple apps with a single logon.
Why Mobile Device Manager Plus is the solution for you
ManageEngine's enterprise mobility management solution, Mobile Device Manager Plus, simplifies app management for organizations by allowing admins to install, uninstall, and update apps without any user intervention. It also takes mobile app security one step further with support for app blacklisting, containerization, and Google Play Protect, helping enterprises detect and remove malicious apps from devices.
Additionally, Mobile Device Manager Plus provides the following benefits:
Support for multiple operating systems: Mobile Device Manager Plus allows admins to manage apps for iOS, Android, and Windows mobile devices, along with apps for macOS and Chrome OS.
Varying deployment methods: Mobile Device Manager Plus is available in both on-premises and cloud editions. A standalone product for MSPs is also available.
Flexible pricing models: Mobile Device Manager Plus is free for up to 25 devices. For managing more than 25 devices, you can choose between a monthly, annual, or perpetual billing cycle.
Try a free, 30-day trial of Mobile Device Manager Plus, and make your IT admin's life a whole lot easier.