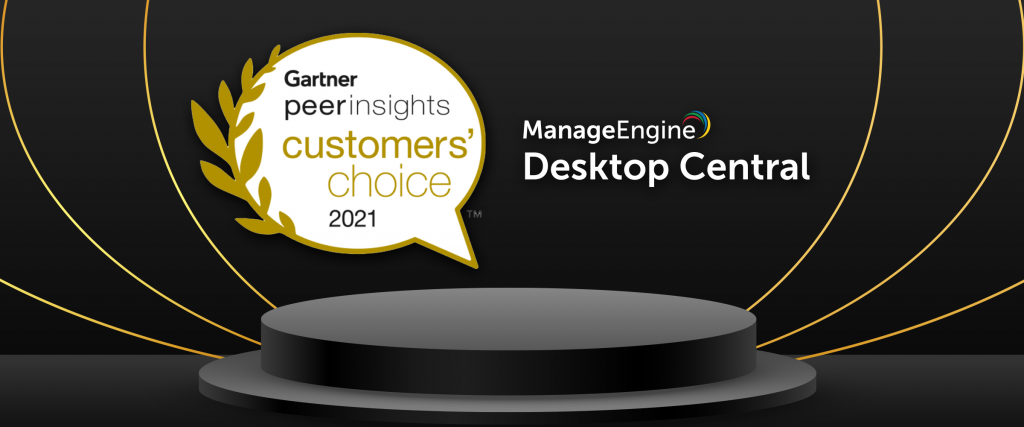 At ManageEngine, customer satisfaction is not just a promise, but also a driving force behind everything we do. From resolving bugs to delivering a seamless experience, we always look forward to hearing what our users think about our solutions.
That's why we're delighted to announce that ManageEngine Desktop Central has been recognized as a Gartner Peer Insights Customers' Choice for Unified Endpoint Management Tools.
To all of our customers who reviewed us, we want to say thank you! We'll continue to listen for your feedback and polish our product to serve you better. We look forward to building on this recognition.
What is UEM?
According to Gartner, unified endpoint management (UEM) tools manage multiple endpoints from a single console. With a UEM solution, you can:
Configure, manage, and monitor iOS, Android, Windows 10, and macOS, and manage some Internet of Things (IoT) and wearable endpoints.

Apply configurations, management profiles, device compliance, and data protection.

Provide a single view of multi-device users, enhancing the efficacy of end-user support and gathering detailed workplace analytics.
Act as a coordination point to orchestrate the activities of related endpoint technologies such as identity services and security infrastructure.
About Gartner Peer Insights
Gartner Peer Insights is a free peer review and ratings platform designed for enterprise software and services decision makers. All reviews go through a strict validation and moderation process in an effort to ensure they are authentic. Gartner Peer Insights Customers' Choice distinctions recognize vendors and products that are highly rated by their customers.
As of February 25, 2021, Desktop Central is one of only four vendors to be named a Customers' Choice with an overall rating of 4.5 out of 5 in UEM based on 113 reviews.
Take a look at what some of our customers had to say about Desktop Central:
"Ease of use, deployment and excellent customer support." Full review
— Role: Cyber Security Officer | Industry: Miscellaneous
"Desktop Central has worked in our environment exceptionally well. We are able to troubleshoot desktop problems, install programs/patches, keep inventory in check, [and] remove and prevent unauthorized applications." Full review
— Role: Chief Engineer | Industry: Electrical
"Seamless to work with Desktop Central and always online. Good tool to have and use. No downtime and always available support." Full review
— Role: CEO | Industry: Services
"A Great UEM Tool. Vendor provides a good product at a fair price compared to some others. Support is decent and fairly quick right from the console." Full review
— Role: CTO | Industry: Healthcare
"We've been using Desktop Central for a couple of months now and we are very pleased with the product! We needed a software to deploy patches, do the asset management and software deployment to replace SCCM." Full review
— Role: Infrastructure and Operations Manager | Industry: Energy and Utilities
Check out more peer reviews of ManageEngine Desktop Central on Gartner. If you have an interesting story to share on how ManageEngine solutions simplified the way you handle IT, write us a review. Your opinions matter and can help us improve our solution.
Customers' Choice disclaimer
Gartner Peer Insights Customers' Choice constitute the subjective opinions of individual end-user reviews, ratings, and data applied against a documented methodology; they neither represent the views of, nor constitute an endorsement by, Gartner or its affiliates.