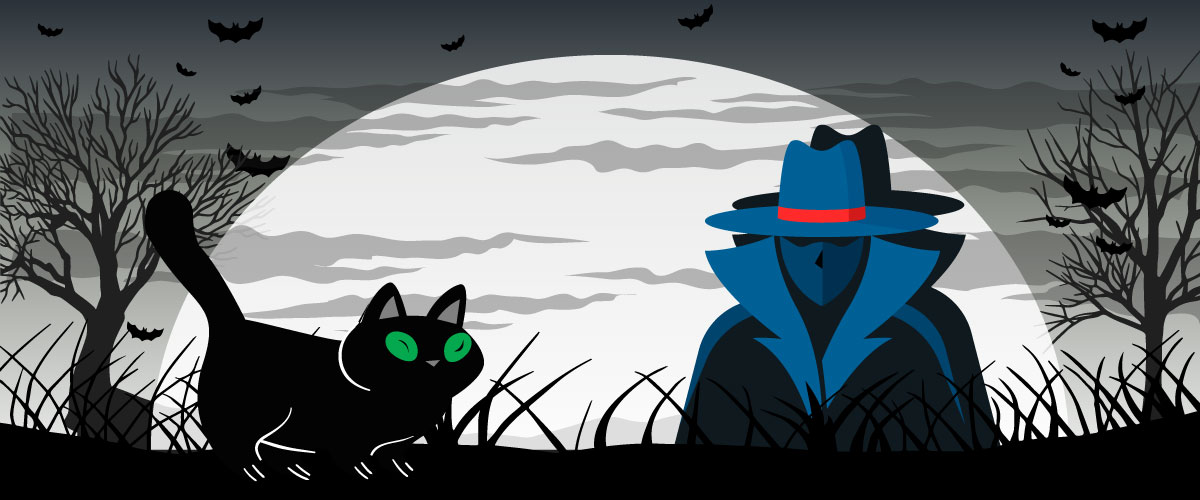 It's that time of the year again when you sport your favorite costume, carve pumpkins, gear up for trick-or-treating, and reread Gothic stories. It's almost Halloween!
There is no denying that October is all about ghosts and ghouls, tricks and treats, witches and wizards, pirates and pumpkins. However, October is also National Cybersecurity Awareness Month (NCSAM), a time to remember that alongside our cogent fears lies another reality that's much more ghastly—cyberattacks.
It's time to trick-or-treat
Trick-or-treating is a popular game played every Halloween. Participants don ghoulish and fun costumes, visit homes, and threaten to play pranks if they are not given a small gift, often candy.
In the IT world, hackers partake in their own version of trick-or-treating; they confiscate victims' files by encrypting them, and then demand a whopping ransom for decrypting and relinquishing the sensitive data. Ransomware attacks have gained popularity over the years because they generate easy money for attackers. Additionally, ransomware-as-a-service makes executing attacks even more straightforward for cybercriminals. Organizations around the globe have succumbed to hackers' demands.
Who's who behind the mask?
Around Halloween people wear fiendish and festive costumes, and often a mask to disguise their identity. They might attend a masquerade party, where anonymity reigns supreme.
By the same token, cybercriminals mask their identity and thrive on remaining anonymous; cybercriminals may even masquerade as a trusted entity to trick victims into taking the bait. Camouflaged emails are the strongest weapons in a phishing attack. The goal is to trick the recipient into believing the message is for them, and lure them into clicking a malicious link or downloading an attachment that triggers the onset of malware injections. The emails they send include links pointing to a new spoofed website that tricks the users into furnishing sensitive data, more often than not their username, password, or financial details.
The vulnerable house gets vandalized 
The house on the street without any decorations is often more likely to be vandalized on the night of Halloween.
Similarly, cybercriminals always have an eye open for systems with missing patches. Once a vulnerability becomes known and the corresponding patch is released, it is of paramount importance to deploy the patch and keep all systems up-to-date. If missing patches are not deployed, vulnerable systems attract attention and act as a gateway for other systems in the organization to be compromised.
Black cats and black hats 
Black cats are a classic Halloween symbol and viewed by many as objects of superstition. Black cats and witches are popular decorations that help create a spooky ambience.
Black hat hackers are considered some of the most evil entities in the world of cybersecurity. They can range from amateurs getting their feet wet by spreading malware, to experienced hackers that steal sensitive data. Black hat hackers are behind the most terrifying cybernightmares, creating diabolical malware and exploiting obscure vulnerabilities to haunt companies.
Chilling cybersecurity stats
Just in time for Halloween, here are some cybersecurity facts that might deliver an eerie feeling in your bones.
One in ten URLs is malicious. (Source: ITSR)
An average of 4,800 websites are compromised with malicious code each month. (Source: ITSR)
It takes more than six months for most organizations to notice a data breach. (Source: ZDNet)
Around 230,000 malware samples are created by hackers every day. (Source: Panda Security)
The United States is the number one target for targeted attacks. (Source: Norton)
Although cybersecurity is a top priority for 79 percent of organizations, many organizations are still unsure how best to address the issue of cybersecurity. (Source: 2019 Global Cyber Risk Perception Survey)
Cyberattacks are multiplying like leftover Halloween candy. In today's technology-infused world the cyberthreat landscape is constantly evolving, which makes cybersecurity an absolute necessity.
This Halloween, if you think haunted houses or creepy costumes are scary, think again. Cyberattacks are worse!
This Halloween, trick-or-treating is a little more sinister when it comes to cybercriminals.
This Halloween, increase the resiliency for you as an individual and your organization collectively by implementing effective IT security measures.
This Halloween, take time to learn how cyberattacks are executed, how crucial cyberhygiene is, and how cyberaware you are.
We at ManageEngine strive to be comprehensive when it comes to cyberhygiene. Attend our webinar series to understand how you can keep your organization afloat.
Visit our Cyber Street this Halloween and unwrap your Halloween goodies!