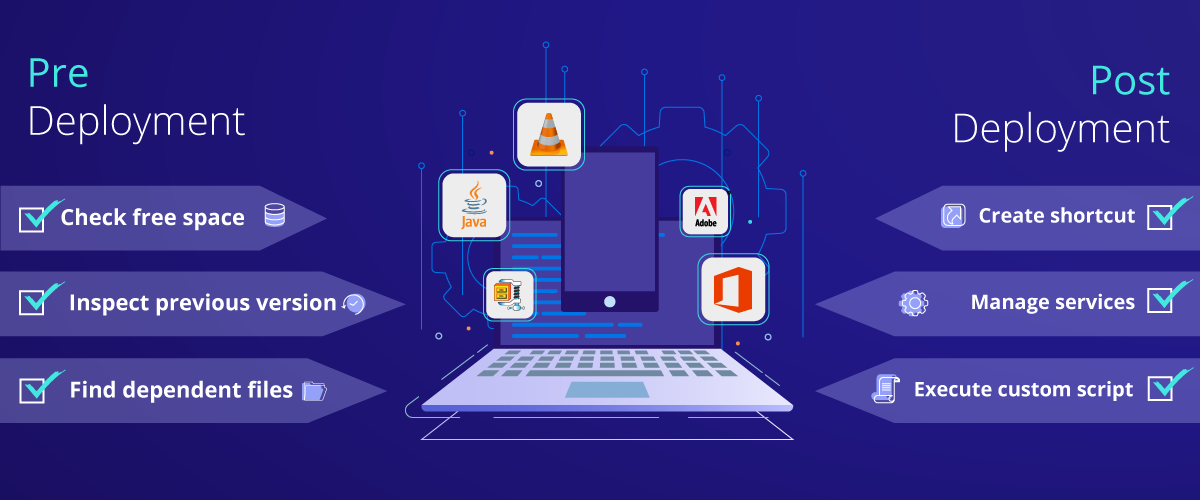 If you're experiencing sky-high levels of stress while deploying commercial and non-commerical software to your network computers, Desktop Central is the antidote to all your problems. Desktop Central, our endpoint management solution, makes it easy to deploy software to multiple computers in one shot, simplifying the process of deployment.
Before deploying software to all computers, you need to take several parameters into consideration. It's quite rare for two computers to be similar on a parametric level, which is why a customizable software deployment process is necessary. Contemporary software deployment demands a holistic process beyond mere installation and uninstallation. The last thing you want to do is manually switch between computers for tailor-made software deployment.
Package creation is the fundamental step in deploying software with Desktop Central. With over 1,000 pre-defined templates, Desktop Central makes package creation easy. As an administrator, you always want to validate multiple conditions to ensure clutter-free deployment. Desktop Central allows you to define pre-deployment and post-deployment activities while creating a package.
Pre-deployment and post-deployment activities will be carried out on all the target computers before and after delivering the package, respectively. Upon execution of these activities, you can choose to either skip or proceed with the installation or uninstallation based on the results.
Desktop Central has always gone the extra mile to resolve IT administrators' problems. In addition to providing a set of conditions to be validated, Desktop Central also offers configurations to satisfy these conditions.
Say you are the system administrator of a reputable organization. It's Christmas Eve and you can't wait to get back home. You receive a request to deploy commercial software to all 8,000 computers in your network. You are running out of time and need a way to carry out hassle-free deployment. 
When going to deploy software, you can save time by checking to see if an older version of the software exists. If a previous version of the software is already installed, you can configure software uninstallation; this way you'll be sure to install the latest version of the software on all the computers successfully. You can also create a shortcut for the software post deployment to make the new application easily available to all users.
Such checks are intrinsic to the initial phase of the software installation/uninstallation process. And the best part is that you can choose the order of execution for these activities. Multiple conditions can be validated simultaneously based on their execution priority. For instance, you can make sure ample disk space is available before winding up ongoing processes.
Desktop Central's Software Deployment offers a whole lot more. Try Desktop Central today, free for 30 days.