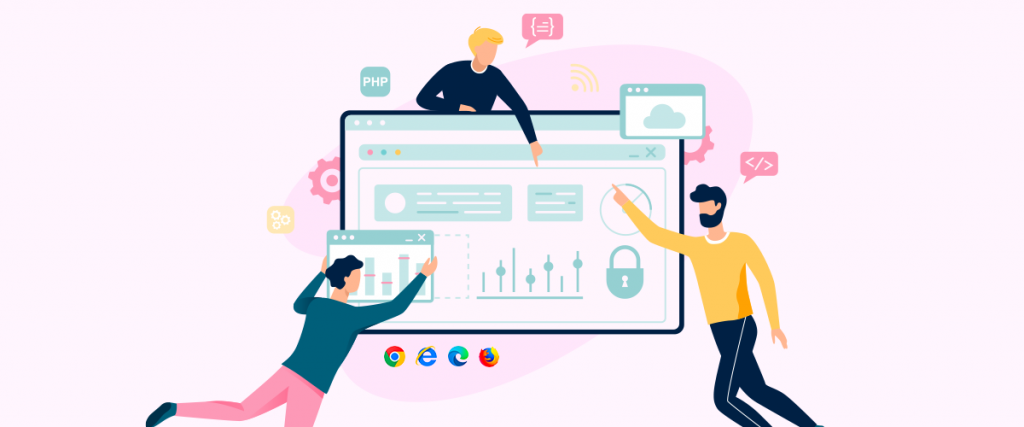 A survey by Gartner revealed that 74 percent of companies will move at least five percent of their previously on-site workforce to permanently remote positions post-COVID-19. Adapting to a remote work culture is fairly simple for most; thanks to SaaS applications, a browser and a good internet connection are all it takes to get work done remotely.
As employees spend more and more time working on browsers, securing their browsing experience becomes a task that IT admins cannot overlook. But since each employee has their own browser preference, it can be hard for IT admins to ensure uniform security across different browsers. Aimed at addressing this very issue, Browser Security Plus provides a central console to easily manage and secure the four most popularly used browsers: Google Chrome, Mozilla Firefox, Microsoft Edge, and Internet Explorer.
Insights for browser management
Apart from using different browsers, users will also have their browsers configured to best fit their requirements. Some might use specific browser extensions to get their work done, while some might not. Based on these varying requirements, each browser will be unique in terms of the configurations and extensions installed on it. To come up with suitable management policies, IT admins need clear visibility into the number of browsers being used, their versions, the browser extensions and plug-ins present, and the settings configured on users' browsers. Browser Security Plus provides these insights in a centralized dashboard, making it easy for IT admins to enforce security policies.
Browser add-on management
A number of free browser add-ons are readily available online, catering to a wide array of functionalities that aren't inherently provided by the browsers themselves. Although useful to users, these add-ons are capable of mining users' sensitive data in the back end. Such browser add-ons are hard to detect. With Browser Security Plus, IT admins can detect and remove harmful add-ons in a single click from the central console.
Customize Chrome browsers
Among the popularly used browsers, Chrome stands tall with nearly 66 percent usage globally. IT admins can use Browser Security Plus to enhance users' browsing experience on Chrome. With Browser Security Plus' Chrome management, IT admins can set Chrome as the default browser, control the default homepage, configure bookmarks and proxy settings centrally, and push configurations out to users' Chrome browsers.
Web activity tracking and web filter
With most users working from home due to the COVID-19 pandemic, many organizations have increased the restrictions imposed on their endpoints to tighten security. This includes tracking users' activities on the web and restricting access to unauthorized websites. This helps improve users' productivity and also ensures that corporate devices aren't used for personal reasons. With Browser Security Plus' web activity tracking feature, IT admins can track and review the websites visited by users. Backed with these insights, they can then use the web filter feature to restrict access to unauthorized websites.
Browsers are steadily rising as all-in-one tools thanks to more and more organizations readily adopting a cloud-first approach. This makes browser management an important aspect of endpoint management and security. Browser Security Plus is the perfect tool to get started with browser management. To implement the above practices in your organization, try Browser Security Plus free for 30 days.