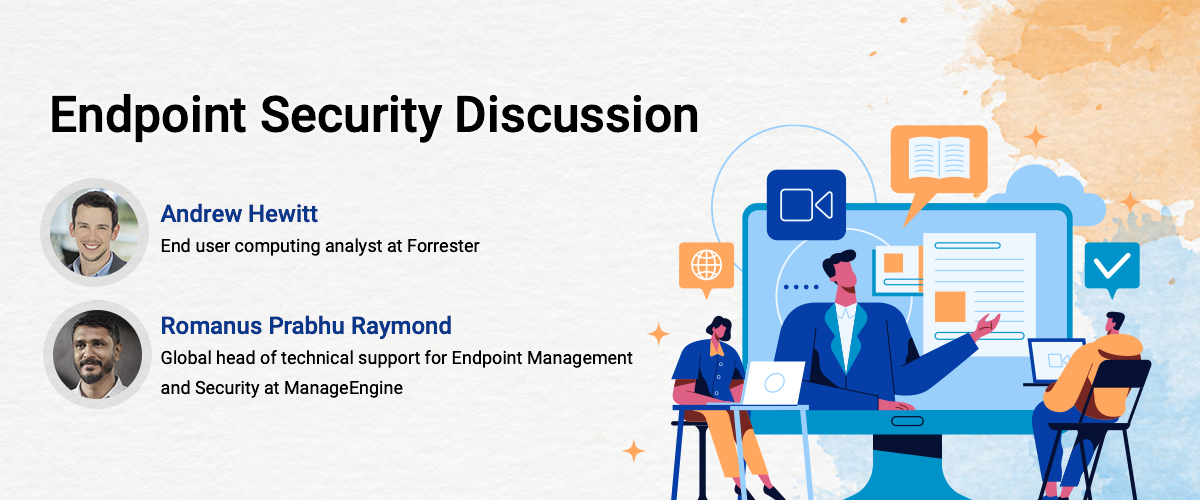 IT management and endpoint security challenges are arising due to fluctuating work environments. Organizations are now forced to optimize and innovate faster than ever before. With a portion of their workforce returning to offices and another portion continuing to work from home for the foreseeable future, technology leaders are revisiting their endpoint management strategies to ensure they can meet the needs of an increasingly distributed workforce.
Chances are your organization is also facing a few challenges in these scenarios. Keeping yourself up-to-date on the different approaches to tackling problems to shape your IT to reach maximum performance and enhanced security is the main concern for every IT administrator. 
Join Andrew Hewitt, end user computing analyst at Forrester, and Romanus Prabhu Raymond, global head of technical support for Endpoint Management and Security at ManageEngine, for a discussion on the present and future state of unified endpoint management and security.
In this webinar, we will be addressing key endpoint security strategies for remote workers.
➤ The major trends within the device management and security landscape
➤ The key approaches to endpoint management, with real-time use cases
➤ The convergence of endpoint management and security, and the benefits of this trend
➤ Best practices and tips for charting your 2021 endpoint management strategy
Event details
Date: March 23, 2021
Time: 11am EDT
Join us in exploring the new paradigm of endpoint management and security!