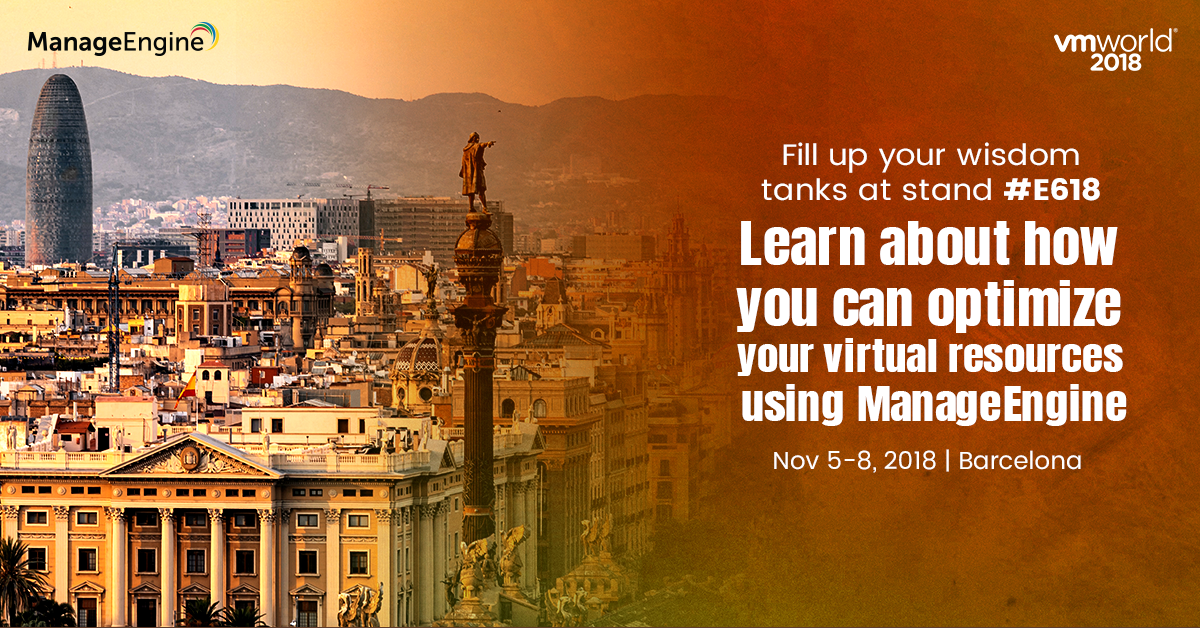 Well, well, well, if it isn't that time of year again! VMworld Europe is happening from November 5th to the 8th, and we'll be there at booth #E618. Since we're making the trip all the way out to Barcelona, we'd love to chat with you and share some virtual machine (VM) tips.
VMs play a vital role in many IT infrastructures, and as an IT infrastructure rapidly grows, so does the need for virtualization of IT components in that infrastructure. Virtualization is one of the most efficient methods for managing your servers and components without spending too much. As it turns out, these virtual servers behave much like physical servers and many infrastructures contain a large amount of them, so keeping track of every single virtual resource and how they're using your physical resources is vital.
This is where ManageEngine steps in. ManageEngine OpManager and Applications Manager helps you sustain optimal states of your VMs, so you can efficiently manage your IT resources. With that said, you might still be wondering, Out of all the booths at Fira Barcelona Gran Via, why should I make a pit stop at booth #E618?
Well, our team can show you how to:
Monitor virtual, physical, and cloud resources using a single console.

Manage both hybrid and public clouds.

Plan and build your IT architecture and make informed decisions when it comes to the allocation of virtual resources.

Provision VMs dynamically, automate deployment, and orchestrate VMs according to your needs.

Control VM sprawl by exerting direct control over all the virtual resources your organization has created.
We're looking forward to sharing our knowledge and having insightful conversations with you. Come meet us at booth #E618 at VMworld Europe!