Five worthy reads is a regular column on five noteworthy items we've discovered while researching trending and timeless topics. This week, we highlight the growing demand for artificial intelligence in IT, its impact on businesses and markets, and how to embrace this tech revolution.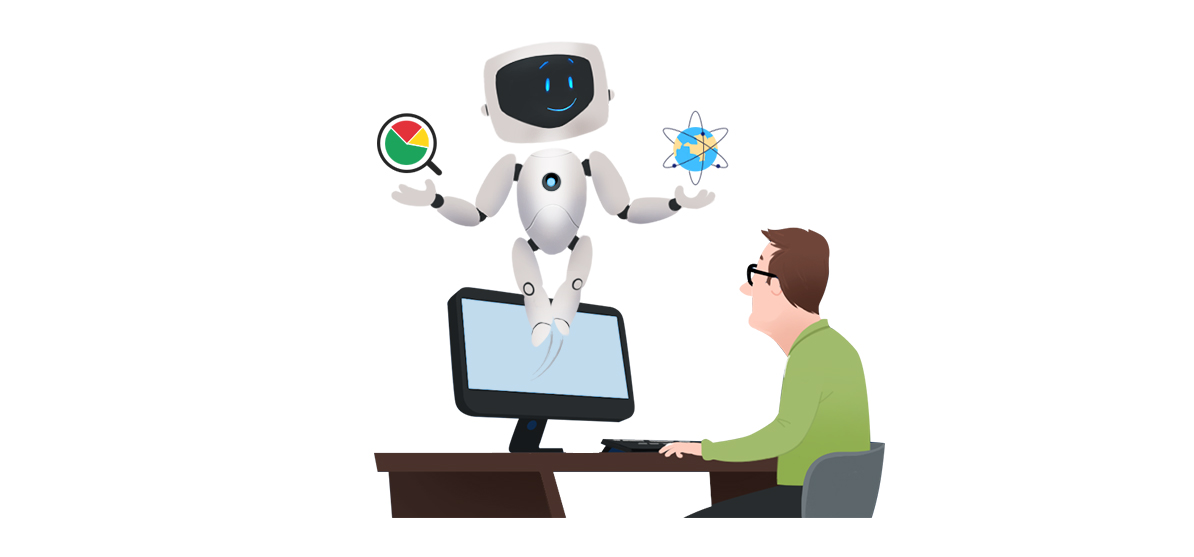 Netflix recommends Stranger Things to you because it knows you like watching sci-fi thrillers. Tinder lets you swipe right into your next date because it's learned your interests and partner preferences. Amazon keeps showing you Fitbit because you've spent a considerable amount of time browsing through the fitness and wellness category.
But how do each of these different companies know what to suggest to you? Long answer short: they use artificial intelligence (AI) to study and understand you and your preferences.
I wonder what amazing inspiration gave the concept of artificial intelligence its life. Ever since its inception, AI has become increasingly pervasive. From self-learning robots and autonomous vehicles to virtual assistants that many people rely on day-to-day—AI continues to evolve and become more sophisticated.
AI isn't just used to help you shop or pick your favorite shows; it also helps enterprises mine and process large volumes of data through techniques such as natural language processing, pattern and behavioral analysis, and machine learning. Understanding the expectations of end users, combined with actionable business intelligence, helps businesses make products that customers want to buy, which translates into long-term market sustenance.
Thankfully, artificial intelligence is an inevitable part of the IT management space, too. A recent survey by Gartner reveals that four percent of CIOs have implemented AI, while forty-six percent have plans to do so. Currently, there's a surge of demand from organizations across the globe for AI-enabled IT infrastructures. The need for real-time, centralized IT analytics grows by the day and AI makes it easier for decision makers to pluck meaningful insights and relationships from a sea of processed data.
From automating help desk operations and providing real-time insights about potential security incidents to providing conversational assistance for efficient management of help desk requests and using predictive analysis to provide preemptive solutions to users' problems, AI continues to prove its worth in IT.
That said, here are five interesting reads from across the internet that shed light on the growing demand and adoption of AI in the IT management space:
1. AI and machine learning are forcing CIOs to rethink IT strategies
Machine learning and AI are quickly becoming essential aspects in today's complicated IT environment; CIOs are learning how to use this type of technology to benefit both IT operations and their business as a whole.
2. How artificial intelligence will transform IT operations and devops
To state that DevOps and IT operations teams will face new challenges in the coming years sounds a bit redundant, as their core responsibility is to solve problems and overcome challenges. However, it's become challenging and problematic to cope with the dramatic pace in which the current landscape of processes, technologies, and tools is changing.
3. Unified Endpoint Management: Why a UEM Solution Is a Compulsory Choice for a Modern Organization
A unified endpoint management (UEM) solution can help enterprises secure and control their entire IT environment. AI will make it easier for enterprises to use UEM solutions for managing all of their endpoints, including smartphones, tablets, laptops, and desktops, as well as their users, apps, content, and data.
4. How artificial intelligence fits into cybersecurity
Finding the right AI solution can be a challenge of its own. Here you'll find some important questions to consider that'll help you distinguish between promising machine learning technology and marketing hype.
5. Why embracing new technology is the key to successful IT service desks
Many service desk staff believe their jobs will not be offset by advances in AI, according to an ITSM.tools survey of 323 IT service managers.
Let's face the reality: we're only beginning to grasp how AI can help build enterprises of the future. Every successful enterprise needs smart IT management, which includes cognitive processing—using AI algorithms to extract meaningful relationships, patterns, and concepts from data. With AI adoption growing across business verticals, IT should be at the forefront of this remarkable technological revolution.
The first step towards this change is to deploy AI-powered solutions that will provide intuitively actionable insights for a solid, self-learning IT management infrastructure.
What's your take on this? Let us know in the comments section below.