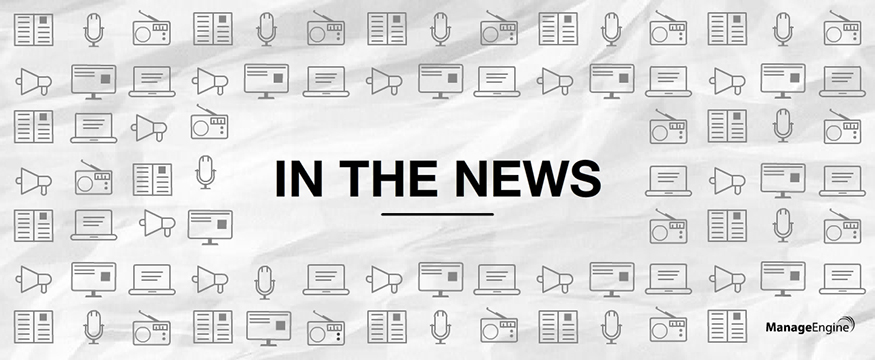 Is the password on its way out? V. Balasubramanian, marketing manager at ManageEngine weighs in on the death of the password  ​in his ​Business Computing World article.
Read about the benefits and impact of the Internet of things in Sridhar Iyengar's PC Quest article.
In its exclusive review of EventLog Analyzer, ​Computing Security talks in detail about the various features of the SIEM solution and the advantages it brings to the end user.
What does today's CEO need to pay close attention to? In his Forbes blog, ManageEngine President Raj Sabhlok advises that IT security is the new performance target for CEOs.
Check out ITP.net's coverage of the launch of ManageEngine's Pitstop, the online community for everything IT.
IT NEXT carries "4 Tips to Consolidate Your Data Center," by Bharani Kumar, senior product consultant at ManageEngine.
Computer Business Review published ManageEngine's survey results on the disconnect between CIOs and IT departments.
In his two-part series on IT and business alignment in APM Digest, Sridhar Iyengar, ​​vice president of product management at ManageEngine, writes about the evolution of BSM and APM, their key drivers, and how they're converging to fulfill the promise of aligning IT with business.
"IT Management is Not Just for Big Companies," says Vidya Vasu, ​head of ManageEngine Community, who breaks popular myths about IT management in this exclusive interview.
Information Age quotes David Howell, European director of ManageEngine, on integrated MDM software packages.
Why should you pay for your help desk? Tech Crunch covers our big news: ServiceDesk Plus Standard edition is now available for free.
"The biggest security threat today is insider threats," says Sridhar Iyengar in his interview with Technuter.