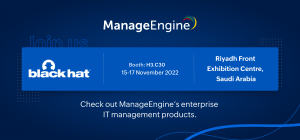 We're incredibly excited to be taking part in this year's running of Black Hat MEA, one of the biggest InfoSec events in the world!
This is a period of great transformation for the Kingdom of Saudi Arabia, as it aims to move from an oil-reliant economy to one that is knowledge- and skill-based to achieve its Vision 2030. And at the center of Saudi Arabia's digital transformation is its information and communications technology (ICT) sector.
As Saudi Arabia's digital infrastructure begins to play an increasingly important role in its economy, now is the right time to focus on cybersecurity and cyber resilience.
This is something the Saudi government is well aware of, and it has stressed its commitment to developing its cybersecurity alongside its tech infrastructure. The establishment of the National Cybersecurity Authority in 2017 and events such as Black Hat MEA are proof of Saudi Arabia's commitment to creating a secure digital environment for all users.
Black Hat MEA provides a platform for some of the greatest minds in InfoSec to share their expertise on how to always be one step ahead of digital bandits who are looking for any opportunity to force themselves into an organization's network and steal critical data. 
"Over the last few years, the Kingdom of Saudi Arabia has seen massive developments in its tech landscape, and the ICT sector is playing an increasingly prominent role in the economy. As Saudi Arabia becomes more tech-dependent, cybersecurity takes center stage, and steps are being taken to strengthen its cybersecurity infrastructure to protect against future threats."
We at ManageEngine are committed to maintaining the highest standards of security and are always willing to use every chance to learn how to further bolster our cybersecurity infrastructure. We're looking forward to learning from the supremely talented infosec experts at Black Hat MEA 2022 taking place between the 15-17 of November, and we're looking forward to seeing you there. Come pay us at visit at booth #H3.C30!