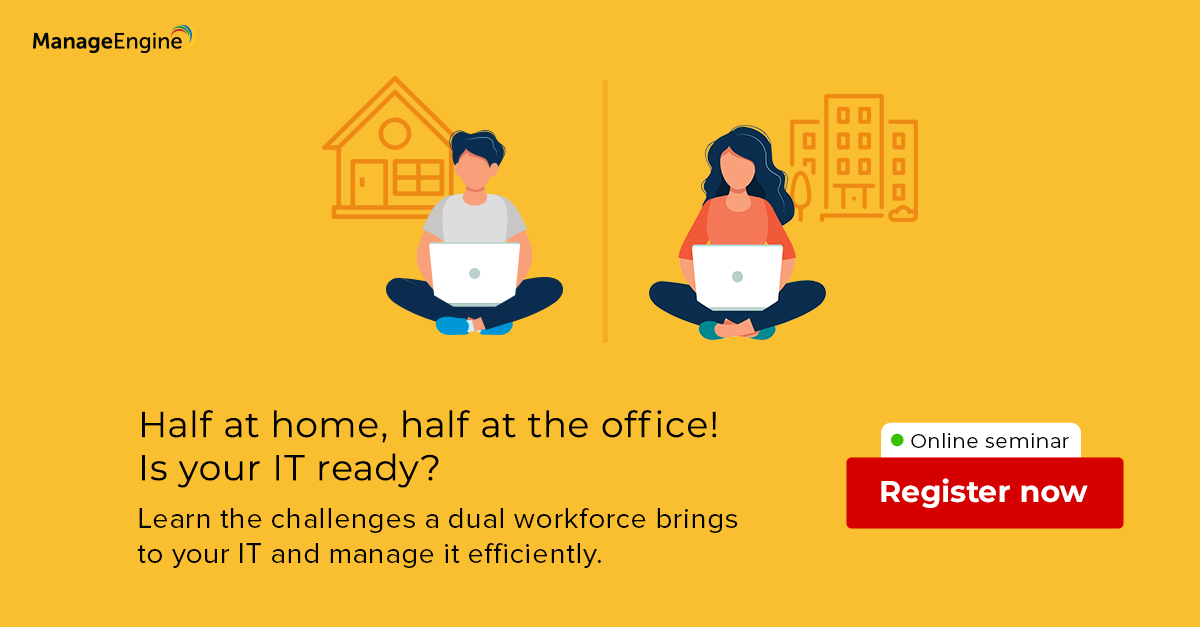 In the wake of COVID-19, organizations around the world have established a new norm in working remotely. Many organizations barely had a contingency plan when they were bowled over by this sudden shift, leaving security and IT admins frazzled while managing and securing the sudden surge in remote devices.
Now, some employees are expected to return to and start working from the office. However, with most of the IT industry's workforce scattered across remote and on-site locations, the challenges involved in effectively managing employees and catering to their network needs is becoming a mighty task.
The question is, how can you overcome these challenges and shape your IT to reach maximum performance?
ManageEngine will be conducting two virtual seminars this November: One on how your employees can overcome IT operations management issues, and another on how they can tackle endpoint and security complications while working remotely and from the office. Opt in for the one you're interested in by registering today.
Here's what we will be covering:
Learn about endpoint and IT operations management trends from 2020 and beyond.

Discover the challenges and requirements of a dual workforce model.

Manage the plethora of devices in your IT landscape, on and off-premises.

Troubleshoot server, app, network, endpoint, and enterprise mobility issues.

Discuss ongoing challenges with our product experts.
Event dates:
Date: November 3, 2020
Regions: USA, Canada
Date: November 17, 2020
Regions: Middle East, Africa
Date: November 18, 2020
Regions: APAC, India, UK
Date: November 19, 2020
Regions: Australia, New Zealand
Hurry and book your spot now!
Join this seminar to learn about creative insights, best practices, and know-hows of endpoint management and IT operations management issues, as well as the tips and tricks on how to tackle them.