Five worthy reads is a regular column on five noteworthy items we've discovered while researching trending and timeless topics. This week, we delve into the increasing adoption of XaaS models across enterprises to achieve agility, pervasive automation, and digitization of business verticals.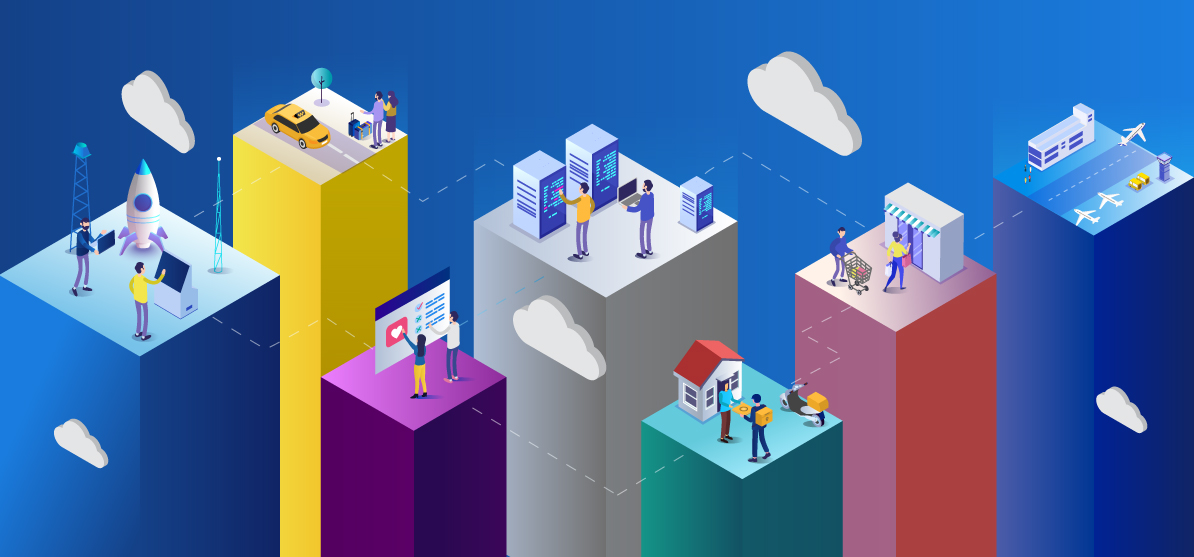 Marc Andreessen's remark in 2011 that software is eating the world is truly prophetic. From filing taxes, to hitching a ride, and even choosing life partners, we can do almost anything at the drop of a hat today. But while these on-demand applications primarily act as consumer services, the business-to-business (B2B) industry has swiftly learned that, much like consumers, their prospects prefer pay-as-you-go services over tedious contract-based services.
The adoption of cloud computing has become rampant across industries, with many enterprises offering platforms like software-as-a-service (SaaS), infrastructure-as-a-service (IaaS), and platform-as-a-service (PaaS) as a part of their IT workflows. Some even offer niche platform bundles, such as storage-as-a-service (STaaS), desktop-as-a-service (DaaS), containers-as-a-service (CaaS), and more. This marks the beginning of the everything-as-a-service (XaaS) era, where nearly any IT function can be provided as an on-demand service.
The core rationale behind XaaS is that enterprises can cut costs on contract-based services by purchasing them from a myriad of providers on a subscription basis. This also helps eliminate the limitations pertaining to on-premises solutions, such as operational fatigue, unprecendented downtimes, high upfront costs, etc. XaaS entails any application that is delivered via the cloud and paid for in a pay-as-you-go model rather than as an upfront purchase.
According to a 2018 Global CIO Survey, CIOs are going digital to "streamline business processes, engage employees and customers, and drive new value-generating business models." While the XaaS model differs for every company, it typically involves employing Agile and/or DevOps frameworks to ensure swift delivery of services. The means of delivery might differ, but the results are the same—not only are these services more cost-effective, but they improve speed and agility as well.
That being said, here are five interesting reads from across the internet highlighting the growing significance of the XaaS model.
1. 3 big trends join up: XaaS + digital teamwork + frictionless enterprise
See how these three technological trends join forces to aid enterprises in business transformation.
2. XaaS models are reshaping the future of outsourcing
The outsourcing sector is facing reputational damage after some critical failures spur enterprises to consider the "as-a-service" model instead.
3. XaaS: Making the shift to services-oriented IT
More enterprises are looking at adopting an XaaS IT delivery model to streamline operations and save resources for future innovation.
4. Why organisations are embracing a shift to microservices
The rapid advance of cloud computing has changed the way businesses function, influencing enterprises' agility and the quality of services they provide.
5. 5 Emerging Trends In XaaS Deployment
XaaS is quickly emerging as a critical part of enterprises' strategic playbooks. One of the key factors contributing to this model is its ability to make new technologies accessible to diverse users across multiple verticals.
While almost everything in the IT sphere can be delivered as a cloud service, organizations should reorient their business workflows around XaaS to automate and optimize their increasing workloads across regions. XaaS not only accelerates product design and delivery cycles, but also enhances the customer service experience.
Utilizing XaaS, along with trends like the Internet of things (IOT) and artificial intelligence (AI), can foster digital teamwork, pervasive automation, and digitization of business verticals (most importantly, IT).