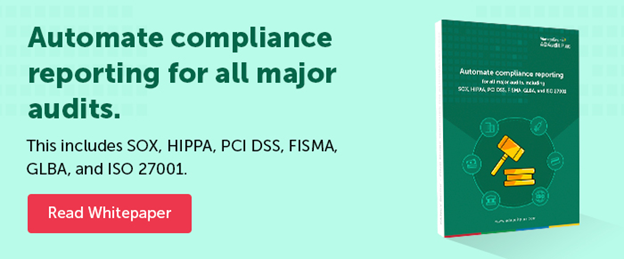 The main purpose of compliance auditing is to identify how well a company is following the rules and policies of various regulatory acts. For example, an internal auditor's job may be to see how well various departments in your company are abiding by relevant standards in order to ensure security. Failing to adhere to these compliance standards can have serious consequences, resulting in hefty fines from governing agencies who may even decide to dissolve your business entirely.
Usually, major compliance audits such as SOX, HIPAA, PCI DSS, FISMA, GLBA, and ISO 27001 are performed once a year. Auditors have to be clear about the type of information and format they need so that administrators can generate the necessary reports. Currently, native reporting tools capture only what the settings are at the time of generation, which means any changes that may have happened prior to that date are not reflected in these reports. Similarly, changes occurring right after running the report are not captured, making the report immediately outdated. As there are no standard practices for generating reports, additional tools are vital for creating individual reports that fulfill each compliance audit requirement.
The best and most simple way to enhance security is to use compliance reporting software that can automate report generation. Automation ensures that the reports are accurate and available whenever the auditors need to obtain them. Report automation not only generates reports with the most recent settings, but includes configurations that can provide historical data indicating any changes that occurred over time as well.
Log360 is an effective compliance software that automatically generates these reports in a user-friendly format with plenty of filters for auditors to view the information in desired segments. To learn more about how Log360 can help you automate compliance reporting for all major audits, download our whitepaper today!