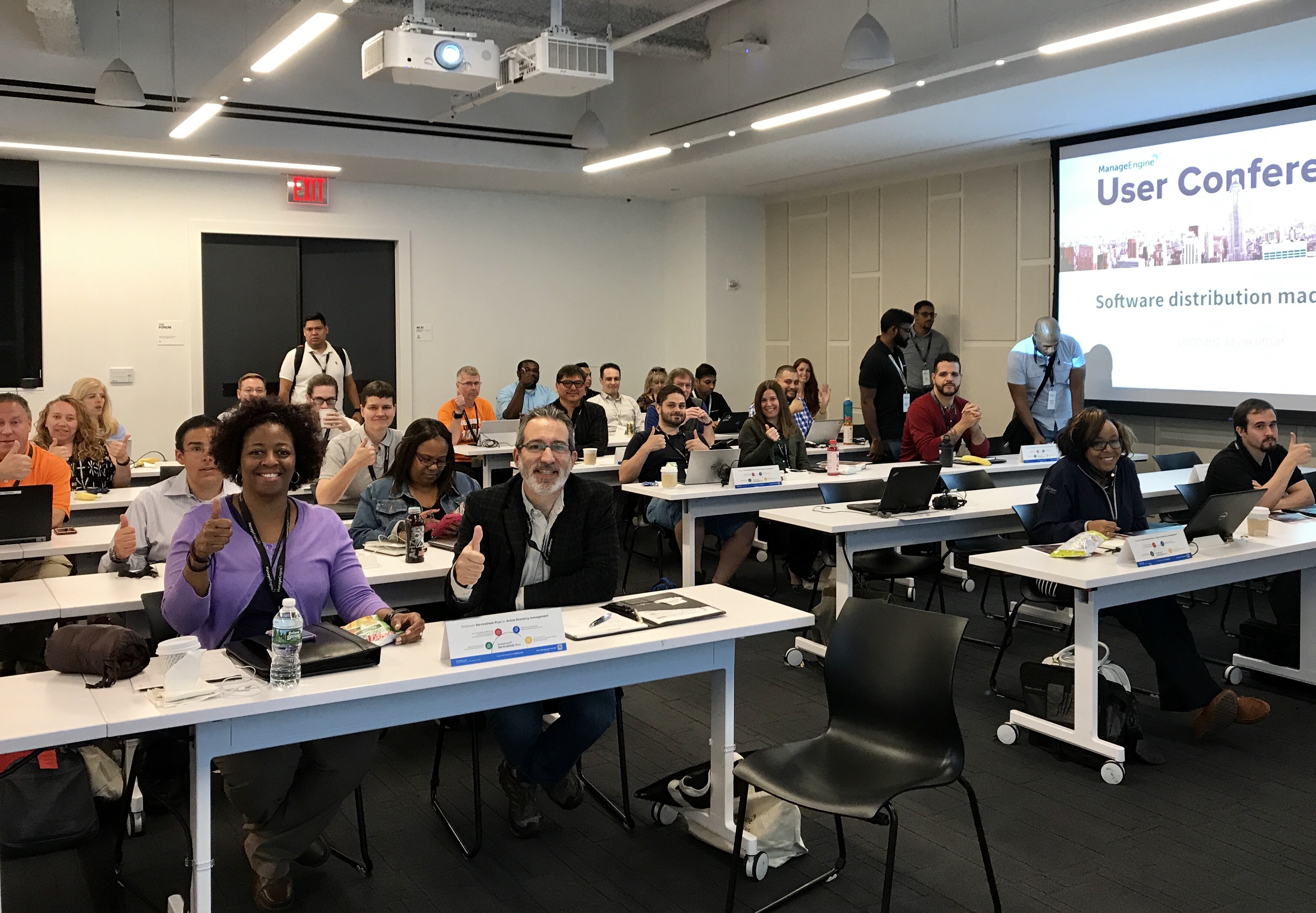 It's been just over a two weeks since our NYC User Conference and we're all still in post-event IT bliss. It was awesome to meet and collaborate with everyone who came, and we've heard some great things about their experiences! One attendee thought we had "great content [and a] great conference!" while another user mentioned, "everything was excellent [and there was] great staff and good vibes." We definitely agree that the NYC User Conference was overflowing with "good vibes," although we weren't sure exactly what that meant until we started reflecting on the event.
We think our attendee was referring to all the different parts and pieces of our conference that came together to deliver a harmonious experience. While some commented that they thought the presenters "were very knowledgeable and helpful," others liked the "great atmosphere" and thought it was "very comfortable." Piece by piece, our team—and especially our customers—came together to create something that can only be described as amazing!
We began the first day with a healthy breakfast to get our users ready to learn and our presenters' brains ready to teach and train all things ManageEngine. After some hearty food and a strawberry smoothie (or two), attendees headed over to our welcome and keynote presentations by Raj Sabhlok, president of ManageEngine, and Rajesh Ganesan, director of product management. After our keynote, attendees had the opportunity to bounce between three different presentation halls to get just the information they were looking for, from learning how to transform their help desk into a powerhouse of efficiency, to seeing how an integrated IT management tool can make a world of difference, to learning how to effectively manage privileged access.
To keep the good vibes going strong, we wanted to make sure our customers received the one-on-one care they wanted and needed. During breaks, and even during presentations, users were able to head to our one-on-one room where experts were ready to help. During the User Conference, we had over 110 scheduled one-on-one sessions (and plenty of impromptu meet-ups).
And while we had so many awesome presentations from all our ManageEngine teams, a few stood out among the rest. Derek Melber engaged and engrossed attendees with his knowledge of FileAudit Plus' comprehensive reporting for key security monitoring and alerting, while Harish Sekar decrypted the mystery of security with SIEM through helpful tips on dealing with attacks, detecting ransomware, auditing network devices, and more. We learned what's new and what's to come for ServiceDesk Plus, Applications Manager, Analytics Plus, and Desktop Central, all while enjoying french macarons and beignets (yum).
With a constant flow of coffee, tea, and plenty of snacks, everyone had their head in the game to take on automating patch management, Active Directory management, extensions, APIs, integrations, and more. Even with so much to cover and only two days to do it, our presenters made sure all attendees could voice their opinions. Both the Desktop Central and ServiceDesk Plus teams opened up forums with the audience to find out how they use our tools and what they would like to see our tools accomplish in the future.
So while we're all still riding out this wave of good vibes from one of our most educational and fun User Conferences yet, we want to make sure the conversation doesn't end here. At the event, we made it clear that we're all about being available to you, our users. And while we may no longer be gabbing about your IT over sliders and sushi, we want to make sure we're here for you. You can find information about future events here so you never miss out on any of the IT fun. If you ever have questions about our products or events, please feel free to reach out on social media to keep the conversation going. Thank you for sharing all your IT questions and comments with us last week; we had a fantastic time helping you all bring your IT together.
Related posts :