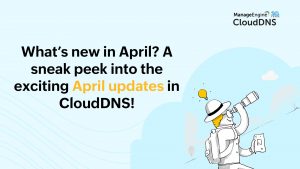 Are you ready to take your DNS management to the next level? If so, we've got some exciting news for you! ManageEngine CloudDNS has just released a set of updates that are set to revolutionize the way you manage your DNS infrastructure. From enhanced branding and protection features to improved scalability and DevOps-induced productivity, these updates are designed to simplify your DNS management and ensure that your web applications are always available to users.
Here's a concise overview of what these updates signify for you:
Free vanity nameservers
Did you know your DNS nameservers can enhance your brand's visibility and make your brand stand out in the digital world? With CloudDNS, you can boost your brand image without making mention of your original host or DNS provider for free.
Brand your online presence consistently and professionally with CloudDNS's free vanity nameservers. Customize CloudDNS nameservers with your personalized domain name and display them on WHOIS and name server (NS) DNS records.
Enjoy unlimited queries
Are you tired of being held back by DNS query limits?
Look no further than CloudDNS, the only DNS management solution in the market that offers unlimited queries. No more worrying about hitting a pay-per-query cap or being charged extra for exceeding your allotted queries. With CloudDNS, you can freely scale your DNS query traffic without any limitations.
Free DDoS DNS protection
Shield your website from disruptive distributed denial of service (DDoS) attacks that can hurt your business with CloudDNS's free DDoS protected nameservers. Our cutting-edge technology detects and mitigates attacks instantly, providing unlimited and unmetered DDoS protection for your DNS infrastructure against DDoS attacks of any scale, ensuring that your website stays up and running at all times.
Integrated DevOps-friendly tools
Experience fast and efficient DNS management with CloudDNS's suite of integrated DevOps-friendly tools like Infrastructure as Code (IaC), visualization tools, integrated monitoring checks, security audits, analytics, and more at your fingertips, you can elevate your DNS management experience and enhance your developer productivity.
So why wait? Take advantage of these game-changing updates and unleash the full power of ManageEngine CloudDNS today. Whether you're an experienced IT professional or just starting out, these updates will help you streamline your DNS management, enhance your brand image, and protect your web applications like never before.
Explore ManageEngine CloudDNS for free and discover the next generation of DNS management solutions. Get ready to take your web applications to the next level and experience the power of CloudDNS today!