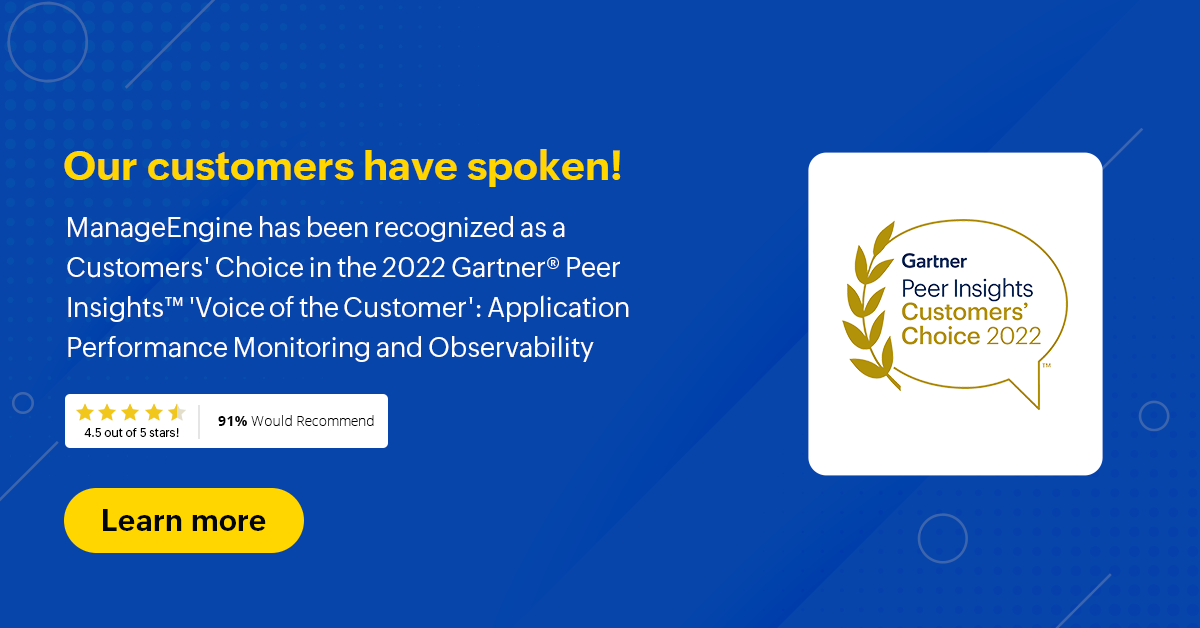 We are thrilled to announce that ManageEngine has been recognized as a Customers' Choice in the 2022 Gartner Peer Insights 'Voice of the Customer': Application Performance Monitoring and Observability report for the fourth time in a row.
"We believe this recognition is a testament to our customer-first mentality. For us, appreciation from our customers is one of the greatest compliments we can receive. Customer reviews and feedback help us tailor our products and keep up with the dynamic requirements of organizations," said Arun, senior marketing manager for Applications Manager.
Gartner Peer Insights 'Voice of the Customer' is an excellent resource for IT managers and CIOs to understand the reviews and ratings of application performance monitoring and observability solutions by peers within their industry verticals. Eligible vendors are categorized into four quadrants based on User Interest and Adoption (X-axis) and Overall Experience (Y-axis). Vendors placed in the upper-right quadrant are recognized with the Gartner Peer Insights Customers' Choice distinction, denoted with a Customers' Choice badge. The recognized vendors meet or exceed both the market average Overall Experience and the market average User Interest and Adoption.
Recognition highlights:
ManageEngine scored the Customers' Choice distinction in the midsize enterprise category. It has been positioned as a Strong Performer in the North America and Asia-Pacific regions, and as an Aspiring Performer in the Europe, Middle East, and Africa regions, based on deployment segments.
With 100 reviews spanning a period of 12 months, Applications Manager secured an overall rating of 4.5 out of 5, with 91% of customers willing to recommend our product.
Here are some excerpts from our customers that showcase this distinction:
 "Get ManageEngine or fall behind."
– Senior specialist, energy mining industry
 "Applications Manager is the best tool for database and infrastructure monitoring."
– Account manager, IT services
 "Feature-rich and easy to manage."
– Senior system administrator, education industry
Vision for the future:
We extend our heartfelt gratitude to customers who helped us achieve this distinction. The innovation doesn't stop here. We look forward to continuing to leverage our customers' feedback to help organizations gain better visibility into the performance of their applications and thereby improve productivity, efficiency, and overall business outcomes. If you're interested in learning more about how Applications Manager can help your organization, schedule a personalized demo today!
Source: Ratings based on 100 reviews as on September 2022. Gartner Peer Insights content consists of the opinions of individual end users based on their own experiences with the vendors listed on the platform, should not be construed as statements of fact, nor do they represent the views of Gartner or its affiliates. Gartner does not endorse any vendor, product or service depicted in this content nor makes any warranties, expressed or implied, with respect to its content, about its accuracy or completeness, including any warranties of merchantability or fitness for a particular purpose. GARTNER is a registered trademark and service mark of Gartner, Inc. and/or its affiliates in the U.S. and internationally, PEER INSIGHTS is a registered trademarks and THE GARTNER PEER INSIGHTS CUSTOMERS' CHOICE badge is a trademark and service mark of Gartner, Inc. and/or its affiliates and is used herein with permission. All rights reserved.