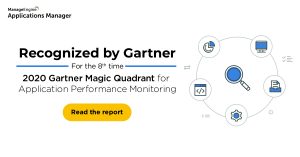 We are happy to announce that ManageEngine has been recognized by Gartner in its 2020 Magic Quadrant for Application Performance Monitoring. 

Applications Manager has helped thousands of customers across the globe streamline and manage their servers and applications effectively. Gartner profiled 15 application monitoring vendors based on specific criteria such as digital experience monitoring (DEM); application discovery, tracing, and diagnostics (ADTD); and domain-centric artificial intelligence (AI) and machine learning (ML) linked to ADTD. Each vendor is positioned on two axes: "Completeness of Vision" and "Ability to Execute."
How we believe Applications Manager made the cut
At ManageEngine, we are constantly innovating our offerings to help ensure a quality end-user experience. Here's how Applications Manager stands out from the competition in these three areas:
DEM

1. The primary function of our tool is to evaluate how applications perform by analyzing user behavior within an application.
2. Our end-user monitoring capabilities help businesses identify and mitigate issues that negatively impact the customer experience.
3. Our synthetic transaction monitoring function helps mimic user behavior to get an accurate idea of the real-time issues users face.

ADTD

1. Our application discovery and dependency mapping capabilities help with discovering various servers and networks within the infrastructure, understanding the relationships between application servers, and mapping the dependencies between them.
2. This function helps with viewing all components associated with a particular application, locating faulty devices, and troubleshooting them quickly.

Domain-centric AI/ML linked to ADTD

Our machine-learning-enabled predictive analysis capability offers insight into future growth and utilization trends of various applications in the network.
Onwards and upwards
This recognition has lifted our spirits, and we plan on pushing our boundaries further this year. Over the next few months, you can look for improvements in the areas of application performance management, cloud and microservices monitoring, end-user monitoring, database monitoring, and more.
Wondering what all the buzz is about? Download a free, 30-day trial of Applications Manager, and see for yourself. If you'd like to learn more about how the product works, try a quick demo.