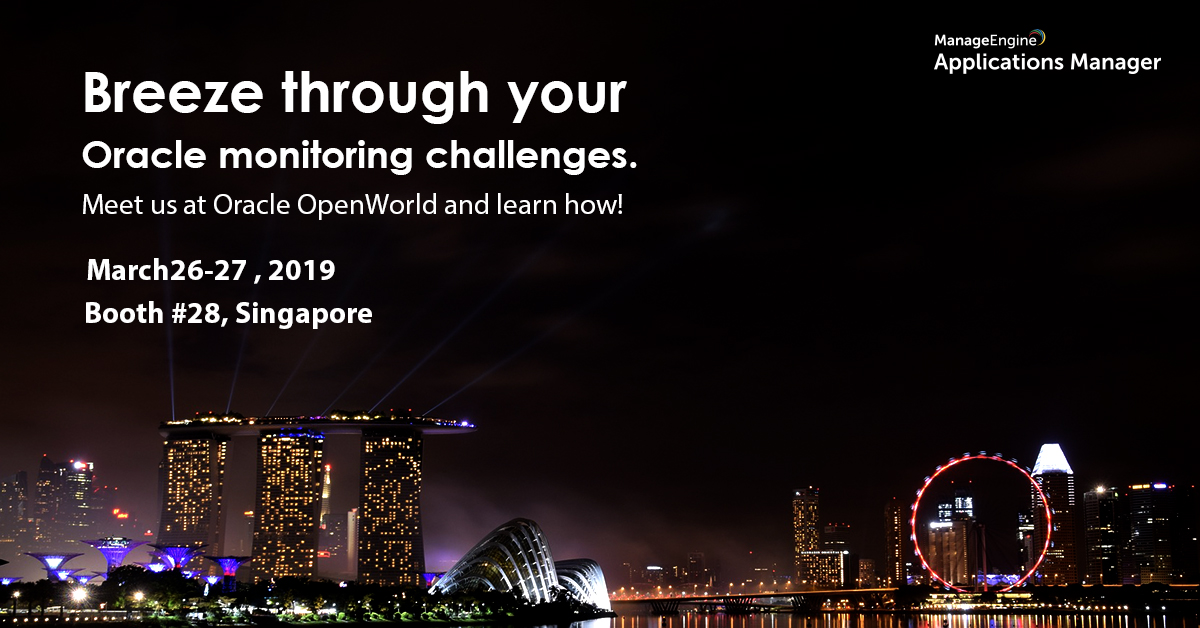 This March, get ready to paint the town red in Singapore! Yes, you heard that right. One of the year's biggest tech events, Oracle OpenWorld, is set to take place on March 26-27, 2019 in Singapore.
Considering "Explore tomorrow, today" is the theme of the event, there's sure to be a lot of engaging content for anyone interested in cutting-edge technologies, like artificial intelligence, machine learning, and big data solutions. Join experts from various sectors, including retail, manufacturing, and technology, as they challenge assumptions and leverage transformational technologies for a better future.
 Here are three standout reasons to meet the Applications Manager team at Booth #28:
In-depth guide to resolving your Oracle monitoring issues: Our experts will provide insight into the various challenges faced during application monitoring, and we'll walk you through how to resolve issues quickly with Applications Manager. You'll learn how to keep Oracle performance monitoring issues at bay by tracking key metrics of various Oracle apps, such as Oracle Database, WebLogic Server, E-Business Suite, Coherence, NoSQL, and Tuxedo.

Tips on Java and transaction monitoring: An efficient Java application is the key to a booming IT infrastructure. Learn to measure the overall performance of your database, identify slow database calls, and visualize end-to-end J2EE web transactions for all components, from URL to SQL queries.

A glimpse into the future: Besides offering insights into the latest trends in Oracle and Java application monitoring, we plan on providing our attendees with a glimpse into our roadmap. Visit our booth to receive a first look at our future updates, releases, and features.
 There's just a few days until the event, and the Applications Manager team is looking forward to a jam-packed week of learning, fun, and networking. See you there!