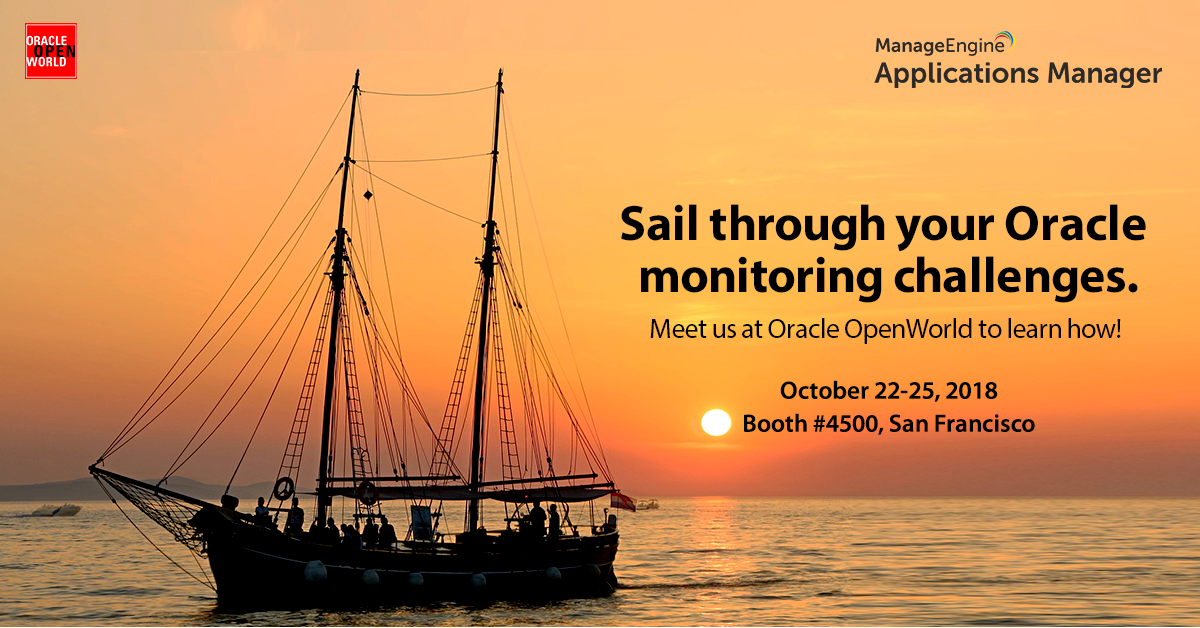 The Applications Manager team is all set to attend Oracle OpenWorld 2018. You heard that right! Oracle OpenWorld will take place in San Francisco on Tuesday, October 23rd, and will run through Thursday, October 25th.
Considering that transforming the face of IT is one of the highlights of the event, there's sure to be a lot of engaging content for anyone who's interested in cutting-edge technologies like machine learning, artificial intelligence, cloud deployment, application monitoring, and blockchain.
As you stroll through the South exhibition hall at the Moscone Center, you'll see a row of booths. Visiting these booths is a great opportunity to get an in-person perspective on various businesses, discover new technologies, and develop new business connections. The Applications Manager team will be at booth #4500.
Top reasons to visit booth #4500 :
There's sure to be a lot going on at Oracle OpenWorld, but here are just a few reasons you won't want to miss Applications Manager's booth:
Explore the scope of Oracle monitoring: Find out how to view the performance of various Oracle apps, such as Oracle Database, WebLogic Server, E-Business Suite, Coherence, NoSQL, and Tuxedo, from one tool. Understand the nuances of Oracle application monitoring, and ensure an enhanced end-user experience. Learn how to track key metrics of your Oracle applications like jobs, sessions, lock statistics, table space, ASM disk groups, and process memory. Detect and resolve unplanned outages across your Oracle infrastructure with the help of root cause analysis and code-level analysis.
Take a deep dive into Java monitoring: A good Java application is the key to a booming IT infrastructure. Learn how to ensure smooth functioning of your Java applications with Applications Manager's APM Insight. Understand the overall performance of your database, and identify slow database calls and database usage.
Delve into transaction tracing: Learn how to trace URL execution details and identify the SQL queries executed during transactions. Visualize end-to-end J2EE web transactions with performance metrics on all components from URLs to SQL queries.
Get a look into our future: Besides offering in-depth demos, we plan to offer attendees a glimpse into our product roadmap. Visit our booth for a front-row pass to our future updates, releases, and features. Our product experts will also be happy to give you a quick preview of the current trends in the areas of Oracle application monitoring, Java application monitoring, and much more.
We're looking forward to soaking up all the knowledge we can from the presentations at Oracle OpenWorld and connecting with customers, partners, and community enthusiasts. Come join the Applications Manager team at booth #4500—we'd love to meet you there!