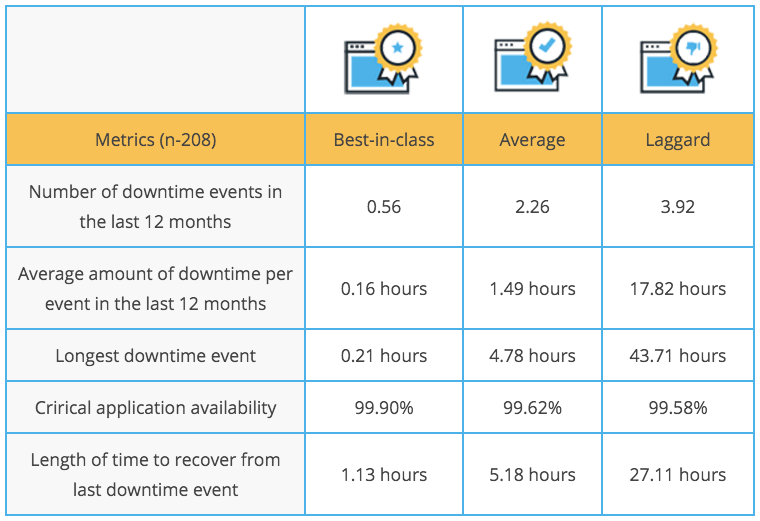 Earlier, I introduced the eight KPIs that are critical to every IT help desk. These KPIs help meet basic IT help desk objectives such as business continuity, organizational productivity, and delivery of services on time and within budget. This blog post discusses the first and most important KPI that every IT team and business should care about – Lost business hours.
Definition: The number of hours the business is down because IT services are unavailable.

Goal: Keep lost business hours to a bare minimum.
Most IT teams track service availability to see the overall performance of their IT help desks. But the pain of lost business isn't always reflected in service availability levels, even when …
READ MORE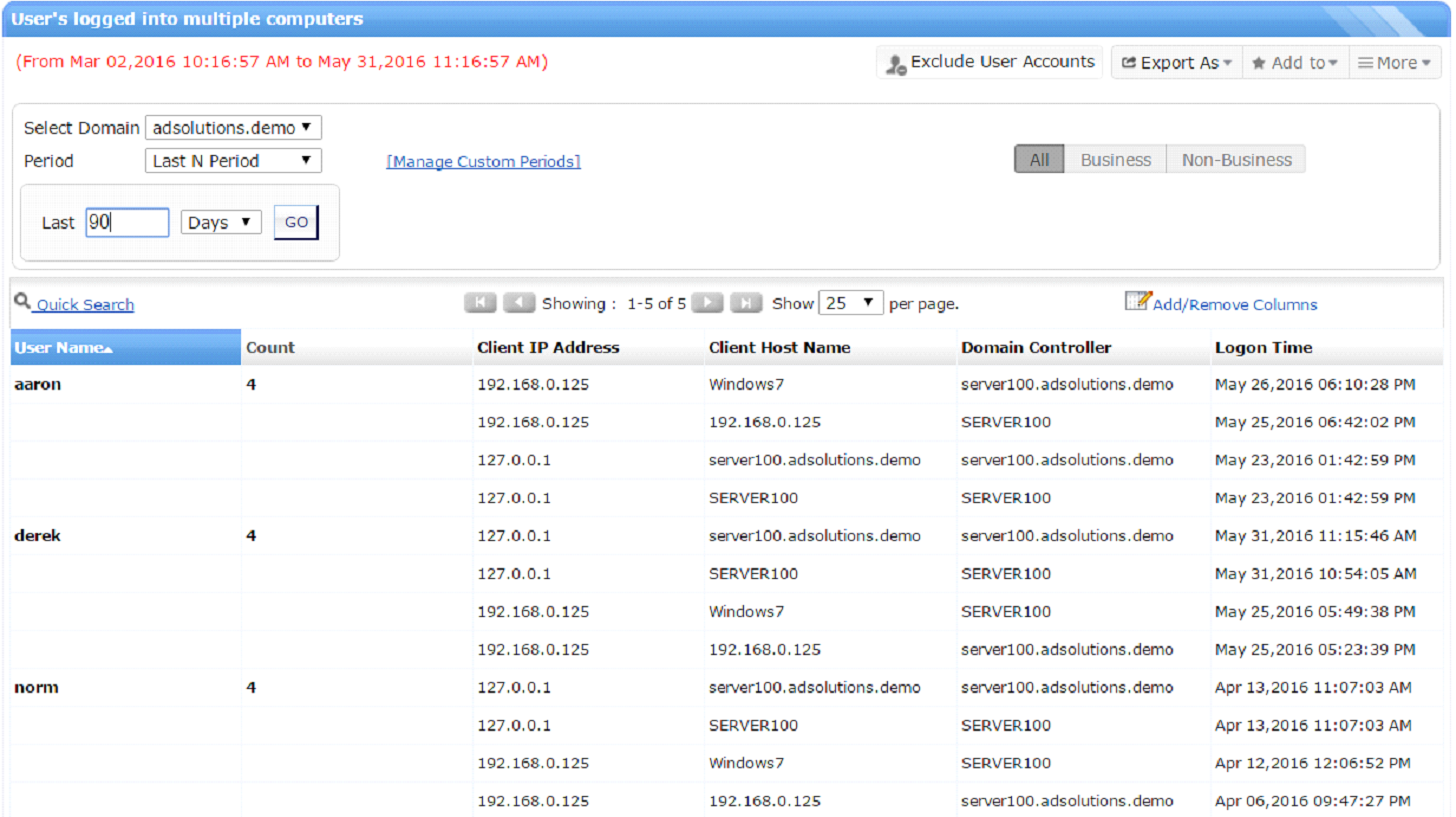 Users often want to log in to many computers, without logging out of any. Microsoft and Active Directory allow this without hesitation. Of course, this can cause issues for the user account, as well as for the computers where the user has not logged out. When a user account is being used to attack the network, it's important to know which computer the user is logged into, especially if they're logged on to more than one at the same time.
Whether you want to know which users are logged on to multiple computers currently, or at a specific time in the past, you can get the information you need to track down an issue or attack. But how? With the right tool, it's just a simple click!
ADAudit Plus comes with a …
READ MORE
Let's say that you pick up a dictionary to learn more about a word. What if the words in the dictionary aren't in order? Then, you'll have a fairly slim chance of finding your word. The same thing will happen when hundreds of alarms from several monitoring tools flood your alarm management dashboard. Now, if you can organize these alarms, you will be able to manage them better. You can easily track and respond to an alert quickly. With AlarmsOne, you can group the alarms based on display name, severity, category, and application.
 Grouping alarms by display name lists them according to the name of the monitor in the originating application. You can group  according to severity and classify th…
READ MORE
This Week's Five is a weekly column on five recent reads from all over the web. This week, we'll talk about digital transformation.
It works that fast: I was sipping coffee and surfing the internet when I looked up to see a security camera recording me, and feeding this near real-time data to a data center. I realized then that I had become part of the same digital world I was surfing. It hasn't always been like this. It's taken a long time for digital transformation to get where it is today. In general, it takes a lot more time, technology, and resources than the average person imagines.
So what exactly is digital transformation all about? And why should we care about it any way? Well, there a…
READ MORE
There is no formula that tells an Active Directory administrator when or how to perform certain actions. Some feel that manual actions are best, while others feel that automation is the only way, and the rest falling somewhere in between. I think the reality is that if a job is completed in a reasonable amount of time and the result is 100 percent correct, the approach was effective.
The point is, some methods provide helpful  options that others fail to give. For example, let's say that you need a list of user accounts that have not logged on for over 90 days so that you can disable them. The caveat is that you don't want to have to sift through user accounts that are already disabled, or user accounts that ha…
READ MORE
Users are often technically challenged when it comes to navigating computers or networks. When ADSelfService Plus is up and running, users can help themselves. That self-service help, however, isn't always easy to get. If users want to access ADSelfService Plus outside any notifications administrators have initiated, users must dig up old notification emails or know how to navigate to ADSelfService Plus.
So, how do you empower the user, even more than ADSelfSerivce Plus does, by allowing them to leverage the power that software provides? How about putting shortcuts on their desktops and Start menus? It's easy with just a few Group Policy settings.
To add shortcuts to the desktop or Start me…
READ MORE
What is mobile-first, and how can enterprises be mobile-first? Enterprises that realize that mobile devices are primary tools for employees to get work done are referred to as mobile-first enterprises.
Enterprises are slowly but surely opening up to the idea of their employees using mobile devices for work. A research study by Juniper even suggests that there will be one billion employee-owned devices by 2018. It is imperative that enterprises start preparing their monitoring capabilities to withstand the barrage of mobile devices that will come into their environment over the next few years.
While the mobile transition is happening, another transition that enterprises are making is the move to a hybr…
READ MORE
You have just migrated to Office 365 and, as with other Microsoft products, you probably have a lot of questions about your new environment. Or, you started using Office 365 a while ago, but are still having trouble managing everything. How do you understand the usage of various Office 365 services? How do you manage mailboxes? How do you monitor mail traffic?
You need detailed information on all aspects of Office 365 to keep it running trouble-free. And for that, you have two default options: PowerShell scripting and built-in Office 365 reports. Unfortunately, PowerShell scripts are time consuming and lack flexibility, while built-in reports rarely crack the surface of the data powerhouse that is Office 3…
READ MORE
As you may know by now, we've been touring the world in 2016 (just like we did in 2015) to spread Active Directory knowledge, solutions, and insight that you can apply to your AD environment. Thus far in 2016, we've seen Dubai, San Francisco, Madrid, Barcelona, Lisbon, Munich, Dusseldorf, Berlin, Tel Aviv, Bucharest, Warsaw, Wroclaw, Copenhagen, and Reykjavik.
We are still going strong and will be making a few more stops in the upcoming months, including:
New Jersey
Johannesburg
Sydney
Croatia
Bosnia
Ireland
Italy
Sweden
Holland
Our keen information on Active Directory and efficient management has been turning heads and obviously getting attention. We have been covering topics including:…
READ MORE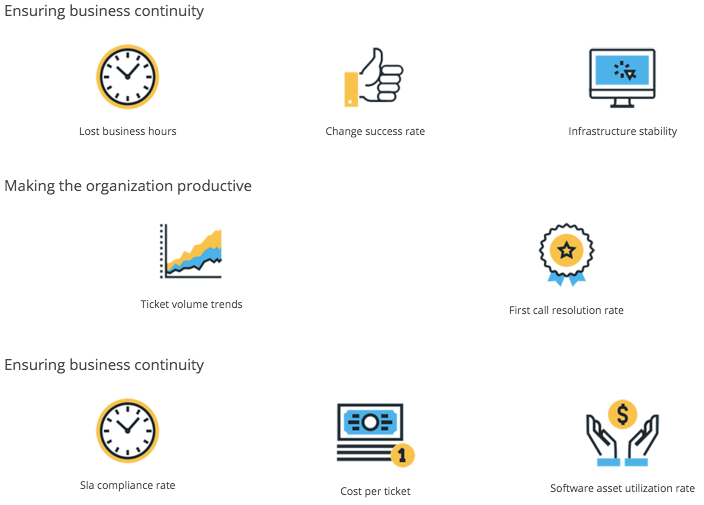 People often say "what gets measured gets improved," but they rarely say what, exactly, should be measured. With  the recent developments in the reporting capabilities of T help desk software, hundreds of KPIs and metrics can  be measured and monitored. But that doesn't mean  you should measure them all. Only the KPIs and metrics that are critical to your IT help desk need to be measured to improve service delivery.      
This blog series describes  the eight KPIs that are critical to every IT help desk. These KPIs help meet basic IT help desk objectives such as business continuity, organizational productivity, and delivery of services on time and within budget. The KPIs are as fo…