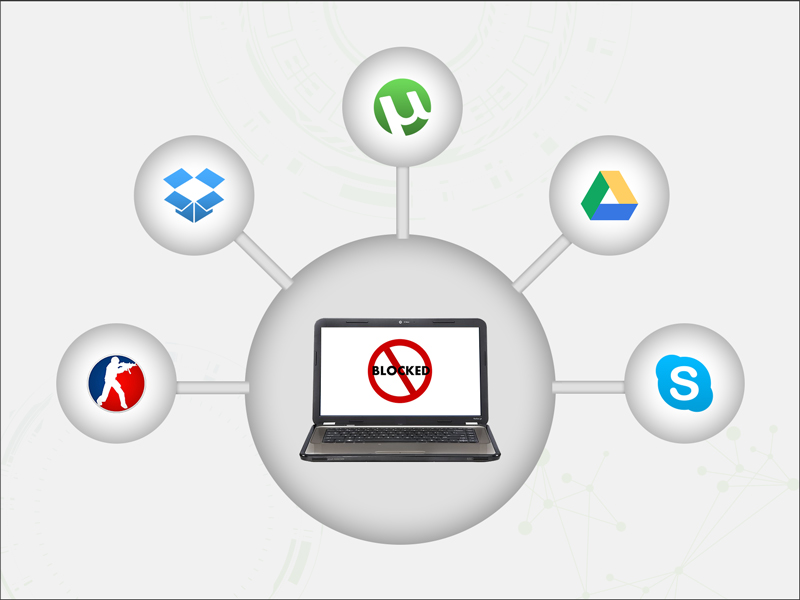 ​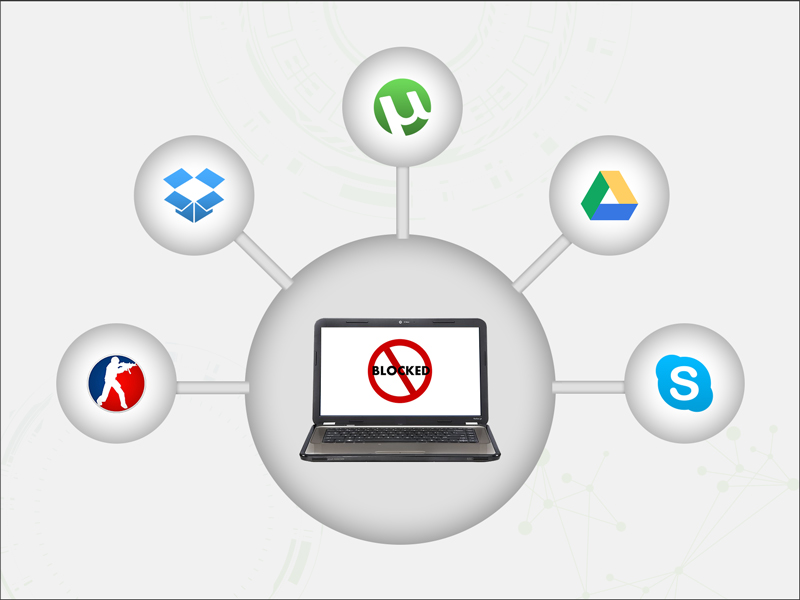 IT teams often face the challenging task of curbing the use of certain applications. They can encounter numerous incidents where the organization's sensitive information has the potential to be exploited. ​Security breaches, which often lead to numerous phishing scams and countless identity theft claims, make the news on a regular basis.
Business users today collaborate through email, instant messaging, and peer-to-peer applications. As collaboration increases, so do threats from hackers​ and malicious code, such as worms and viruses. Due to these harrowing threats, a major concern for IT admins today is to ensure that their machines are safe, and the organization's confide…
READ MORE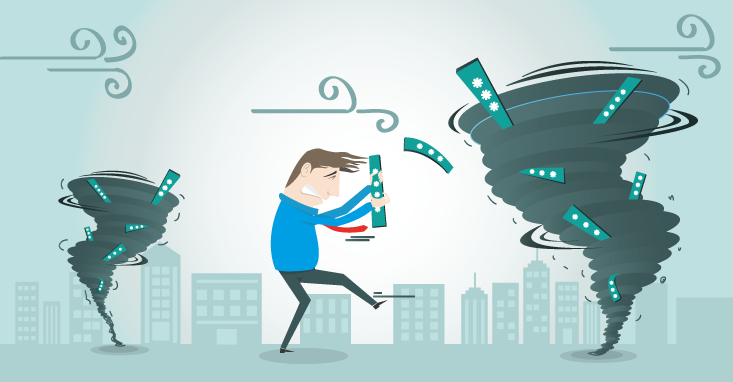 This has certainly been a busy summer for hackers worldwide. First, it was the U.S. federal agencies. This recent hack, aimed at the Office of Personnel Management (OPM), is already being referenced as the largest government data theft ever recorded. Next was the breach of the German parliament's system. Subsequently, websites of several Canadian government services were taken down in another attack.
Only a few weeks ago,  LOT Polish Airlines, too, joined the list of cyber victims. The attack led to delayed takeoffs and grounded nearly 1,400 passengers. A recent report released by the Identity Theft Resource Center (ITRC) claims that there has been a total of 541 data breaches so far in 2015, in the U.…
READ MORE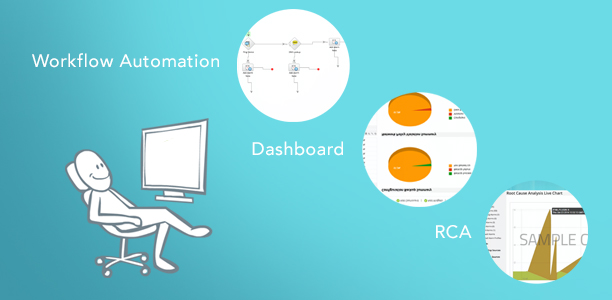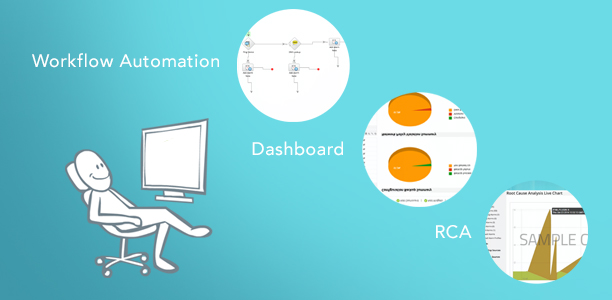 Organizations across industries suffer hundreds of thousands of dollars in lost revenue and reduced productivity annually due to under performing or down networks. According to a 2014 Gartner study, the average cost of a down network can be up to $5,600 per minute, which extrapolates to well over $300K per hour. These down networks and their impact on the organization are risks that are simply not worth taking.
As a network administrator, you need to select the right Network Monitoring System (NMS) that can help you quickly resolve network issues and proactively monitor network performance. The NMS features must help you avert network disasters and resolve common network problems. Ideally, the NMS or t…
READ MORE
We all know that executives (the people in the wooden offices) are important. Executives are a special group of employees and users who must be handled with great care. These users may not  know how to use computers, type passwords incorrectly, and have their user account locked out, rather too often! Understandly, no administrator or help desk technician wants to field a call from an executive where the user account is locked out.
Instead of reacting to such situations, be proactive and take  control of the situation by getting alerts on  user account  lockouts. Such alerts help you  unlock the account even before the executive becomes aware of the  lockout. 
To do this, you need to create a custom rep…
READ MORE
Bulk enrollment of corporate devices has always been a tedious task for mobile device management (MDM) IT administrators. As a silver lining for Android devices, ManageEngine Mobile Device Manager Plus now comes with an innovative method that will make bulk Android device enrollment easier than ever.  This novel feature simplifies the process to a bare minimum of just bumping devices to enroll, which saves both time and effort. 
Piqued your curiosity? Read on.
What it's about.
This feature is called Android NFC Enrollment. Near Field Communication (NFC) enables data exchange for Android devices within a short range of up to four centimeters. It enables quick file transfers by lightly bumping or pla…
READ MORE
…
READ MORE
…
READ MORE
E-commerce continues to be a game changer in the retail industry. But the change isn't always for the better. Along with its promise of enormous growth and competitive advantage, e-commerce poses scores of security issues, including poorly managed, third-party vendor access that leave retailers vulnerable to  data theft and other criminal hacks.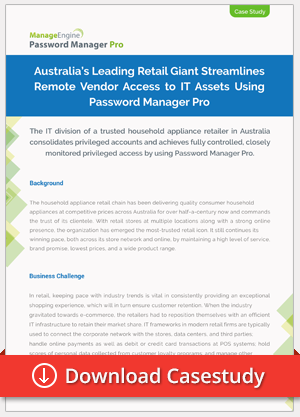 When that access risk was made obvious to a leading retail giant in Australia, the company stepped up its security controls by replacing its existing password management tool with Password Manager Pro. With ManageEngine's privileged access management solution in place, the retailer has secured its privileged accounts and established stron…
READ MORE
…
READ MORE
In the second blog post of this series you will learn how to track the complete life cycle of assets. The goal is to know the current state of each asset in your environment.
Organizations have their unique asset procurement, maintenance, and disposal policies. You need to frame an asset life cycle to cover all stages of an asset in your organization. Each asset stage can have one or more states associated to it.
 A typical asset life cycle configuration along with the associated asset states
Request for asset (requested)

Approval (waiting for approval, approved)

Procurement (purchased, leased)

Deployment (in installation, installed)

Usage (in use) 

Storage (in store, in repair)

Expiration (expired/d

…
READ MORE
Organizations often have user accounts that are configured to expire. ​Administrators do this so user access is automatically disabled after a specified date. This is common for consultants, summer workers, holiday workers, and others.
There is a need to stay on top of these accounts so that expired accounts can be purged, and soon-to-expire accounts can be tracked and managed. Gaining access to this ​information regarding these accounts using Microsoft tools can be difficult, so using the right tool can be helpful to save time and money.
ADManager Plus provides a simple solution to ​determine when an Active Directory (AD) user account expires: you can generate a report and even print the report wi…
READ MORE
Well, that was fast. Less than two weeks after SolarWinds committed to reviewing its "strategic alternatives," the review is complete and the alternative chosen. The winning strategy? Go private.
Yesterday, SolarWinds announced that it is being taken private by Silver Lake Partners and Thoma Bravo, two prominent private equity firms. Technically, this is an acquisition. For SolarWinds stockholders – including SolarWinds management – it's great news that pays $60.10 per share. For SolarWinds customers, the jury is still out.
I don't have crystal ball, but I've been through the "go-private" drill. Under a go-private structure, a company pays out shareholders by rai…
READ MORE
With over 35 user rights to choose from and configure on each and every Windows server, it's important to pick those that have the highest impact and effect if compromised. First, you need to get the listing of user rights from each server. There are a few options, but an ideal solution is to run "secpol.msc" from the Run menu. You will then be presented with the local security policy, as shown in Figure 1.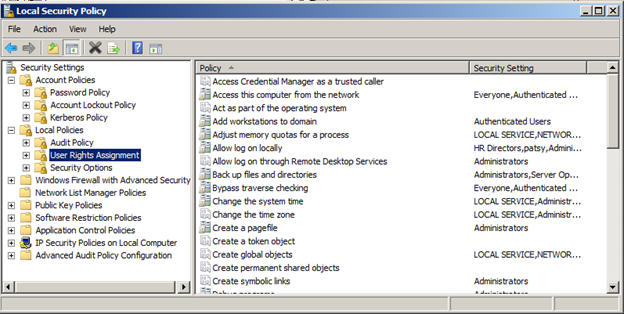 Figure 1. Local security policy from running "secpol.msc."
As you can see in Figure 1, if you expand the window to Security Settings – Local Policies – User Rights Assignment, you can view all of the user rights that are configured on the server. If you want to save the settings t…