Accessing web resources securely is essential for enterprises and educational institutions. And so, mobility management now includes the ability to filter web content. With web content filtering, organizations can manage, restrict, and channelize content to specific user groups. Limiting website access not only improves productivity, it also functions as a valuable security feature. It enables you to dodge malware attacks from malicious web pages. 
How it works.
The web content filtering feature works on Apple mobile devices running iOS 7 and above, using a Safari browser. In addition, the devices must be supervised with Apple Configurator or Device Enrollment Program through a mobile device …
READ MORE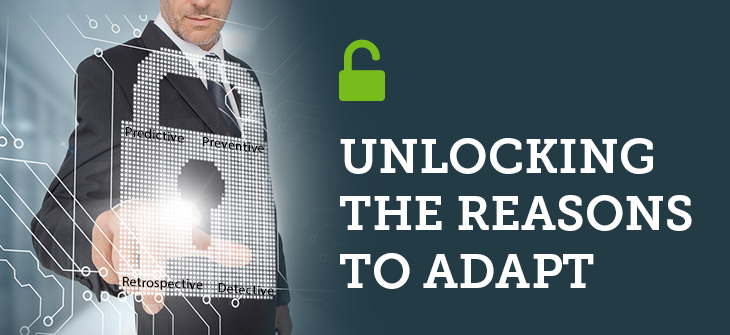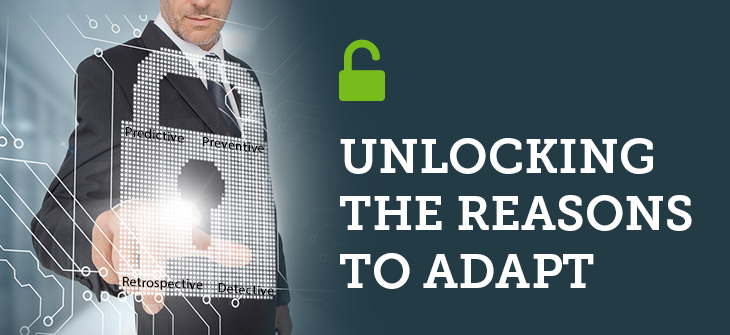 In my previous blog, we learned about the basics of adaptive security architecture .We also learnt why enterprises need to focus on a more comprehensive and progressive approach to address their IT security risks.In this blog, we will learn some of the main reasons why enterprises should adopt adaptive security architecture.
Traditionally, enterprise security has focused on  blocking and prevention techniques (e.g., antivirus software) as well as policy-based controls (e.g., firewalls). However, sophisticated targeted attacks are easily bypassing traditional firewalls and signature-based prevention mechanisms, making it impossible to protect the enterprise platforms with those techniq…
READ MORE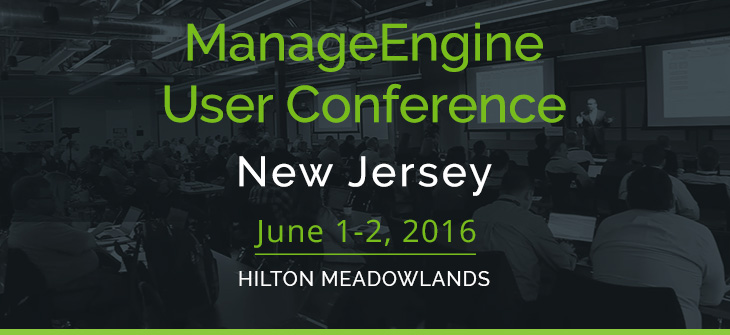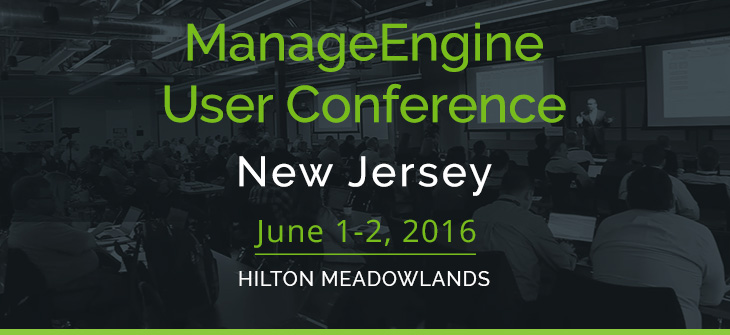 Drum roll please: The ManageEngine user conference is coming to New Jersey!
Come join other ManageEngine users on June 1-2, 2016, in New Jersey and learn new ways to make managing your IT even more fun. We know—we didn't think it was possible, either.
You are invited to our two day event filled with presentations, hands on demonstrations, question and answer panels, and one-on-one sessions to help you make IT management simple, fast, and efficient. You can also network with our experts and other ManageEngine users.
At UserConf16, you will gain insight into our solutions for IT service management, IT operations management, Windows Server and Active Directory management, Device management, and IT …
READ MORE
People often say "what gets measured gets improved," but they rarely say what, exactly, should be measured. With  the recent developments in the reporting capabilities of T help desk software, hundreds of KPIs and metrics can  be measured and monitored. But that doesn't mean  you should measure them all. Only the KPIs and metrics that are critical to your IT help desk need to be measured to improve service delivery.      
This paper describes  the eight KPIs that are critical to every IT help desk. These KPIs help meet basic IT help desk objectives such as business continuity, organizational productivity, and delivery of services on time and within budget. The KPIs are as follows: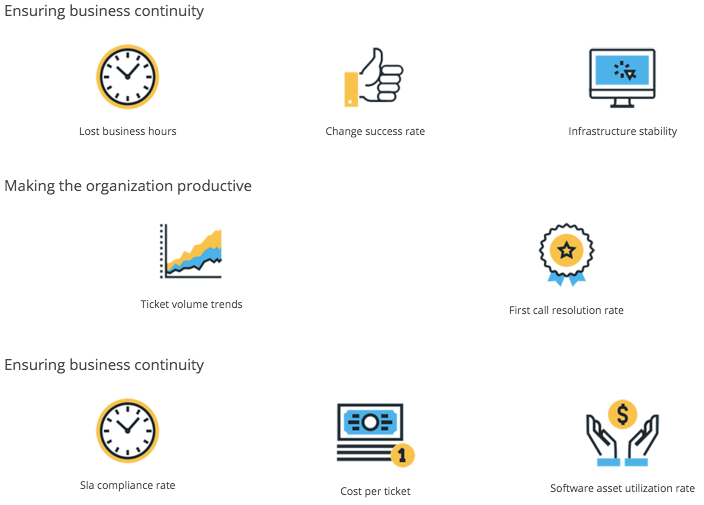 M…
READ MORE
Let's say that you pick up a dictionary to learn more about a word. What if the words in the dictionary aren't in order? Then, you'll have a fairly slim chance of finding your word. The same thing will happen when hundreds of alarms from several monitoring tools flood your alarm management dashboard. Now, if you can organize these alarms, you will be able to manage them better. You can easily track and respond to an alert quickly. With AlarmsOne, you can group the alarms based on display name, severity, category, and application.
 Grouping alarms by display name lists them according to the name of the monitor in the originating application. You can group  according to severity and classify th…
READ MORE
ManageEngine has stressed the importance of monitoring and alerting on Active Directory changes for years. With this level of monitoring and alerting, you can see and be notified of any key change in Active Directory with an email! That is powerful.
To monitor and alert on Active Directory changes, you need to establish the SACL (security access control list) on Active Directory objects. Ideally, you will configure the SACL at the domain level, which will then be inherited down through the Active Directory structure. Follow this link for details on exactly how to configure the SACL.
Once you've configured, you need to verify that the SACL is correct, to be sure you don't miss any changes. But, how do y…
READ MORE
2015 was the year of bold and sophisticated cybercrimes in Australia when major corporations such as The Commonwealth Bank, Target,T-Mobile, K-mart, X-box, Anthem Inc., and Slack lost millions of dollars in security breaches and lost data records. You can expect 2016 to be no different unless companies take proactive measures to improve their IT security.
Australia is a country highly targeted by cyber criminals. Many Australian organizations regularly face security breaches and sometimes they are not even aware of these breaches until it's too late. This is because most of these organizations see security as a reactive measure rather than a proactive solution. Therefore, by implementing pro…
READ MORE
We at ManageEngine always suggest that you track Active Directory and file changes with advanced auditing in lieu of the traditional audit policy settings. There's a catch, though: how do you verify that your settings are in place? If you've been following our blogs for a while, you know that we truly rely on secpol.msc for most settings that are deployed in the Security Settings area of a GPO. However, that fails with advanced audit policy reporting!
So, what are you to do?
For some odd reason, secpols.msc fails to report on the advanced audit policy configurations. We could call up Microsoft and ask, but in cases like this, it is just not worth the effort.
Rsop.msc is another option, but unfortunat…
READ MORE
Every Active Directory administrator around the world has the same issue. There is always someone else who can modify Active Directory! When incorrect changes occur, some issue usually arises from the change. A service fails, a user can not access a resource, Group Policy fails to apply, etc.
In those situations, it can be difficult, if not impossible, to figure out the root cause without in-depth troubleshooting. After you have fixed the problem, it would be nice to know who caused the incorrect change and what the change was.
Instead of troubleshooting and guessing to solve the problem, wouldn't you prefer to have a solution that informs you of the change in real-time so you can immediately take actio…
READ MORE
In a recent conference, I was privy to a insightful session on password cracking. No, not pass-the-hash, pass-the-ticket, token manipulation, or other high-tech techniques. Rather, just simple brute force hacks, with some twists. It reinforced what I have been teaching for years, which is that our passwords are nearly worthless. Let me explain.
Most organizations allow users to use weak and pathetic passwords. A typical password policy looks like this:
Minimum password length: 6 to 10 characters
Types of characters in the password: At least 3 or the 4 required (a, A, 1, $)
One would think, since that is the default from Microsoft, that it would be a good recipe for a strong password. Unfortunately, it is not. …
READ MORE
Many organizations rely on user account attributes to run queries against Active Directory and get lists of user accounts. For example, an administrator might run a query against the department attribute to find all finance users. If, however, a user's department is not filled out in Active Directory, the user will not be returned in any query for department (unless a query of null is run).
So, how can you require certain essential user account attributes to get the results you want?
You could update the Active Directory schema to make the required user account attributes mandatory. This might end up being a large issue, as it requires that the attribute be configured before the user account is created. …
READ MORE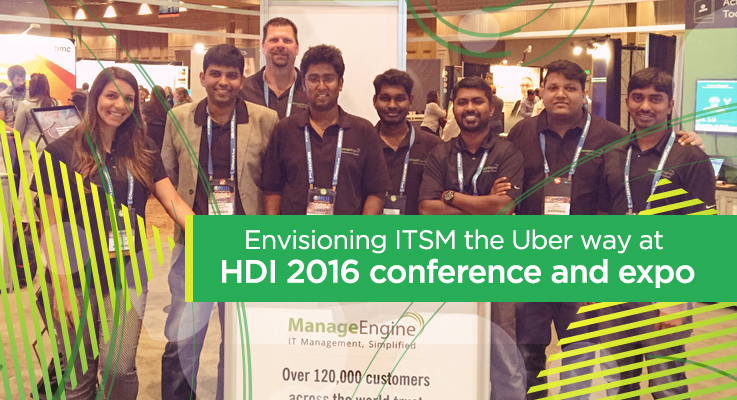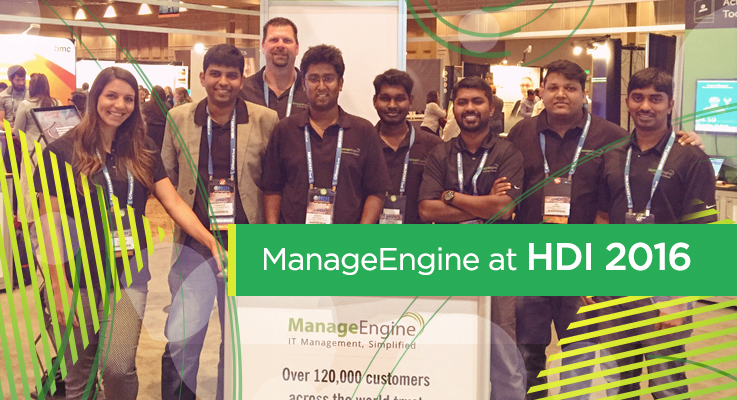 The HDI 2016 Conference and Expo happened last week in Orlando, Florida. For ManageEngine, it was a busy, engaging, and a very satisfying experience. IT admins, help desk managers, and others walked into our booth to check out the host of ManageEngine products, keeping us on our toes throughout the day. ManageEngine's flagship product, ServiceDesk Plus, was in focus.   A few customers walked in and shared  their ServiceDesk Plus experiences with inquiring visitors—let's call it word-of-mouth marketing!
As always, the HDI event was  packed  with keynote speeches and multiple learning tracks. The expo floor buzzed with action as attendees shared their help desk stories,  pain poin…