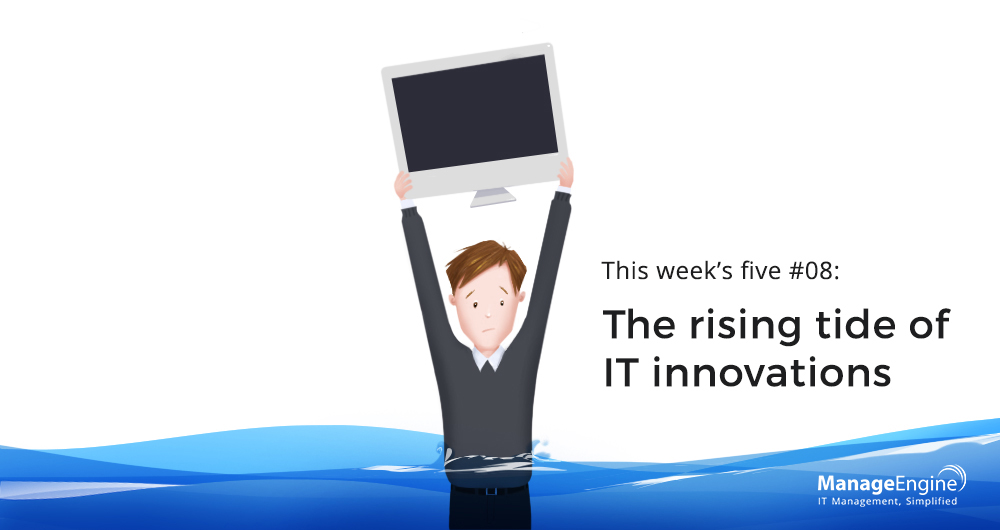 This week's five
is a weekly column on five recent reads from all over the web. This week, we'll talk
about the
risks and challenges involved with IT innovations
.
Digital transformation has taken many shapes over time. There was a time when installing a room-sized mainframe was
the
big step for digital transformation. Today, there's no one big step. Instead, there are several. The cloud could be called
a big step. Mobility could be called a big step. E
ven
IoT
could be called a big step. All these technologies are like
waves. And the rising
tide
, whether good or bad, always brings something extra along with it. In short, digital transformation doesn't come without risks and challenges.
Compared
to the cl
…
READ MORE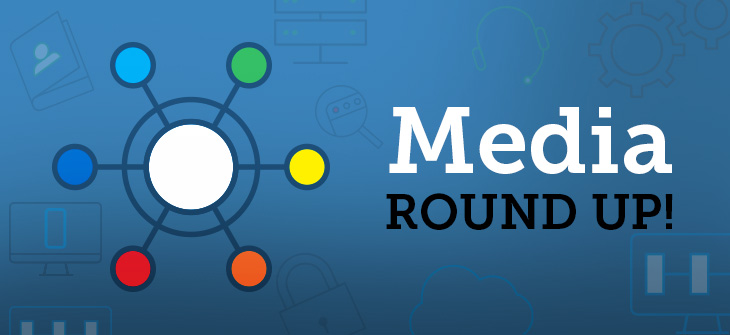 Here's a round up of the latest media coverage on ManageEngine. We all know there's a growing demand to improve IT service delivery and efficiency. And in order to improve, you have to know what went wrong. But how? All roads lead to analytics tools—you can analyze data from your service desk to identify inefficiencies.
Bring your data to life!
Did you know that
one-third of businesses depend on end users to report application performance issues? Here's the colorful proof!
Where is identity management heading? Deep into the world of
pas***rds.
With almost 100 million new businesses launched every year globally, free tools and software to run IT by prominent players like ManageEngine a…
READ MORE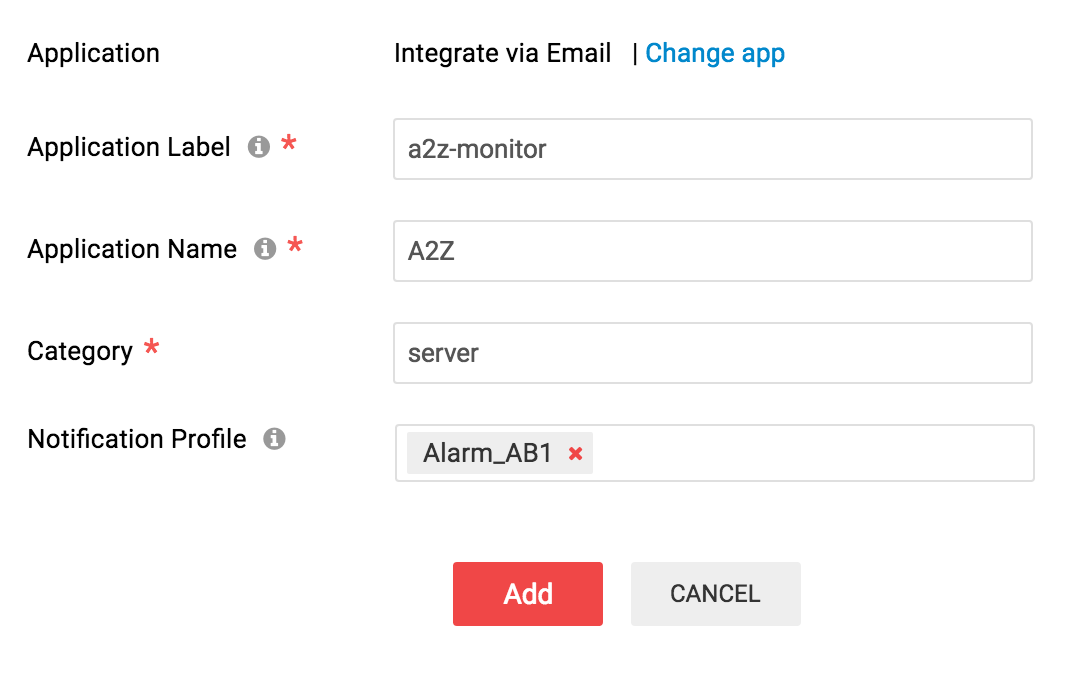 Does your application send an email alert when something's wrong? If so, your IT is about to get a whole lot simpler.
You can now integrate your application with AlarmsOne via email.
In our pursuit to develop a centralized tool for IT alarm management, we ran into the challenge of integrating AlarmsOne with applications that are not capable of making REST or W
ebhook API calls. Email integration changes all of this.
Consider you're monitoring your network with Solarwinds, and your applications with Site24x7. These two applications are capable of making REST or Webhook API calls, and can be easily integrated with AlarmsOne.
But to monitor your servers, maybe you use an internal or third-party to
…
READ MORE
I keep getting questions about how to handle duplicate usernames during new Active Directory user accounts. Even as organizations are moving to the cloud, cleaning up AD, and merging with other companies, duplicate usernames is a hot topic. Now, if we go back to the basics of creating user accounts with the Active Directory Users and Computers tool, it will indicate if the username or the pre-Windows 2000 username is causing the duplication. However, there is no option to make the tool automatically deal with duplications. Instead, it's up to the administrator to continually attempt additional logon names until a name is entered that does not duplicate an existing user account. If you try to handle du…
READ MORE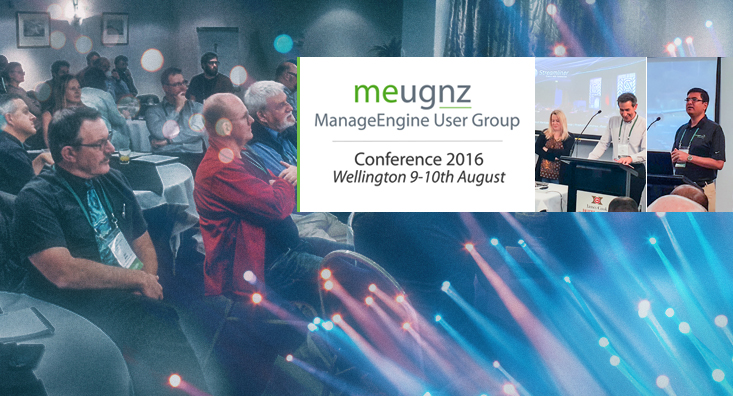 New Zealand may be known as the place where Hobbits and Elves live, but did you know we have the honour of creating the world's first official
ManageEngine User Group (MEUGNZ)
? It's taken a little bit of time to get to this point and it still has some challenges ahead, but it exists and it's real. Paul Phillips from
Soft Solutions
, the ManageEngine distributors in New Zealand, and I for a number of years had talked about the possibility of getting people together, but he finally felt the timing was right to start actually testing the waters. It's thanks to him and the team at Soft Solutions that things actually started happening. I was onboard straight away. I've always been a massive fan of the Mana…
READ MORE
Earlier, I
introduced the eight KPIs
that are critical to every IT help desk. These KPIs help meet basic IT help desk objectives such as business continuity, organizational productivity, and delivery of services on time and within budget. The previous blog post discussed about the KPI change success rate. This post discusses the third KPI – Infrastructure stability. 
Definition:
A highly stable infrastructure is characterized by maximum
availability, very few outages, and low service disruptions.
Goal:
Maintain a highly stable infrastructure.
To effectively gauge and monitor infrastructure stability, IT help desks need to
monitor the following:
Percentage reduction in the number of
…
READ MORE
It's business as usual at the corporate headquarters of
Zylker
, the fictional company in Anytown, USA. It's seven in the morning and people are bustling in and out of the pantry with steaming cups of tea and coffee. Martina, the network administrator, grabs her
cup of coffee
and walks to her desk to start the day. Settling into her high-back chair, Martina has no idea that she will
soon discover a mobile
way to accomplish
her tasks
. But let's let her tell the story…
After logging into my desktop, I'm
setting up everything I need
when
a
n unusual blue screen appears
out of nowhere.
Then, my computer
shuts down! I try switching off and on the main power supply. But
no matter what I do, my c
…
READ MORE
Often, some or all users in a group need the same attribute updated for a project or some other requirement. But this can be a tricky task, especially when it comes to finding the group and then having to manually update the property for each user, individually.
With the right tool—such as ADManager Plus, updating user properties is easily accomplished. In order to modify a user property for more than one user account at a time, you must first get a list of the users. With ADManger Plus, you can view the members of a group in just one predefined report, as you can see in Figure 1.
Figure 1. Report displaying group members.
Now that you have the list of group members, you can select one member or more, along with the prope
…
READ MORE
Have you ever heard these comments about the Windows password expiration notifications?
–
I never saw the password notification "bubble."
–
The balloon notification doesn't display on most users' workstations.
–
A very easy-to-miss bubble hovers there for a few seconds, then fades away.
–
By default, Windows 7 has set all icons and notifications on the taskbar to be partially hidden.
–
The password balloon will remain hidden from the domain user.
If you try to get a solution from Microsoft to solve these and other issues, such as notifying remote users, you will get a list of solutions including:
–
PowerShell
–
Microsoft Identity Management
…
READ MORE
With a rapidly changing business landscape, applications usually drive the enterprise. As proof, a Gartner study reveals that in 2015, the annual IT application development investment was roughly 35 percent of total IT spending. In turn, any organization that is investing substantially in applications should have around-the-clock mechanisms to ensure optimal functioning of those apps, especially since service disruption leads to dissatisfied customers and diluted brand equity. Here's how to use a monitoring system to elevate your customers' satisfaction with applications:
Experience What Your Customer Does
Customer experience is an important dimension of marketing and has bec…