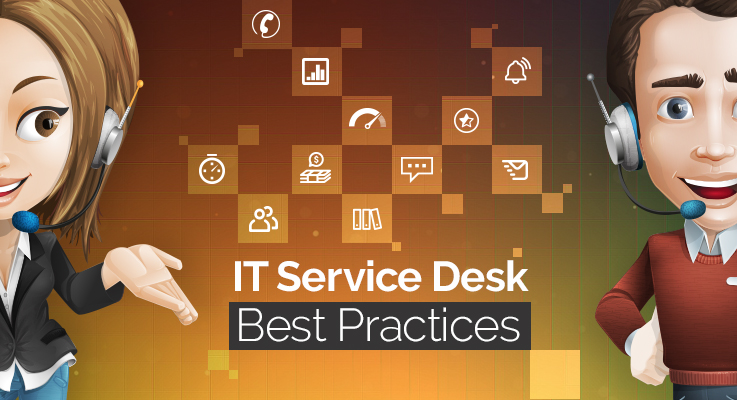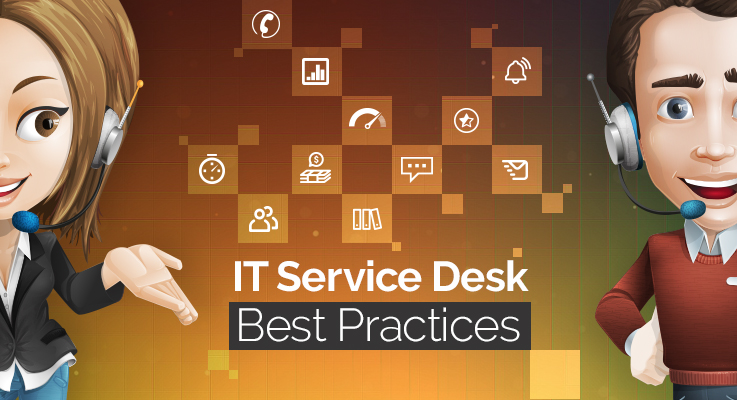 The health of any organization is closely connected to the efficiency of its IT service desk. However, many organizations don't follow best practices in their service desk operations, which results in low end-user satisfaction.
Here is a quick list of IT service desk best practices that will help you be prepared, provide great service, and ensure end-user satisfaction. We've collated these practices from our conversations with industry leaders. We'll look at how two IT technicians, Rob and Jeni, handle the various help desk tickets that come their way.
Document and Archive Incidents for Effective Incident Management

Merely stating closed or fixed doesn't resolve the incident f…
READ MORE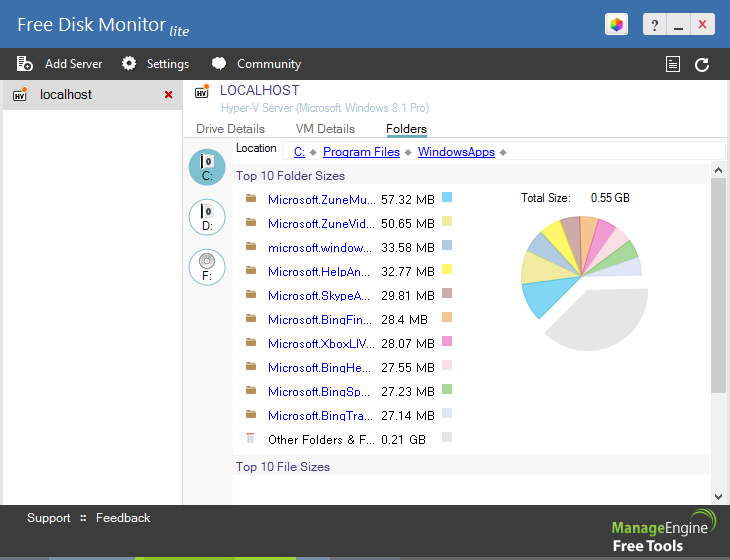 Efficient capacity management involves  proper planning and execution. To plan effectively, you must first acquire an in-depth understanding of the available disk space in the host system. Deploying applications is not difficult. However, knowing which drive  has adequate space to accommodate your new application is quite a challenge. Not if you have ManageEngine's Free Disk Monitor Lite. This tool helps you drill down the required information and understand the disk usage status on servers such as Hyper-V, Windows, and VMware.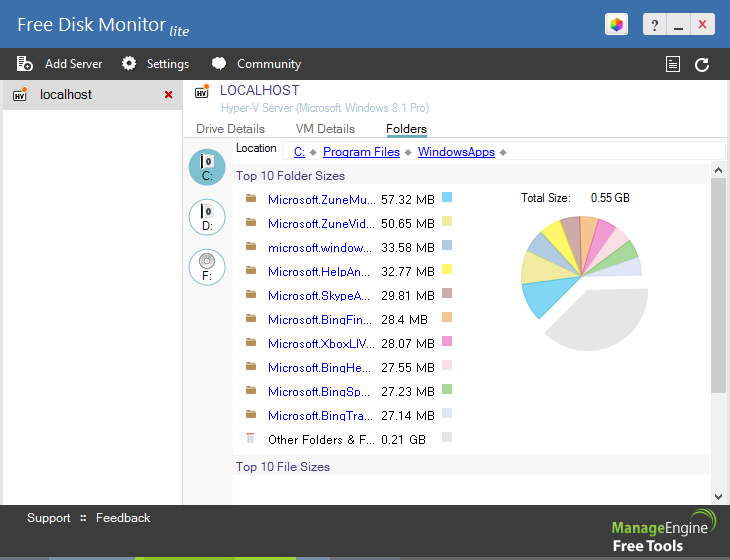 Monitor disk space utilization
Using Disk Monitor Lite, you can analyze the capacity breakdown of the disk space, such as used and unused space. This information he…
READ MORE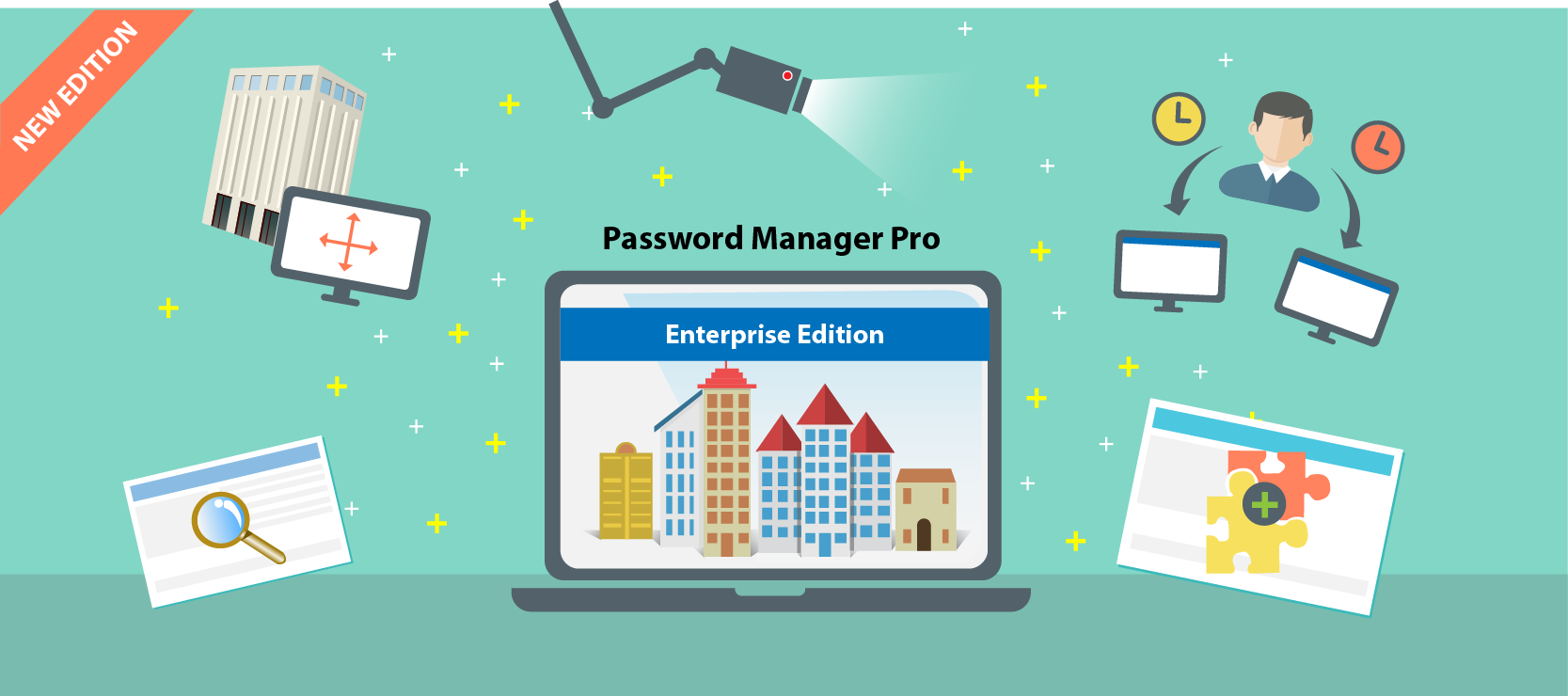 No one is safe out on the virtual streets of cyber world, and security breaches surface quite frequently to remind us of the same. Lately, the U.S. federal agencies are the  favorite hot spots for hackers. Two weeks ago, the high-tech system of Internal Revenue Service (IRS) was hacked and the personal data of over 100,000 U.S. taxpayers was stolen while the Office of Personnel Management (OPM) suffered what appears to be one of the largest U.S. Government data theft. Cyber criminals broke into the OPM database and accessed the identity information of at least 4 million federal workers. Such attacks expose the sophisticated methods that cyber criminals use and the vulnerability of even the largest of enterp…
READ MORE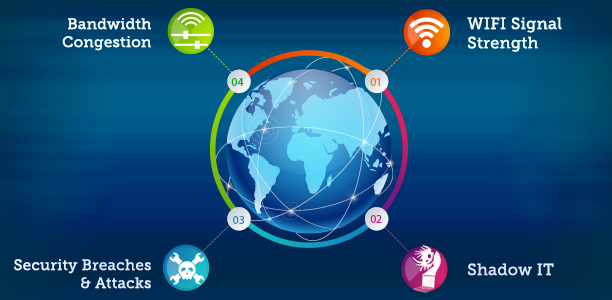 Mobile-device adoption for day-to-day business activities has been on the rise thanks to BYOD, smartphone proliferation and high-speed wireless networks. According to ABI Research, the number of active wireless connected devices is expected to grow from 13 billion in 2013 to 40.9 billion in 2020. That's massive!
Today, users are no longer tied to their desktops or laptops thanks to mobile technology. They can reply to important business emails, access their CRM systems, collaborate with peers and share files—all from the cafeteria to the parking lot. This situation implies that it's high time for enterprise network admins to recognize that wireless networks are just as important as their wired …
READ MORE
…
READ MORE
…
READ MORE
Stop the presses! Hold on to your hats! Are you sitting down?
We at ManageEngine have just released a new, FREE tool that will find and report all of your Windows service accounts. That is correct, you can now run a simple tool to document and get a listing of all of your service accounts that are running your Windows services on all of your Windows computers.
The tool could not be easier to use.
First, you select the computers you want to include in your search, which you can see here in Figure 1.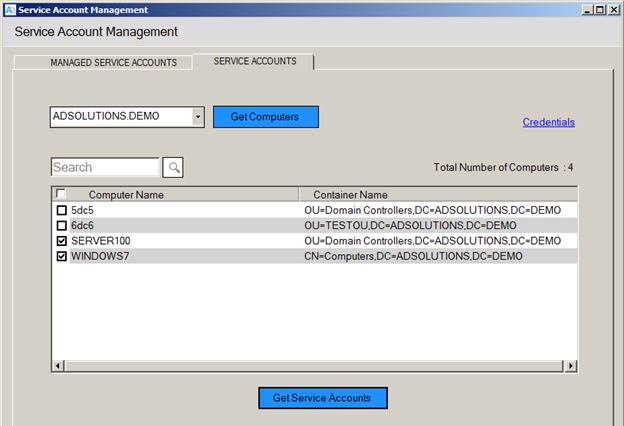 Figure 1. Select the computers you want to search for the service accounts.
Second, you click on the "Get Service Accounts" button! That is all! The results of step 2 can be seen in Figure 2.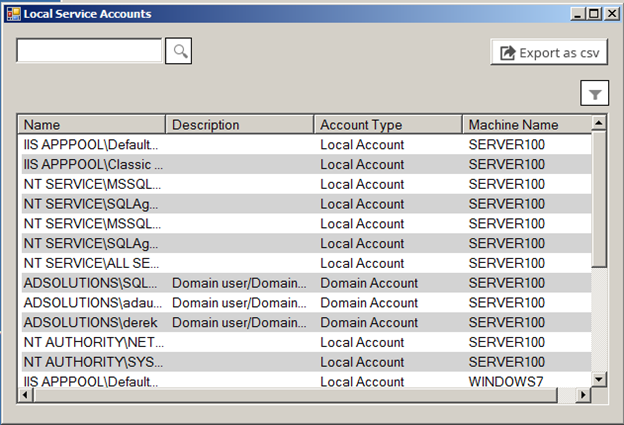 Figure 2. All service accounts runni…
READ MORE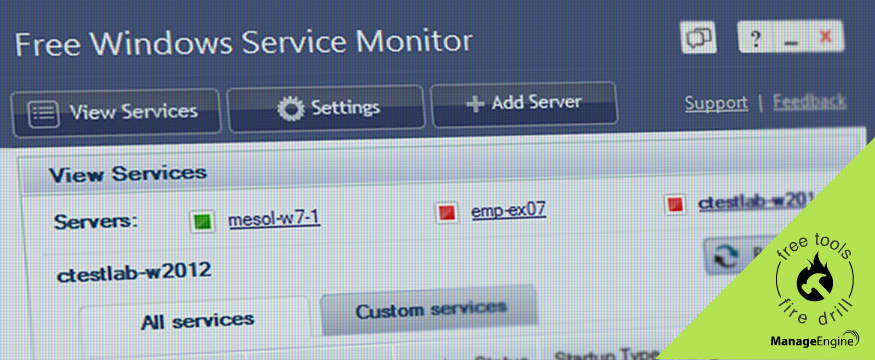 SMBs strive on an everyday basis to increase customer loyalty and reduce operating costs. Often, they are hard pressed for resources with just a few IT admins managing several servers. As an IT admin in an SMB, you may have to keep tabs on all the Windows services running on your systems. And there might be several services running on multiple servers. So, how do you monitor all of them? You think getting a large monitoring solution is the only way to solve this problem? Not at all. Because with ManageEngine's Free Windows Service Monitoring tool, you can manage your Windows services, across systems and geographies, from a single console. Here are three reasons why you'll find this tool quite useful …
READ MORE
…
READ MORE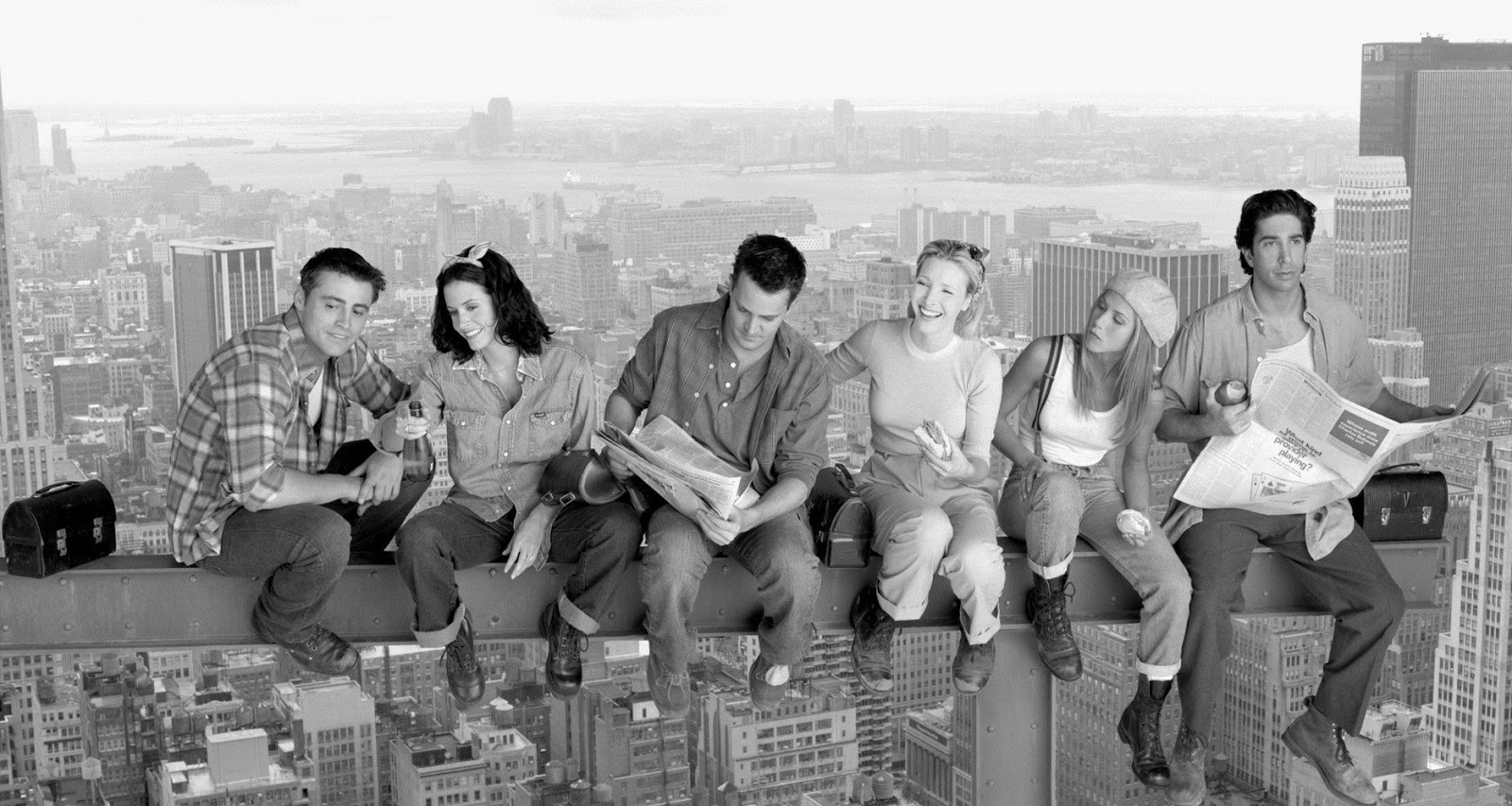 ​Best practices in storage management you can learn from FRIENDS
Storage is where data rests when it's not being tossed around by users, apps, and services. Efficient ​storage management becomes paramount as data ​availability drives today's business. This puts a lot of pressure on storage admins to maintain high performance of their storage setups. Sort of like the pressures and performance demands that faced the "Friends" characters on a weekly basis. Given the success of ​that timeless TV sitcom, we shouldn't be surprised that Rachel, Monica, Phoebe, Chandler, Ross, and Joey have a few best practices that can be tweaked to deliver storage management success.
1. Sto…
READ MORE
Privileged access attacks are at an all-time high. In many cases, the attacks are not successful on the first attempt. The attacker tries to logon with one or more credentials, often many times for each account with failure before success. So, when it comes to tracking failed "admin" logon attempts, you could find and deny an attack before the attack is successful!
Trying to track down failed attempts for many user accounts can be a tedious task. Even if you know the names of the user accounts that have admin privileges, trying to search through the logs of each domain controller can be taxing, if not nearly impossible. Consider the following issues if you want to try and manually track failed logons by admin a…
READ MORE
Today's IT support teams don't just deal with IT and business services. They also manage the physical and virtual asset components. Because those assets are the building blocks of an organization's IT infrastructure, the benefits of IT asset management (ITAM) can't be stressed enough. Many organizations have no knowledge about their IT asset infrastructure while others have limited visibility of their planned and actual asset inventory. Streamlined asset management can bring down IT costs significantly.
ITAM plays a vital role in helping an organization define and control its IT infrastructure by maintaining data about the historical and current state of a…