Are multiple IT operators accessing, utilizing, or managing your network address space? If so, then you might have noticed that one of the time-consuming network management tasks you are undertaking regularly, is allocating IP addresses to the IT operators. This is an inevitable task since, as your network scales with new physical components or technology implementations, your operators require new IPs to enable network connectivity. While it might sound simple, factors such as allocating IPs from the required subnet, ensuring appropriate access controls, and tracking the allocated IPs can make IP allocation tedious.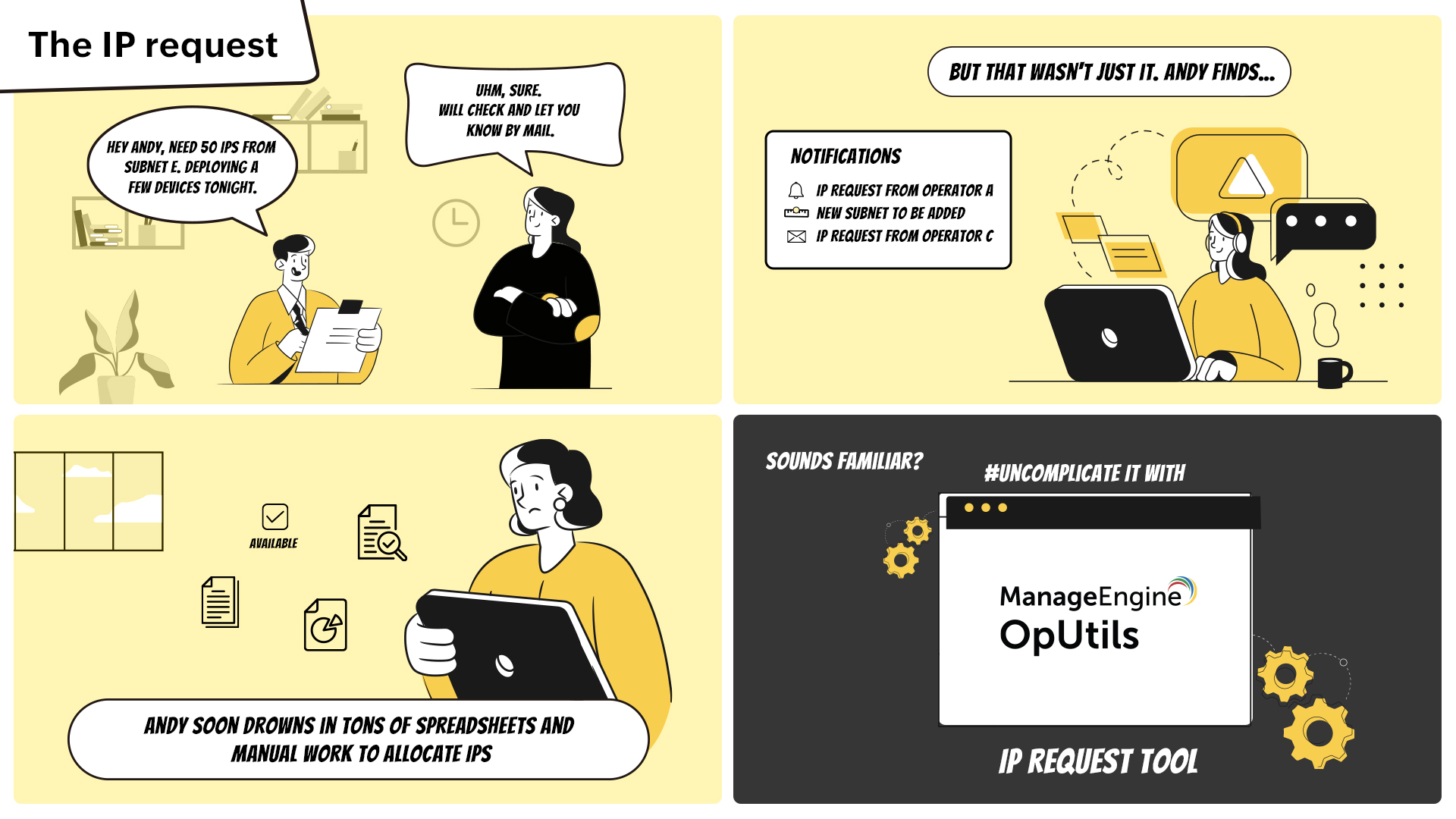 How are IPs usually allocated?
In a typical IT infrastructure, when IT operators need IP addresses, they reach out to the IT admins through different modes such as emails, text messages, or in person.
The IT admins then check the subnets the operator is allowed to access. In these subnets, based on IP address availability, the administrator allocates the IP addresses.
The IT admin should also update the status of the newly allocated IPs in their network management solutions, including marking the status of the IPs as reserved in IP address manager.
The operators are then notified of the IPs allocated, and they can start using these IPs.
What are the challenges in this method and why do you need an IP Request tool?
The number and complexity of the manual tasks described above are tedious hurdles in the process of requesting and allocating IP addresses. For instance, the network admin has to carry out at least two or three tasks, such as updating the log of which IP is allocated to which operator, checking the list of available IPs, and notifying the operator after allocating the IPs. This increases the probability of network issues due to human error.
Without a centralized IP request tool in place, network admins are often stymied by manual tasks as well as these challenges:
Keeping track: With operators requesting IP addresses through various channels, such as team chats and emails, network admins can easily lose track of pending IP requests.
Mapping access controls: For security reasons, many organizations follow role-based access controls (RBAC) which restrict IT operators' visibility and accessibility only to the required subnets. Without an automated IP request management tool, the IT admins might have to manually check subnet accessibility for the operators before allocating IPs. This becomes time-consuming and tedious.
Follow-ups and status updates: If the operators who had raised an IP allocation request haven't been allocated IP addresses on time, they might have to constantly check the status of the IP addresses with the admins. This is often accomplished with a separate tool or email, possibly adding some confusion to the status communication efforts.
How does OpUtils' IP request tool help?
To help you easily avoid the challenges of IP address request and allocation, thereby enabling seamless IP address management, OpUtils has introduced an built-in IP Request tool. This IP allocation tool provides functions appropriate for both IT administrators and operators. Here's a quick dive into it's features:
We've made IP allocation a lot less complex and a lot more streamlined
How? We've integrated the IP Request tool in your IP Address Manager module. This way, you can handle your IP allocation requests without leaving your OpUtils IP Address Manager console.
Highlights of OpUtils' IP request tool
Avoid the chances of IP address conflicts in your network with streamlined IP allocation and utilization.
For Operators:

Easily raise IP requests by specifying the number of IP addresses required and their preferred subnet.
OpUtils automatically logs all the IP requests raised by the operators and its details, and displays it in the operator's console.

For Administrators:

Get notified instantly when an operator raises an IP request.
View the IP requests raised, make changes such as changing the preferred subnets, and approve or decline the IP requests.
Automatically keep track of all the IP request raised by operators.
We know you've spent a lot of time and carefully set up your OpUtils' RBACs. This is why we've built a new tool that confirms to the RBACs you've set.
Operators can only request IPs from the subnets they are configured to access.
Administrators can only grant IP requests from subnets they are configured to manage.
To know more about the IP Request tool's features, please visit: IP Request feature page
To learn how to configure and raise IP Request's with the tool, visit: IP Request tool help doc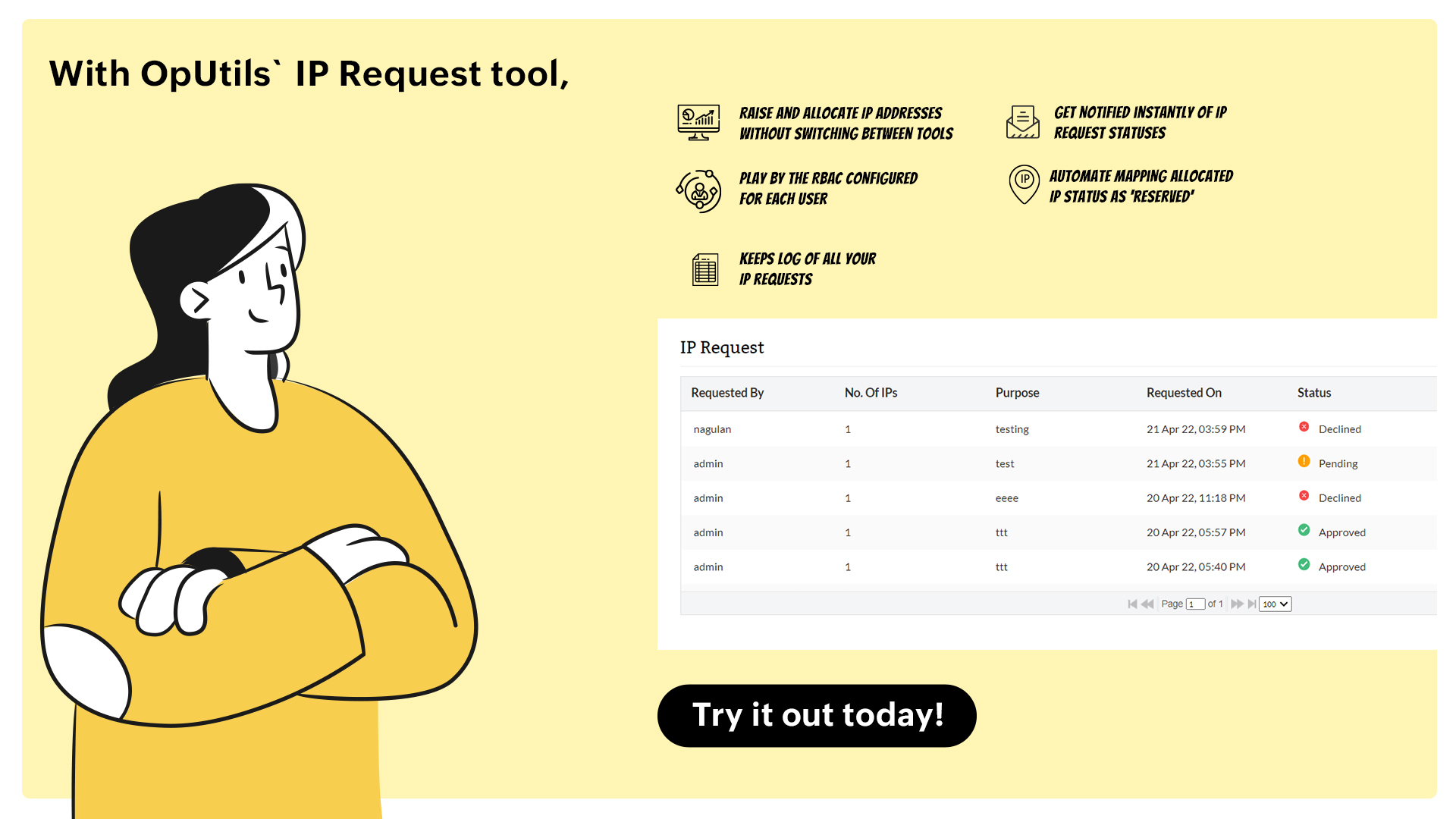 New to OpUtils? Schedule a live demo with our product experts and discover how OpUtils can help your network. Or, download a free, 30-day trial and explore OpUtils hands-on today!