Ensuring uninterrupted network availability is paramount for any organization relying on multiple network devices for their day-to-day operations. Two crucial metrics that govern network availability are performance and fault management. By implementing ManageEngine OpManager as your fault and performance monitoring tool, you gain invaluable insights into device health, CPU performance, and more. Thanks to OpManager's advanced AI and ML capabilities, you'll be positioned to stay ahead of potential network disasters.
However, in today's intricate network infrastructures, relying solely on network monitoring might not suffice. The linchpin of any network lies in its configurations, serving as the foundation for all operations. A single misconfiguration could lead to a cascade of failures, potentially crippling your organization in a matter of minutes. The question then arises: how do you effectively manage these critical configurations, providing the attention to detail they deserve?
The answer lies in a network configuration and change management solution, capable of seamlessly overseeing network configurations without the need for manual intervention. This is precisely where our ManageEngine Network Configuration Manager steps in.
Now, you might be wondering if adopting an additional solution, especially when you're already using a ManageEngine product, could introduce challenges like learning a new tool or incurring higher costs. You're absolutely right, and these concerns can be efficiently addressed through an integrated configuration management solution.
By seamlessly integrating ManageEngine Network Configuration Manager with your existing ManageEngine OpManager, you'll reap the benefits of both monitoring and management under one unified platform. This translates to a shorter learning curve—thanks to a shared user interface—and streamlined costs.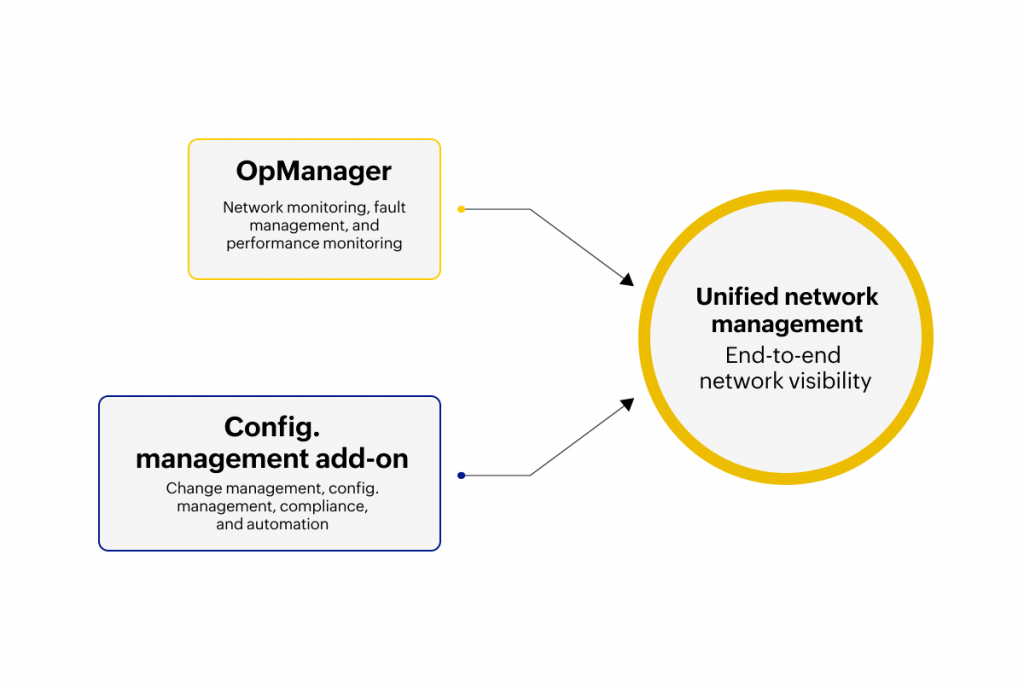 Challenges without a configuration management solution
Human errors: Manual configuration management often leads to common issues like unauthorized or unintended changes, which can result in network disruptions.
Administrative overload: Managing configurations manually can overwhelm network administrators with mundane, time-consuming, and repetitive tasks. This can divert their focus from critical network infrastructure improvements.
Automation gap: The absence of automation poses a significant obstacle. Admins may find it nearly impossible to manually update passwords for over a thousand devices in today's fast-paced environment.
Lack of change tracking: Continuous vigilance is required to monitor configurations for any alterations. Without a dedicated tool, administrators may struggle to maintain a clear record of configuration modifications, presenting a significant management challenge.
Compliance issues: Operating without a configuration management tool makes it challenging for administrators to adhere to compliance regulations aligned with current industry trends. It becomes difficult to track policy violations, potentially resulting in reputational damage and substantial fines, thus compromising the organization's security posture.
Firmware vulnerability management: In the absence of a dedicated tool, administrators may lack the proactive capability to monitor firmware vulnerabilities and implement necessary safeguards.
The integration of ManageEngine Network Configuration Manager—specifically its configuration management module—swiftly transforms these challenges into benefits when incorporated into OpManager.
Network Configuration Manager: Your-all-in-one network automation module
ManageEngine Network Configuration Manager, which acts as the network configuration management add-on with OpManager, is a multi-vendor supporting network configuration and change management solution for all your network devices. This add-on helps you take control of the entire device configuration management life cycle of routers, switches, firewalls, and more, all under one roof.
Some of the core features you get with this add-on include: 
Advanced configuration backup
Real-time change management
Automation with script templates
Compliance management

Firmware vulnerability management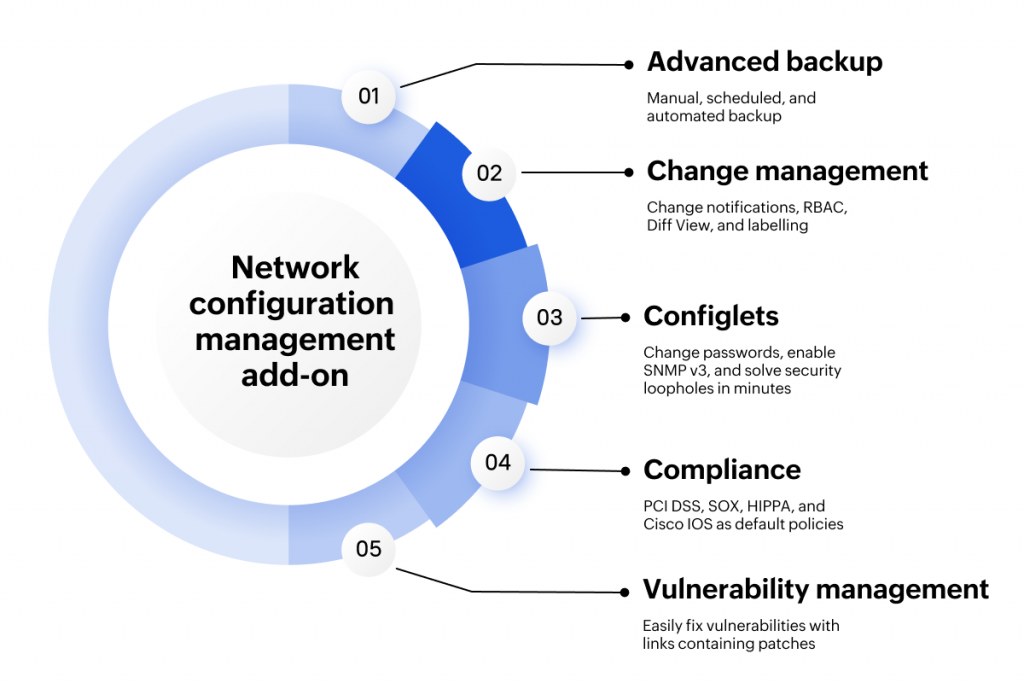 Advanced configuration backup
Making configuration backups is pivotal, as they hold significant value during unforeseen network outages. With backups on hand, you can swiftly restore your network within minutes, as opposed to spending precious time troubleshooting the underlying issue.
With the configuration management add-on, you can perform backups in three ways:
Bulk/instant backup: Easily obtain configuration backups for multiple devices simultaneously with just a click.
Scheduled backup: Set up automated backups for specific dates and times, then let the add-on handle it without the need for manual intervention. It also generates detailed reports of each operation.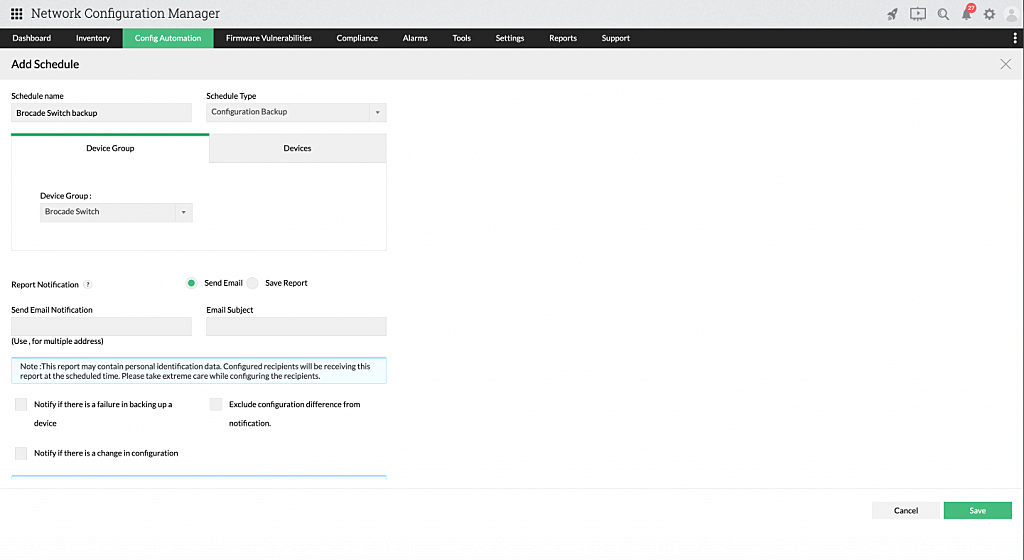 Automated backup: Activate change detection for essential core devices, and the add-on will autonomously scan and back up configurations if any changes are detected.
Real-time change management
Given the pivotal nature of configurations, real-time tracking is imperative to prevent unauthorized or unnecessary changes from being implemented in production environments. Such changes could lead to serious consequences like network outages or security vulnerabilities.
With the configuration management add-on, you gain the ability to monitor changes in real time through these features:
Change notifications: Instantly receive alerts through various channels such as email, SNMP traps, syslogs, and tickets.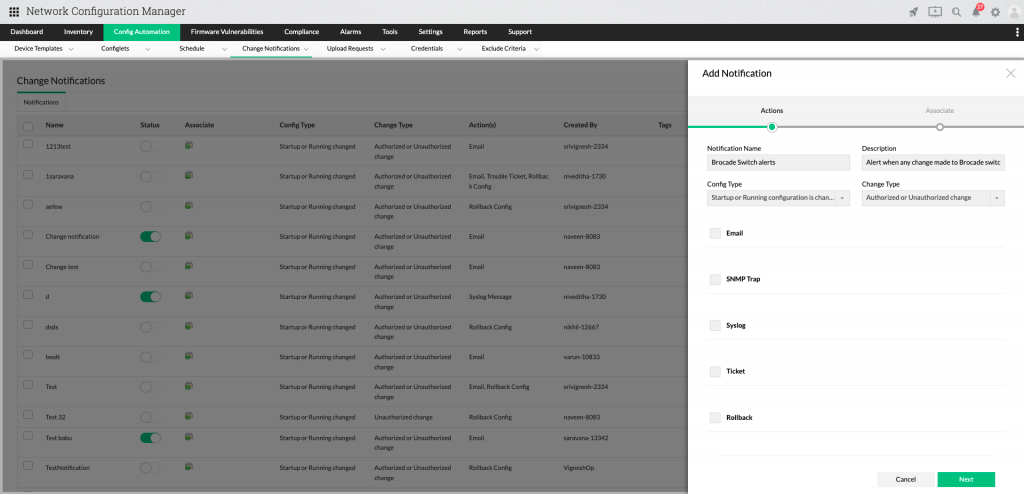 Role-based access control (RBAC): Administer user access by assigning specific devices and roles, effectively preventing unauthorized alterations. Administrators hold the authority, ensuring no changes proceed without their approval.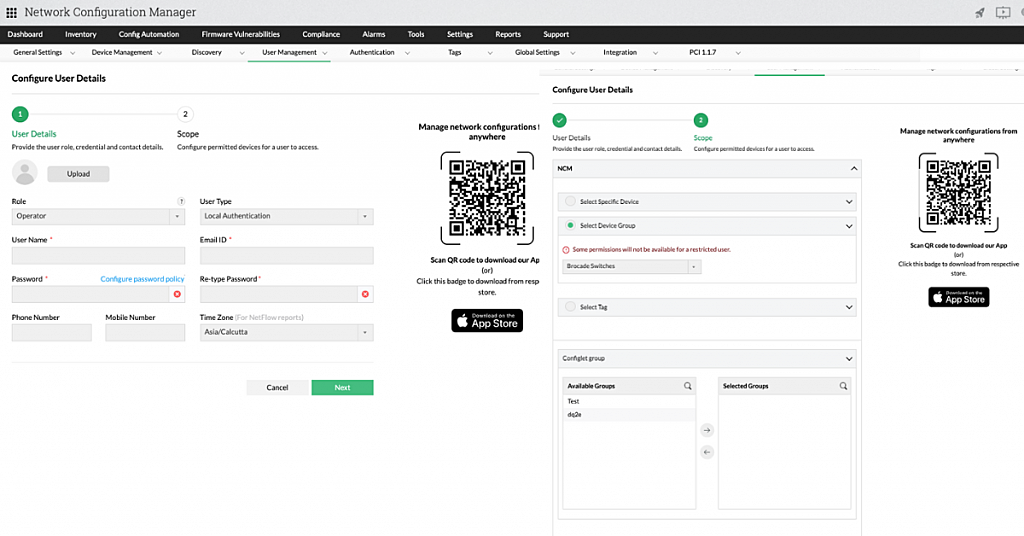 Configuration comparison: Utilize the Diff View to compare configurations side by side, whether they pertain to the same devices or two different ones. This comparison is color-coded for enhanced readability.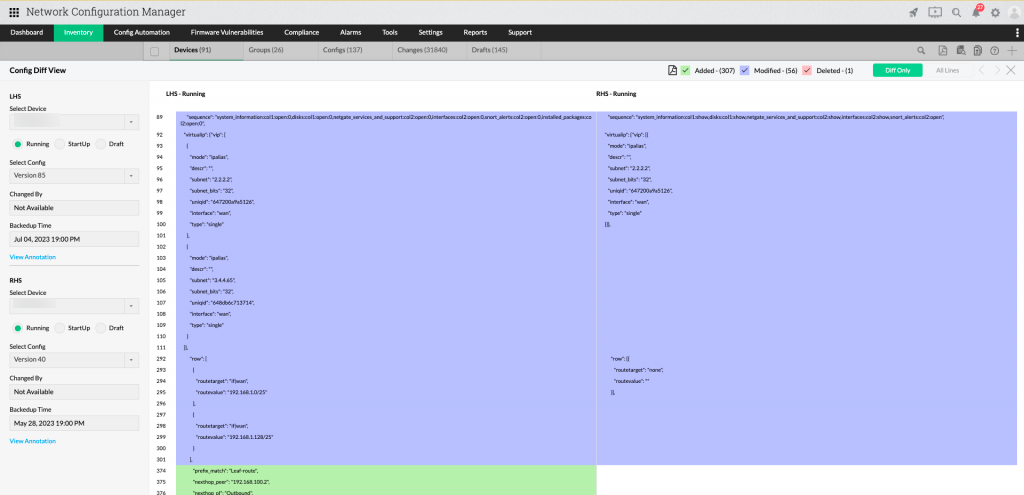 Rollback: Enable this feature for specific devices to have the add-on automatically revert to the previous version or to a version labeled as the baseline, depending on your selection.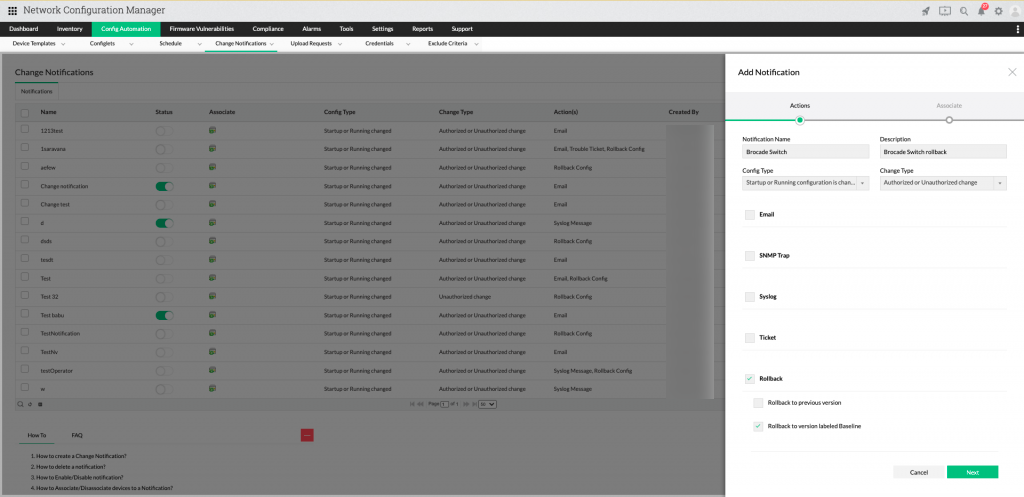 Automation with script templates
Network administrators, who play a crucial role in network management, frequently bear the burden of manual tasks, especially those that involve repetitive daily activities. These tasks consume valuable time and do not allow admins to expand their network infrastructure effectively.
With the introduction of this add-on, you gain access to Configlets, which are pre-configured script templates. These Configlets can be deployed to streamline laborious and repetitive tasks like updating passwords or enabling SNMP v3. As a result, these tasks can be completed in a matter of minutes, promoting scalability within your organization.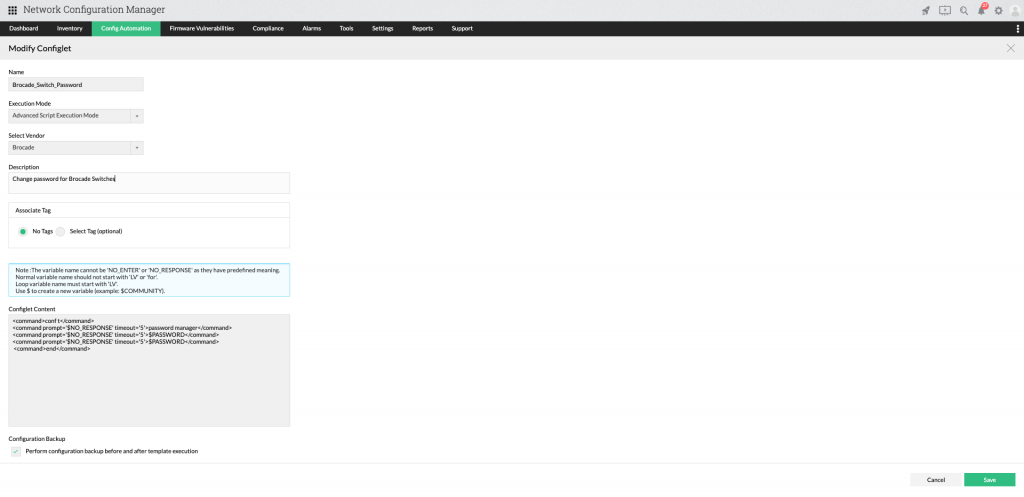 Compliance management
A fundamental necessity for a network infrastructure is to guarantee its adherence to industry-specific standards, thereby eliminating any potential security vulnerabilities.
By incorporating this add-on, you are equipped with default compliance policies such as PCI DSS, SOX, and HIPAA. Additionally, it offers a Cisco IOS policy tailored explicitly for Cisco devices. Moreover, you have the flexibility to create custom policies from the ground up to suit your specific needs. Furthermore, the add-on provides compliance reports, enabling you to utilize remediation Configlets to address any non-compliant issues effectively.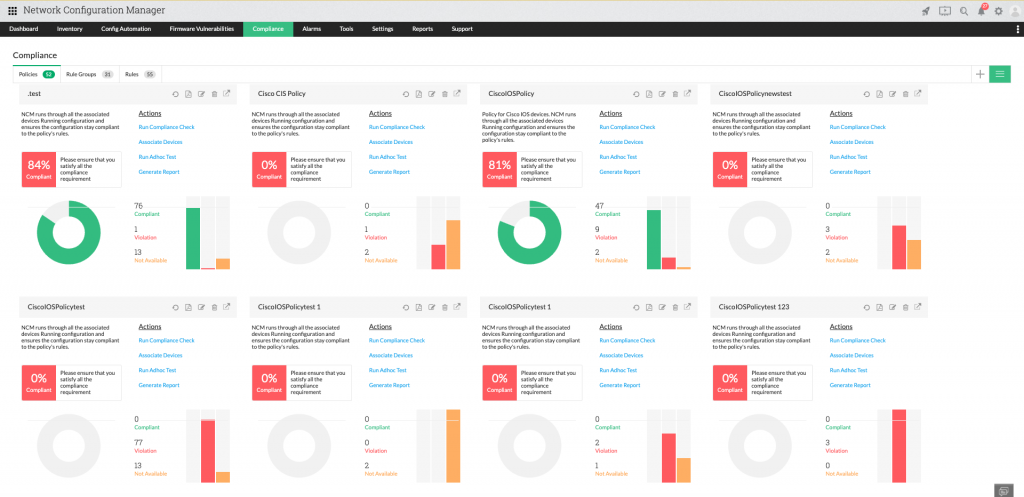 Firmware vulnerability management
In the current landscape, device firmware has become a prime target for malicious attacks, serving as an entry point to infiltrate network devices and acquire credentials. Hence, it's imperative to shield firmware from any potential vulnerabilities.
This add-on introduces a specialized firmware vulnerability management feature. It continuously receives updated data from NIST on a daily basis and provides a comprehensive list of vulnerable devices, along with their associated CVE IDs, base scores, severity levels, and links to patches addressing the vulnerabilities.
Furthermore, you'll have access to vulnerability reports, offering detailed insights into the status of your devices' firmware, allowing you to remain vigilant and proactive.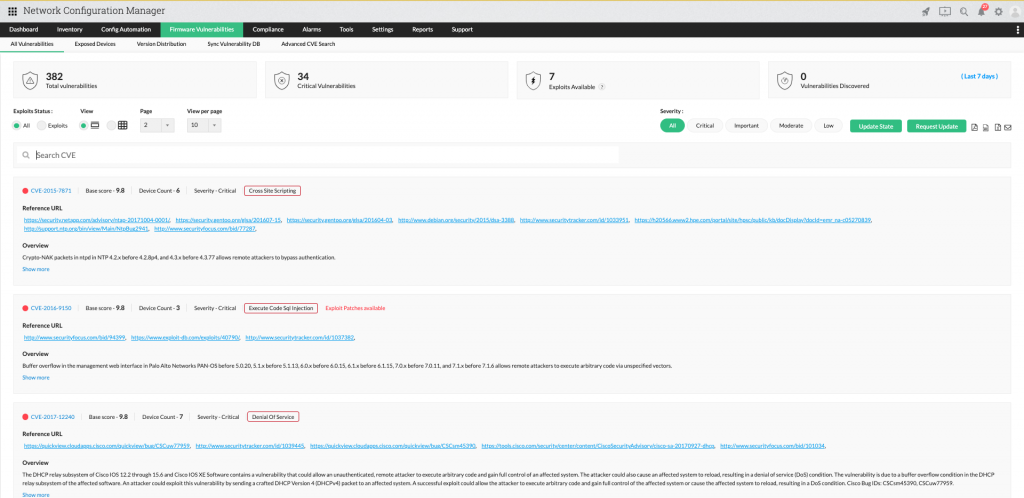 Steps to activate this add-on in OpManager
30-day trial version
Go to > Displayed Modules and check the Config Management (NCM) box. This will enable the 30-day trial of the add-on. 

Go to any device's snapshot page, and there you can find a message saying to activate the add-on with a link. Clicking on it will enable the add-on for 30 days as a trial.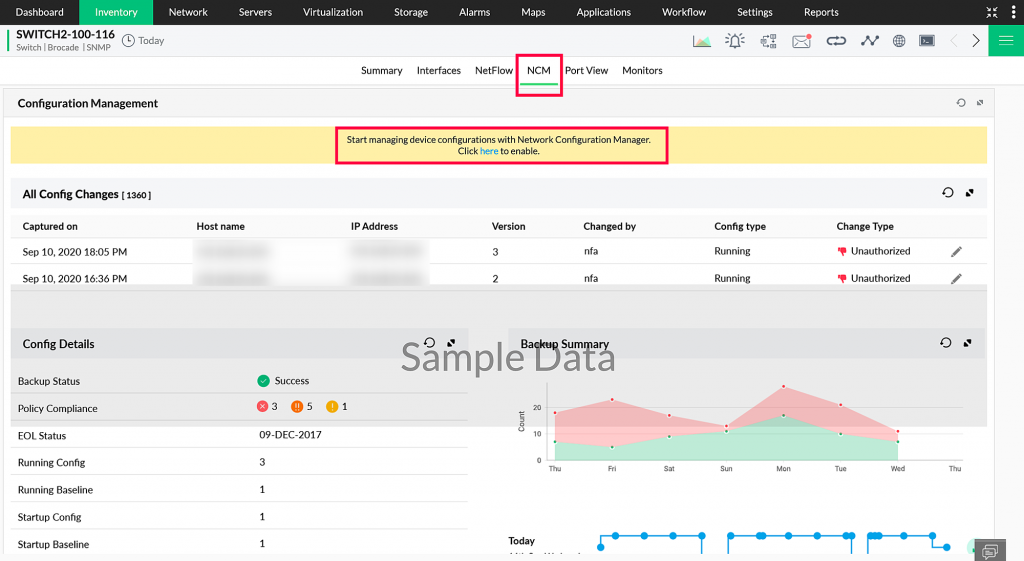 Full license activation
Contact our sales team at sales@managengine.com to buy the full license and activate the add-ons.
If you're interested in delving deeper, feel free to download our tailored white paper designed to provide comprehensive insights about the add-on. Additionally, you can consult this dedicated page for more information on the add-on.
Looking to see the add-on in action? Fill out this form to get a free, personalized demo from our experts.
Have a price quote in mind? Do let us know about it by filling out this form.