According to a study by Zippia, 70% of the organizations already have a digital transformation policy in place or are currently working on one. This implies the growing significance of modernization in IT.
With new-age techniques such as SD-WAN, organizations can deliver an enhanced end-user experience, ensure reliable QoS, enhance their network security, optimize their network performance, and reduce their overhead costs. With these offerings, organizations can easily read into market conditions, and scale their network according to their business goals.
SD-WAN is a network technology that helps organizations emulate your network's hardware components into configurable virtual entities, thereby helping you have a centralized control over your network. Using SD-WAN, your network's endpoints can efficiently connect to the internet or local network, without having to be mediated through a data center or hub office. It also replaces MPLS (Multi-Protocol Label Switching) and optimizes costs, while producing lower latency and higher uptime, due to the high availability of the devices.
What is Cisco Meraki and how does it work?
Cisco Meraki is a powerful SD-WAN solution that gives users centralized control over their Meraki devices. Meraki relies on a cloud-based architecture and is hosted on their in-house data centers across different geographical locations. The device configurations and historical usage statistics are uploaded to the Cisco Meraki Cloud, which has a multi-tenant architecture.
When a user logs in to their Meraki account, the latest configuration details that were backed up, will be downloaded by the Meraki devices from the cloud. The data stored in the cloud will be encrypted with the AES-256 algorithm to ensure data security. Meraki also ensures high availability of devices by replicating the data in their regional third-party cloud service providers to comply with regional security laws.
By ensuring failover support, high availability, and granting users centralized access to their network, Cisco Meraki ensures optimum performance of the devices, while ensuring peak uptime.
What are the advantages of Cisco Meraki?
The following are some of the advantages of deploying Cisco Meraki in your devices:
Enhanced scalability: Meraki devices are highly scalable because they operate out of the cloud. Users can utilize their dashboards to create new Meraki devices.
Centralized control: The Cisco Meraki dashboard gives users centralized access to their Meraki network.This is extremely effective because it provides comprehensive visibility into your infrastructure, such as your bandwidth usage, the active logged in users, and more, all from a single console.
High availability and disaster recovery: All the device configurations and other management data uploaded to the cloud are also updated to a secondary data center, ensuring high availability of your Meraki network.
Optimized overhead costs: Cisco Meraki leverages SD-WAN technology, which is a cheaper alternative to the traditional MPLS connections. This helps organizations bring down their operational costs.
Reduced configuration errors: Manually configuring multiple devices at once is difficult and time-consuming. However, with Cisco Meraki, users can configure their devices from the comfort of their Meraki dashboards. This reduces the errors caused by manual device configuration.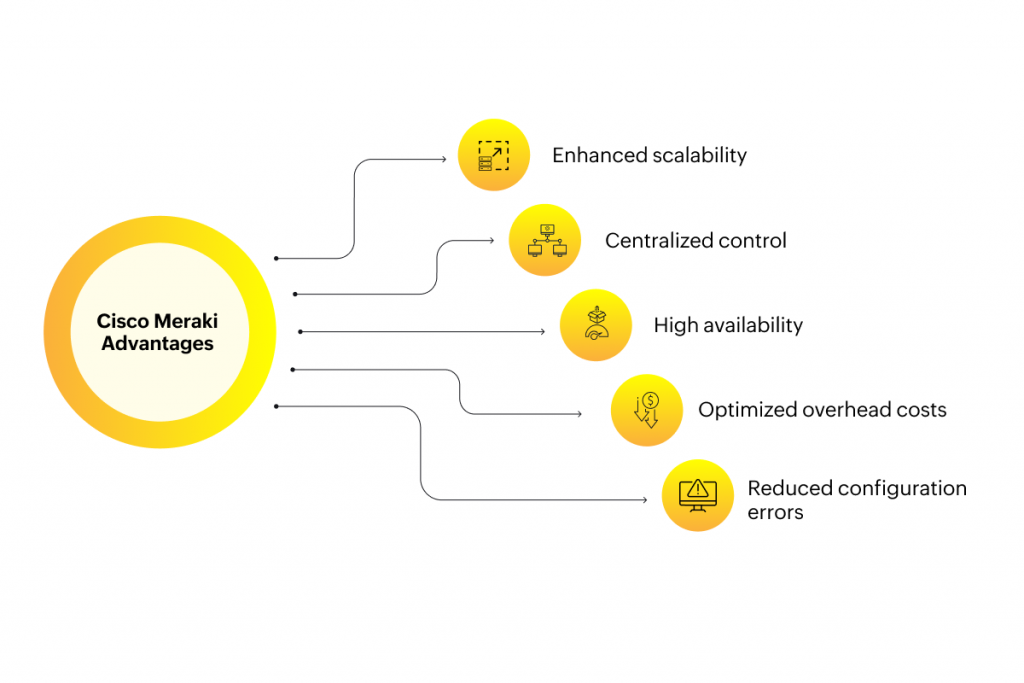 Monitor your Cisco Meraki network with ManageEngine OpManager
ManageEngine OpManager is an enterprise network monitoring solution, that helps you maintain the optimum performance of your network and enhance your network availability. By providing AI-driven features, OpManager helps you automate your network monitoring efforts, while also negating the losses caused due to manual errors.
OpManager is a powerful Cisco Meraki monitoring tool that gives you holistic network visibility. OpManager's cisco meraki monitoring comprises of the following functionalities.
Meraki performance monitoring
OpManager's Cisco Meraki performance monitoring helps you discover and monitor your Cisco Meraki controller for crucial metrics, and also identifies and catalogs the associated entities, access points, etc. This helps network admins gain a single pane of glass view into the user's Meraki infrastructure. Furthermore, OpManager's advanced hardware monitoring capabilities help network admins monitor Cisco Meraki controllers and ensure high availability.
Advanced SNMP monitoring
OpManager's Cisco Meraki monitoring helps you gain comprehensive visibility into your Meraki network, by discovering all the access points, switches, firewalls, cellular gateways, vision, and radio devices. By default, the availability of every device on your Meraki network will be monitored by the controller. However, OpManager also helps you monitor additional performance metrics for all the devices, such as client details, port status, etc.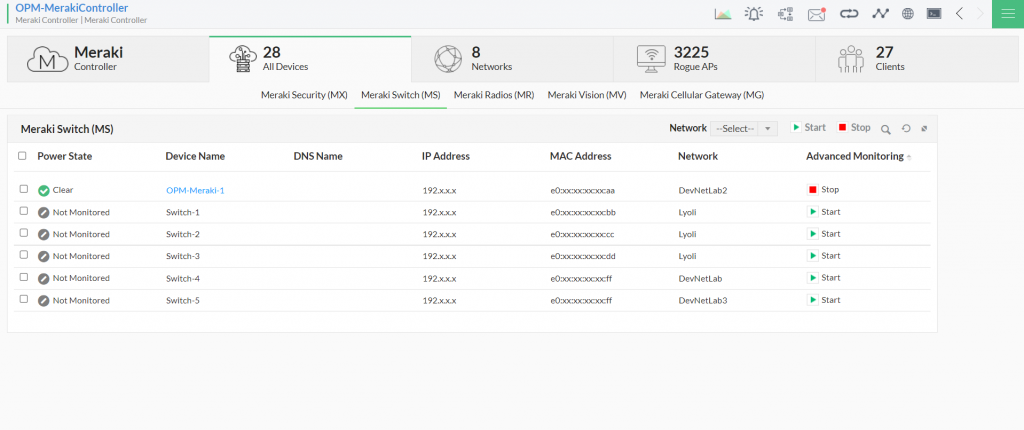 Multi-network management
With OpManager's Cisco Meraki monitoring, you can discover the Meraki controller and its associated networks and catalogs them. This helps users gain critical insights about the number of networks associated with the controller, the number of devices associated to the networks at any given time, and more. OpManager also helps you detect rogue SSIDs and ensure network security.
Comprehensive Meraki reports and dashboards
OpManager has a set of customized, built-in reports designed specifically for Meraki devices. Users can gain insights about the performance of their controller, networks, or any other associated device. Users can also view the most resource-intensive Meraki devices and optimize them for better performance.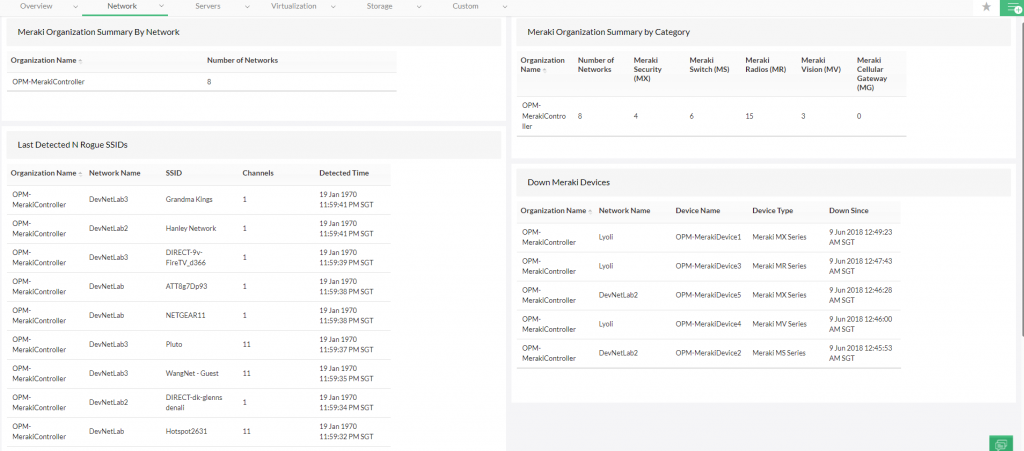 To leverage the above said Cisco Meraki monitoring features and enhance your the performance of your Meraki network, download OpManager and have a hands-on experience. Learn More about OpManager.
To receive a technical demo from our product experts, click here.