Network topology mapping is the process of mapping topological relationships between network components and establishing those relationships in the form of network diagrams. Network mapping helps visualize physical and logical connections between all elements and nodes, thus simplifying network management.
A network topology mapper is a tool that helps perform network mapping effectively. Network topology mappers help map down the entire topology to small, trackable portions, which helps you understand complexity in network connections, and also makes it easy to navigate. Network topology mapping software can also be automated to discover devices present in the network and generate network maps, eliminating manual intervention.
How to map network topology
Though you can manually create network diagrams, finding their connections with one another and drawing one is a real task. Network topology mapping software eliminates the manual effort involved and automatically creates network diagrams with the connections. A network topology tool does this by discovering devices present in the network; understanding and establishing device connections, interlinks, and dependencies; and creating network maps.
OpManager: The automatic network topology mapper
OpManager's network topology mapping tool helps network admins understand the overall network architecture, visualize network connections and device dependencies, and locate faulty devices. Its prominent network topology mapping features include:
1. Layer 2 maps
2. Virtual topology maps
3. Business views
4. Maps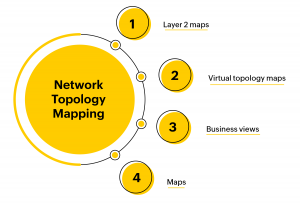 1. Automate Layer 2 network discovery and mapping
OpManager's Layer 2 mapping capabilities automatically create network diagrams as soon as the Layer 2 devices present in the network are discovered. You can use the rediscovery option to update network changes in the Layer 2 map and ensure real-time Layer 2 mapping. You can visualize these network diagrams in three modes: radial tree, node link, and balloon tree.
With OpManager's automated Layer 2 mapping, you can set dependency for devices to understand network interconnections, anticipate potential faulty devices, and prevent multiple or false network monitoring alerts.
2. Map your virtual network connections
As network topology software, OpManager is not restricted to physical topology mapping alone—you can also perform virtual topology mapping. OpManager provides visual maps for your virtual environment, including VMware, Xen, HyperV, vSphere, and Nutanix hypervisors. You can also create network diagrams for their hosts and virtual machines (VMs) and take control of your entire virtual environment.
Apart from that, OpManager's network topology software allows you to view different connections in the virtual network, such as host to VM, host to network, VM to network, VM to datastore, and host to datastore connections. You can also track their performances by associating monitors to them and even export that data in the form of reports.
3. Group devices based on business functions
OpManager's business views let you group devices and graphically represent them based on the business services they cater to. You can add background images, draw live links between devices, and even create a device-dependent view. The business view mainly helps in isolating and prioritizing business-critical network issues while troubleshooting. By doing so, you can ensure business-critical applications are always up and running, preventing futile network downtime.
With OpManager's business views, you can also organize and group devices based on their geographic locations, view individual device details from a single console, diagnose and visually locate faulty devices, view the live link status between two devices, and more.
4. Maps for networks spanning geographies
OpManager's network topology mapping tool offers maps, a feature to represent the geographical location of your servers and other critical devices. This helps you gain a clear understanding of the geographical distribution of your network. You can choose to have either Google Maps or Zoho Maps as the background to connect your network devices to real-world locations.
For enterprises that span geographies, this feature helps to check the status of devices that belong to a particular branch office or specific geographic location. You can also easily create network diagrams within OpManager's user interface, and quickly access device snapshots in a single click.
Why OpManager's network topology diagram?
With OpManager's network topology mapping, you can:
Understand network architecture: Network topology mapping enables you to understand the bigger picture of your network environment by providing a visual representation of how the overall network infrastructure is organized.
Gain in-depth visibility: You can gain in-depth visibility into the network by effectively categorizing, classifying, monitoring, and managing the network infrastructure.
Real-time mapping: OpManager aids enterprises in simplifying their network management process by providing real-time network maps.
Quicker fault diagnosis and troubleshooting: It also helps to locate faulty devices easily and initiate troubleshooting activities quickly, reducing MTTR.
Various network diagramming views: OpManager comes with multiple network diagramming formats such as Layer 2 maps, business views, 3D floor views, 3D rack views, and more.
ManageEngine OpManager is dynamic, comprehensive network topology software with real-time topography mapping capabilities, and is trusted by more than one million network administrators across the globe.
Want to learn how OpManager's network mapping abilities can help simplify network visualization and management in your organization? Schedule a personalized, live demo now.