We believe that our customers' satisfaction speaks volumes about the value we deliver. That's why we're absolutely thrilled to share the news: ManageEngine OpManager has been honored with the 2023 Top Rated Award in five categories by TrustRadius.
TrustRadius is a trusted review site for business technology, supporting both buyers and vendors in making informed product decisions through unbiased and insightful reviews. They have recently revealed the winners of the 2023 Top Rated Awards after analyzing over 60,000 reviews.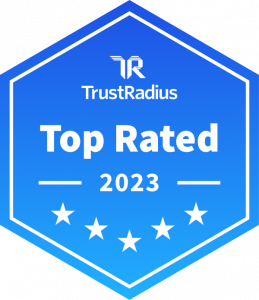 Why is this award special?
Earning these Top Rated Awards is a significant achievement for us, as it signifies outstanding customer satisfaction and well-established credibility. This recognition is solely based on our customer feedback and reviews. In the words of Vinay Bhagat, the founder and CEO of TrustRadius, "We don't play favorites. These awards are genuinely earned from positive customer feedback that's not only relevant to the industry but also recent." Moreover, users from a diverse range of industries have submitted their reviews, which is truly an example of how OpManager's features are adaptable to the unique needs of each industry.
Let's hear about OpManager from TrustRadius!
"ManageEngine OpManager has won Top Rated Awards in five categories including Network Performance Monitoring, Server Management, and Virtualization Management," said Megan Headley, VP of Research at TrustRadius. "These awards are based directly on customer feedback and help software buyers make better purchasing decisions by highlighting products that provide high levels of customer satisfaction."
Top reasons why customers choose OpManager:
Full stack observability. With OpManager, you can effortlessly identify overloaded servers and congested switches, as well as pinpoint applications experiencing performance issues—all at a glance. OpManager's full stack observability enhances the unified view of your IT infrastructure by providing a single view that encompasses not only servers, switches, routers, and applications, but also offers insights into their performance, health, and dependencies.

AI-powered predictive analytics. OpManager's AI-powered predictive analytics uses machine learning to identify potential problems before they cause outages. This is done by analyzing historical data and identifying patterns that may indicate a problem. Once a potential problem is identified, OpManager will generate an alert so you can take action to prevent the outage.
Automated workflows. OpManager can automate many of your IT tasks, such as network discovery, configuration management, and change management. This automation can free up your time so you can focus on more strategic initiatives. For example, OpManager can automatically discover new devices on your network and add them to your inventory. It can also automatically configure devices with the latest security patches and settings. And it can automatically deploy changes to your network without the need for repetitive manual intervention.
Easy to use. OpManager is easy to use, even for IT professionals with limited experience. The user interface is intuitive and the documentation is comprehensive. This makes it easy to get started with OpManager and to quickly learn how to use its features.
Affordable. OpManager is a very affordable solution for small and medium-sized businesses. The cost of OpManager is based on the number of devices you need to monitor.
We are extremely grateful for our customers' constant support, which won OpManager its Top Rated Award in five categories. If you're also looking for a top-rated IT management solution that is easy to use, affordable, and packed with features, OpManager is a great option to consider. Learn more about OpManager.