Networks today are moving towards increased agility and dynamic capabilities to support advanced networking requirements and business-critical processes. This causes the IT infrastructure to span across wireless, virtual, and hybrid environments as well. But with networks evolving quickly, IT admins have a hard time managing them without the right solutions in place. Outdated network management solutions can impede the effectiveness and performance of IT admin teams managing complex IT infrastructures.
This raises the need for comprehensive network management solutions that enable advanced capabilities, which can meet the needs and tackle the challenges of managing today's networks.
Network management solution: What are they and how do they help?
A network management solution can be any software solution that enables you to effectively monitor network performance, manage configuration changes, track resource utilization, and secure your network from intruders. These solutions play an important role in carrying out day-to-day IT operations tasks. They help in reducing network downtime by enabling you to detect and resolve network issues effectively. The advanced capabilities offered by these solutions help you monitor, manage, and operate complex IT environments without much hassle.
Network management solutions help in simplifying:
Network administration: Network management solutions simplify several network administration tasks by offering reporting, visualization, and troubleshooting capabilities. They also help you automate monotonous tasks, including network scanning, device discovery, and classification.
Network maintenance: An effective network management solution helps you ensure constant network uptime, performance, and health. These solutions offer several monitors and tools that enable you to centralize and remotely carry out network maintenance tasks such as configuration changes and system details updates.
Network provisioning: By aiding you monitor several resource utilization metrics, network management solutions enable effective network provisioning. They offer insights into metrics such as traffic and bandwidth consumption, IP address space utilization, and switch and router availability. These metrics help in simplifying network provisioning, enhancing capacity planning, and ensuring that your network is always available to your end users.
Network security: Network management solutions help you ensure that intruders and rogue agents are kept at bay. These solutions help you analyze several security aspects of your network, including unusual traffic spikes, firewall logs, and newly discovered rogue agents.
Types of network management solutions that enable seamless IT operations management
A myriad of network management solutions are available, each offering a set of capabilities that enable you to manage a specific networking aspect. Putting the right network management solutions in place can arm IT admins to maintain optimal performance, ensure constant uptime, deploy fault free configuration changes, and analyze traffic flows while still being able to defend their network from hackers and intruders.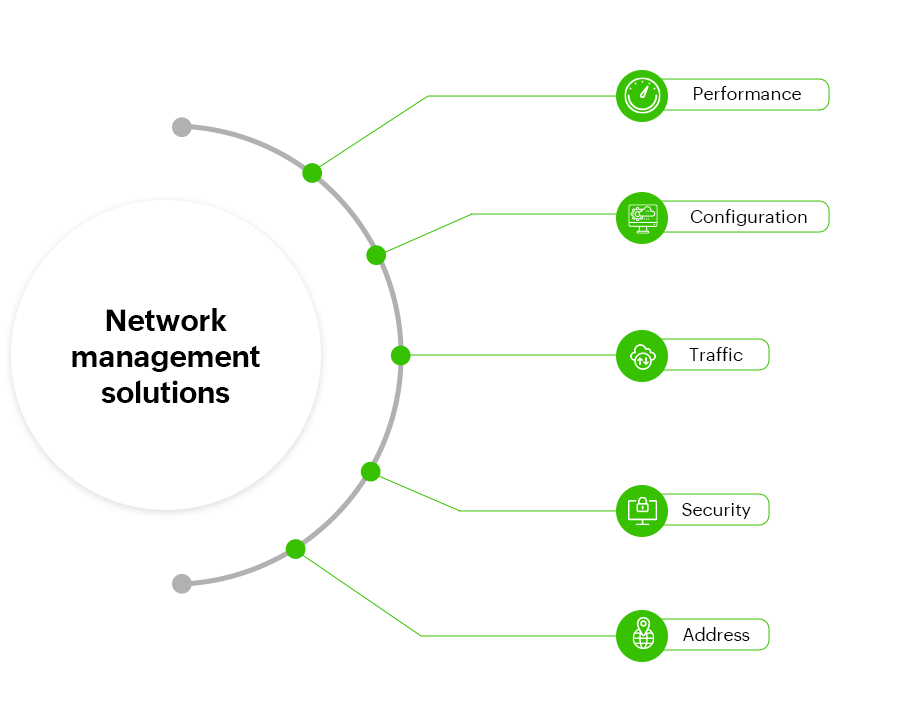 Performance management: Reducing downtime with proactive capabilities
Organizational IT infrastructures are made up of business-critical processes and core network devices that support business continuity and ensure network uptime. Network performance issues can impede availability of these devices, leading to downtime, which is why it's important to monitor and manage the overall performance and health.
A network management solution like OpManager helps in this process with its diverse set of built-in performance monitors. These monitors can constantly track your network and escalate any emerging performance or availability issues. With the help of the solution's reporting and visualization capabilities, you can easily identify the cause of these issues and troubleshoot them with ease.
Simplifying network changes with configuration management
An integral part of network maintenance tasks is applying new configurations and changes to network devices. Since being added to the network, every device undergoes configuration changes to comply with the required network standards. This makes using a network configuration management solution crucial.
Configuration management solutions help you oversee all the configuration changes made in the network. They also help in taking backups of required configurations and reverting changes by overwriting them with a trusted backup versions. Configuration management solutions like OpManager's Network Configuration Management add-on give you an added advantage of automating policy, configuration, and compliance changes on your network devices.
Analyzing network bandwidth and flows with traffic management
With hundreds of active network devices, it's important to ensure that crucial devices such as interfaces and routers are provisioned the right amount of traffic, and end-user devices do not exploit the available bandwidth. This requires the use of network monitoring solutions that offer network traffic management.
OpManager's NetFlow monitoring module helps you collect, inspect, and report on network traffic by leveraging flow technologies and bandwidth monitoring. They help detect and prevent potential issues and outages such as bandwidth bottlenecks. Network traffic management solutions can also detect abnormal traffic spikes or fluctuations—which might indicate a threat—and forecast traffic behavior that helps you identify your network requirements.
Effectively defending your network with security management
When it comes to organizational networks that support advanced networking concepts such as BYOD policies, IT admins have to proactively identify and eliminate security threats. This makes it important to gain complete visibility into components such as firewalls, ports, VPNs, and newly added devices. Since any abnormal events in these components such as traffic spikes and unknown port services can indicate a potential security breach.
Network management solutions help you avert these threats and strengthen network security. They enable you to analyze firewall logs and network activity, and detect any abnormal security events in your network. OpManager's firewall log management add-on compliments operations management, taping into the full potential of the log data generated by firewalls to extract information crucial to network security.
Enabling uninterrupted network connectivity with address management
Organizational networks often span across multiple subnets to support addressing the large number of devices that continually connect to and leave the network. With this, IT admins are tasked with the challenge of managing thousands of addresses on a regular basis. A reliable address management solution like OpManager's IPAM add-on, automates this process without excessive manual intervention. IP address management solutions like this offer periodic scanning, address utilization reports, and alerts that help you track your IP address space with ease.
Streamline your network management efforts with ManageEngine OpManager
ManageEngine OpManager is a powerful network performance management solution that offers real-time insights into crucial network management metrics. It seamlessly integrates with ManageEngine's network management add-ons, giving you a holistic network management experience, enabling you to:
Ensure uninterrupted business continuity: Track several performance and availability metrics with OpManager. Enable constant network uptime by detecting and pinpointing network issues with the help of visualization capabilities and threshold-based alerts. You can also analyze downtime statistics and implement proactive measures to avert possible future network interruptions.
Automate network tasks: Automate monotonous network management tasks with the help of automation capabilities, such as Workflows, the Discovery Rule Engine, and the scan Scheduler. This improves your team's efficiency by freeing up more time to work on other crucial IT tasks.
Strengthen network security: With Firewall Analyzer's powerful security log analyzing capabilities, effectively secure your network from hackers and intruders. You can also use Network Configuration Manager add-on, to identify new configuration changes that might weaken your network security.
Optimize resource usage: OpManager offers you in-depth insights into the operations, resource utilization, and monitored metrics that help you evaluate your network performance and resource usage. You can use these metrics to enhance capacity planning and improve network health.
Effectively troubleshoot network issues: One of the important aspects of a network management solution is its troubleshooting capabilities. This determines your network health, uptime, and accessibility. Issues like resource utilization are monitored with customizable thresholds and instant alerts are triggered if there is an emerging issue.
Network management on the go: Simplifying the process of network management, most of these solutions offer integrated iOS and Android mobile applications. The apps offer you insights into your network management tasks from anywhere, anytime, enabling you to keep tabs on your network even when you're away from your desk.
NetFlow Analyzer, Network Configuration Manager, Firewall Analyzer, and OpUtils are also available as standalone solutions that offer more comprehensive and specialized network management capabilities. OpManager Plus is an integrated solution of all these products that enables you to perform various IT operations management process from a single console.
You can easily get started and explore hands on how these network management solutions can help you by downloading a free, 30-day trial.