Monitoring the performance of server infrastructure is crucial to any organization. While metrics such as health and availability will sometimes suffice for measuring overall efficiency, getting visibility into more details, such as the underlying processes, tasks, and scheduled jobs, is often crucial for not just identifying a performance problem but also isolating its root cause. Server processes, be it on Windows processes or Linux processes, are one such component that needs to be monitored to improve the operational efficiency of your servers.
Process monitoring allows you to set memory thresholds for a process running on your Windows or Linux machine so you get alerted if the process's utilization of any of these resources reaches some critical level preset by you.
By providing access to detailed event information generated on endpoints, process monitoring delivers rapid insight into critical events, above and beyond what is available in standard log data.
Challenges in monitoring processes
Enterprise IT systems have a constant flow of processes starting and stopping, but the processes are inconsistently logged, making them difficult to monitor without an independent record of the event. The sheer volume of activities makes it challenging to identify failing or rogue processes. Process monitoring software helps overcome these challenges.
OpManager's process monitoring tool offers detailed visibility into all the critical parameters of your server, which helps avoid unexpected downtime by keeping an eye on the resources consumed by Windows or Linux processes and alerting you in case a threshold breach occurs.
OpManager can automatically alert on non-approved processes when they are started on controlled servers and devices. Additional visualization tools can be used to map all locations within the environment where that same process is running for rapid forensic and root cause analysis.
Status of processes: The server's health and availability are quick indicators on a dashboard about the overall status of the server. However, when we are dealing with process monitoring, the status of the process is a significant metric. This tells us whether the process is active or if there's an error with the said process. When dealing with critical processes, this is the most important parameter.
Identifying errors: The status of a process is an indicator of whether the process is error-free or faces an underlying issue. In case of the latter, an alert could really help minimize the troubleshooting time, especially if the process supports a business-critical application running on the server.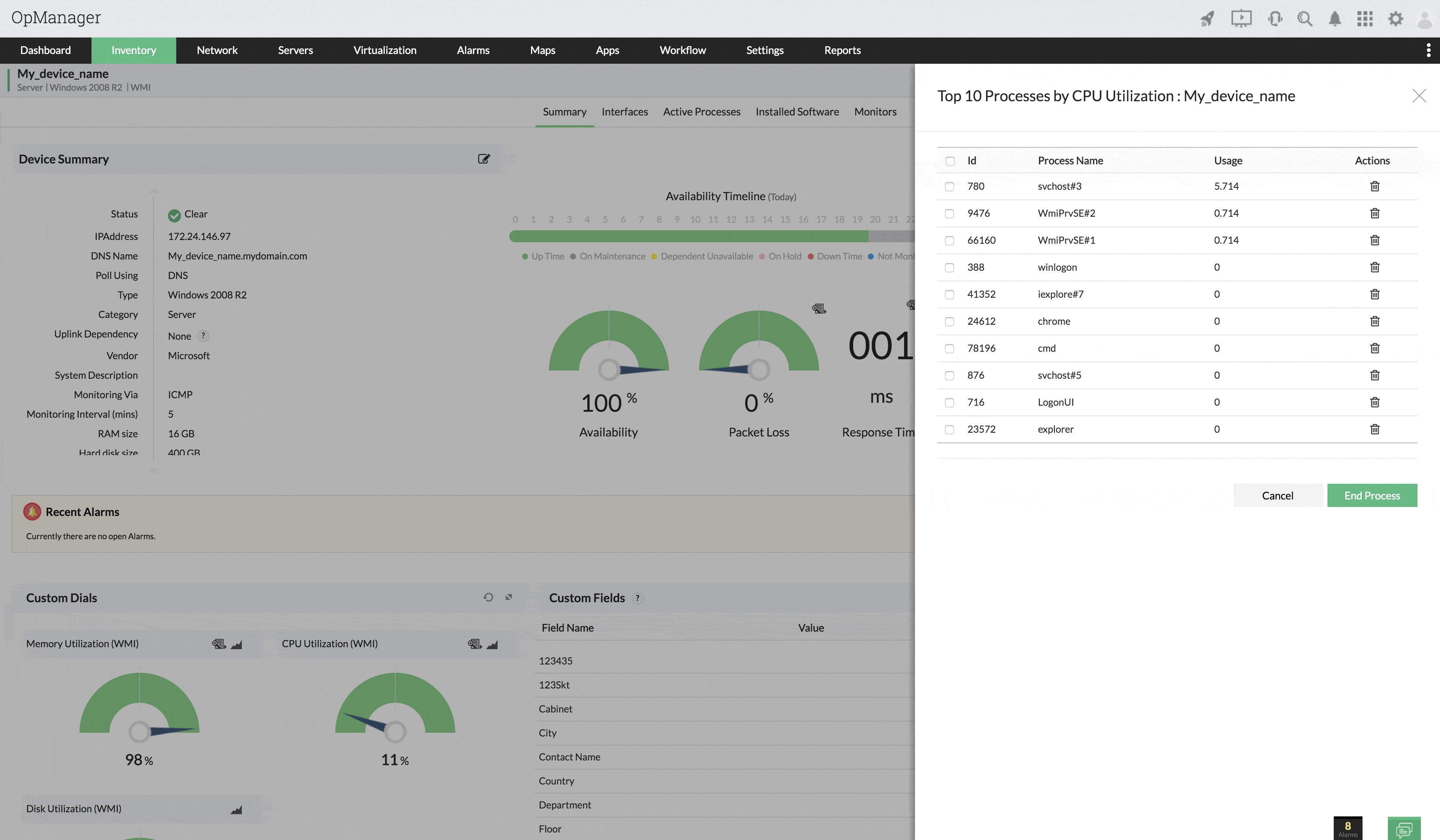 Process templates for alarm management
While monitoring critical server processes is important, it's just as important to raise red flags when an unexpected performance issue occurs. A single window within OpManager allows users to configure process templates. These templates ease the troubleshooting process by minimizing the time taken to diagnose the source of a problem. Process templates can be applied to individual servers as well as multiple servers that have similar operation functions.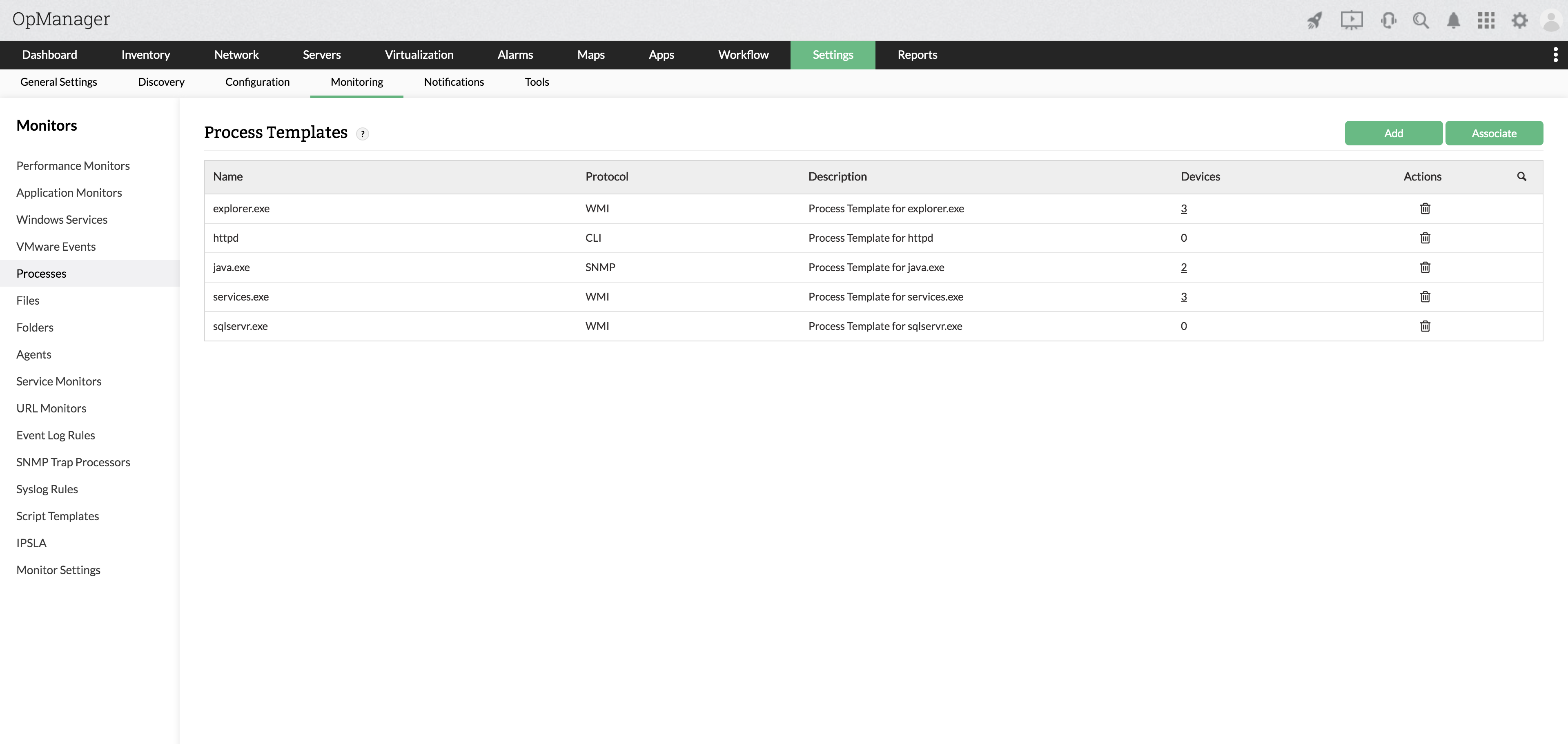 Alerts, actions, and reporting  
OpManager's process monitor toolkit comes with a fault management module that can trigger alerts (email or SMS) or notify a technician (via web alarm or by logging a ticket) when a particular process exceeds the set threshold. Besides these proactive monitoring functions, OpManager has options to run any script or a batch file to resolve unforeseen network anomalies; for instance, you can restart a particular service or server when a process exceeds a set upper limit. All processes' monitored data is also stored for graphing, trend analysis, and reporting purposes.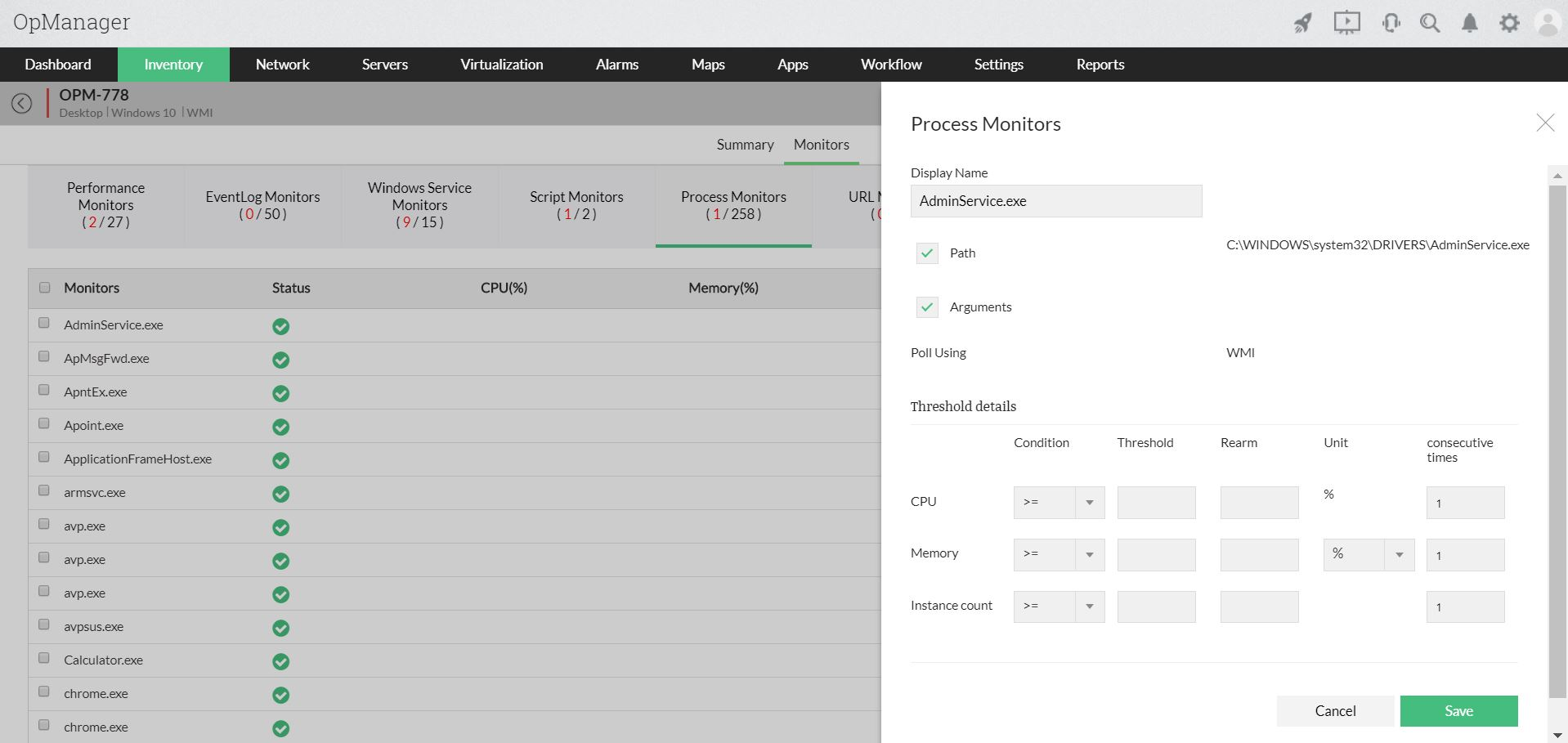 If you're looking for a tool to monitor your server infrastructure, especially one that offers Windows process monitor and Linux process monitor, try OpManager. To claim your own 30-day free trial of the full version of OpManager. You can also schedule a free demo with a product expert, or simply contact us at eval-itom@manageengine.com if you need any assistance, or have questions.
OpManager is a part of ManageEngine's ITOM suite of solutions. Apart from network monitoring, this suite also offers solutions for streamlining server monitoring, application monitoring, bandwidth monitoring, configuration management, firewall security and compliance, and IP address and switch port management. This is why ManageEngine's ITOM solutions are the ideal choice for over one million IT admins worldwide.