Hinduja Global Solutions (HGS), a part of the Hinduja Group, is a Bangalore-based business process management (BPM) organization. It focuses on delivering transformation impact to clients through technology-powered solutions for automation, analytics, back office processing, contact centers, and human resource processes.
Network challenges faced by HGS
HGS faced a number of challenges before using OpManager, including:
A distributed network architecture: HGS's network includes hundreds of servers over multiple locations; it needed to monitor the entire network from one central location.

Real-time monitoring: It was unable to monitor devices, servers, files, folders, routers, switches, etc. in real time.

Event monitoring: It experienced difficulty checking for error events, and faced trouble with syslogs and Simple Network Management Protocol (SNMP) traps for quick fault identification.

Reducing the mean time to repair (MTTR): It had trouble with quickly identifying the root cause of network issues and troubleshooting them in order to reduce the MTTR.
Find out how HGS solved these challenges using OpManager.

Network monitoring made easy with OpManager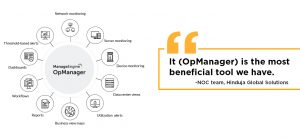 OpManager solved HGS's primary network monitoring concerns efficiently and simplified network operations through automated work flows, custom notification profiles, etc. On the importance of OpManager to HGS, the network operations center (NOC) team noted, "It (OpManager) is the most beneficial tool we have."
To learn more about OpManager, and see how it can help manage your network better, download a 30-day free trial, or register for a free demo.