Brocade network switches encompass a variety of switch models that cater to diverse networking needs. In today's intricate networking landscape, manually handling these switches with varying configurations and commands within a large network infrastructure can be a daunting task. This complexity often leads to human errors such as misconfigurations.
How can you optimize your network environment effectively when utilizing a variety of Brocade switches and eliminate the need for manual management?
The solution lies in a network automation tool capable of managing numerous Brocade switches comprehensively and reducing human intervention significantly.
Now, you might wonder which network automation solution is best suited for your Brocade switches with numerous tools available. No need to worry! Allow us to introduce ManageEngine Network Configuration Manager, your all-in-one network automation solution for efficient Brocade switch configuration management.
With ManageEngine Network Configuration Manager, you can effortlessly discover your Brocade switches and add them to the inventory, initiating seamless management. This grants you full control over the life cycle of Brocade switch configurations.
Challenges in traditional Brocade switch configuration management
Some of the common challenges with traditional management techniques include:
Real-time configuration tracking.
Unauthorized configuration changes.
Ensuring industry-grade compliance for multiple devices.

Eradicating switch firmware vulnerabilities.
How ManageEngine Network Configuration Manager helps your Brocade switches
Network Configuration Manager streamlines Brocade switch configuration management with its intuitive interface. You can perform Brocade switch configuration operations directly from the tool and eliminate the need for Telnet or PuTTY.
Once you've added your Brocade switches to Network Configuration Manager, you can provide device credentials for management and configuration. These credentials can match those used when logging into Brocade switches via an external emulator.
Network Configuration Manager facilitates Brocade switch configuration with features such as configuration backup, compliance auditing, change management, task automation, and firmware vulnerability management. It also generates detailed reports for each of these operations.
Top functionalities you can perform for your Brocade switches with Network Configuration Manager
Discover and configure Brocade switches via SNMP and manual discovery methods.
Back up Brocade switch configurations individually or in bulk.
Easily compare altered Brocade switch configurations using the Diff View feature.
Identify firmware vulnerabilities in Brocade switches.
Automate command execution in Brocade switch configurations using Configlets.
Schedule Brocade switch configuration tasks for convenience.

Audit Brocade switch configurations to ensure compliance with standards.
Key features of Network Configuration Manager
Advanced configuration backup
Real-time change tracking and management
Automation with script templates
Compliance management

Firmware vulnerability management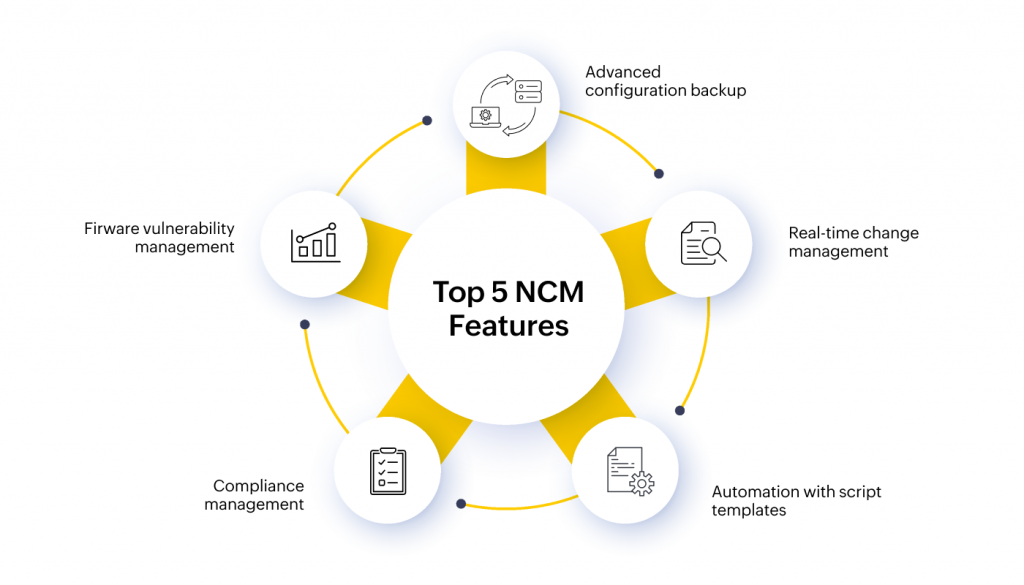 Advanced configuration backup
Network Configuration Manager offers multiple methods for backing up Brocade switch configurations, providing you with flexibility and control:
Instant/bulk backup: You can instantly back up configurations for one or multiple Brocade switches with a simple click.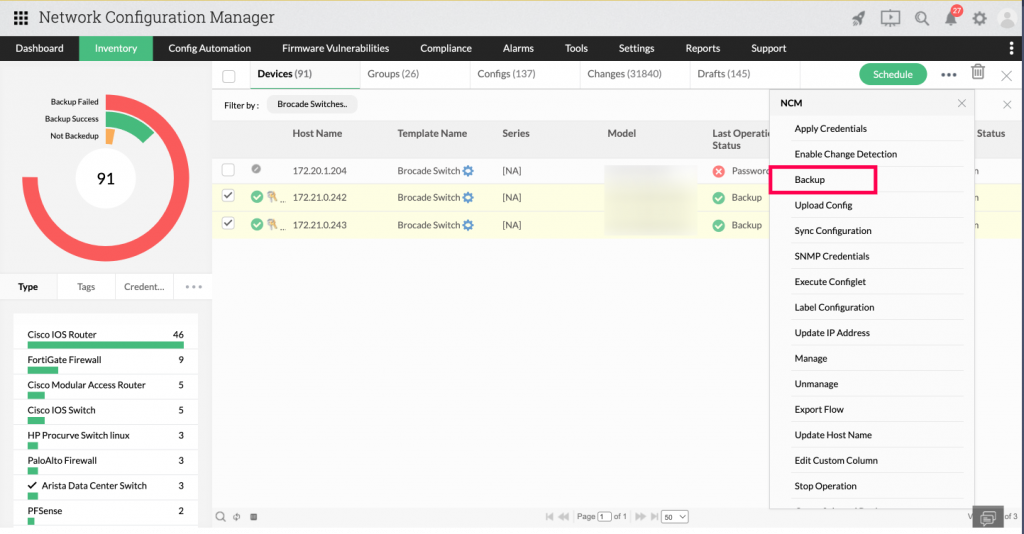 Scheduled backup: Schedule backups at your preferred date and time. Network Configuration Manager will execute them as planned and generate detailed reports.

Syslog-based automated backup: Enable change detection in your Brocade switches, allowing Network Configuration Manager to perform automated backups based on syslog data.
Real-time change tracking and management 
Gain insight into configuration changes and manage them effectively with these essential change management features:
Real-time alerts: Receive immediate alerts about configuration changes via email, SNMP traps, syslogs, or tickets, according to your preference.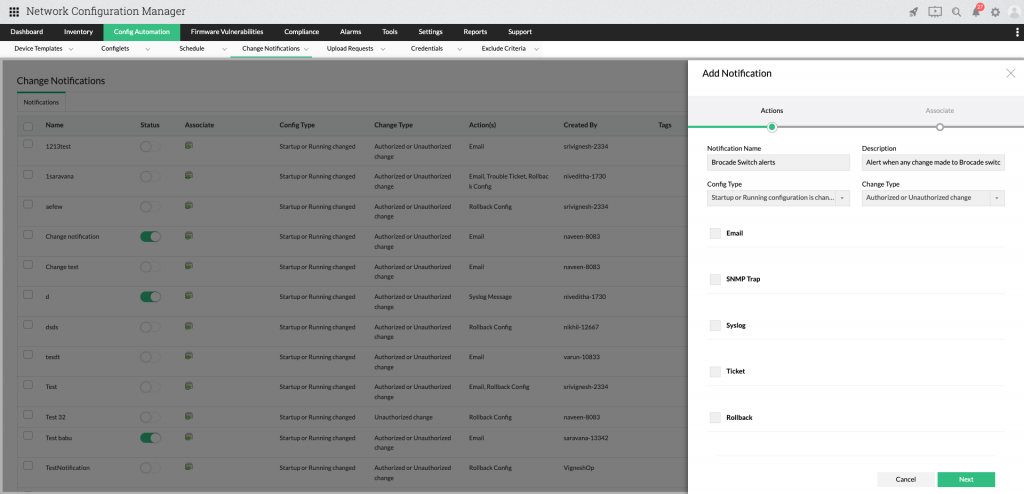 Role-based access control: Prevent unauthorized changes by assigning specific roles and device access rights to users, ensuring secure management of core Brocade switches.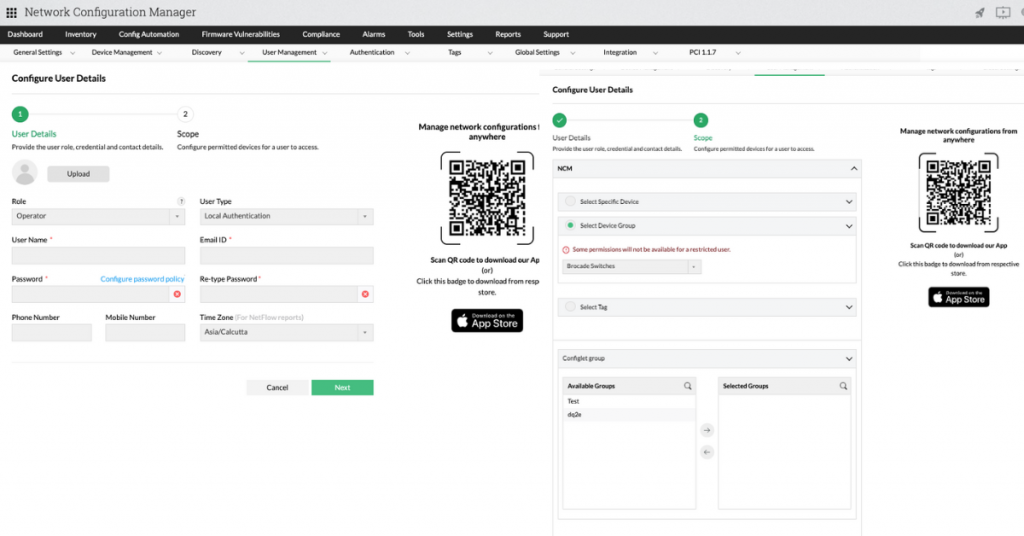 Diff View: Easily compare configurations of the same Brocade switch or different Brocade switches side by side using a color-coded differentiation feature.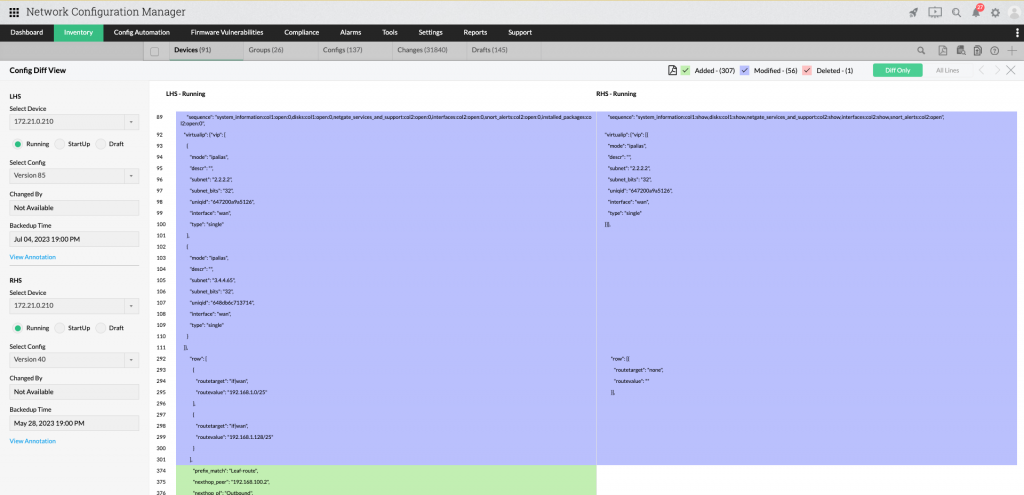 Rollback: Activate the rollback option for specific core Brocade switches.This automatically reverts configuration changes to a previous baseline or stable version.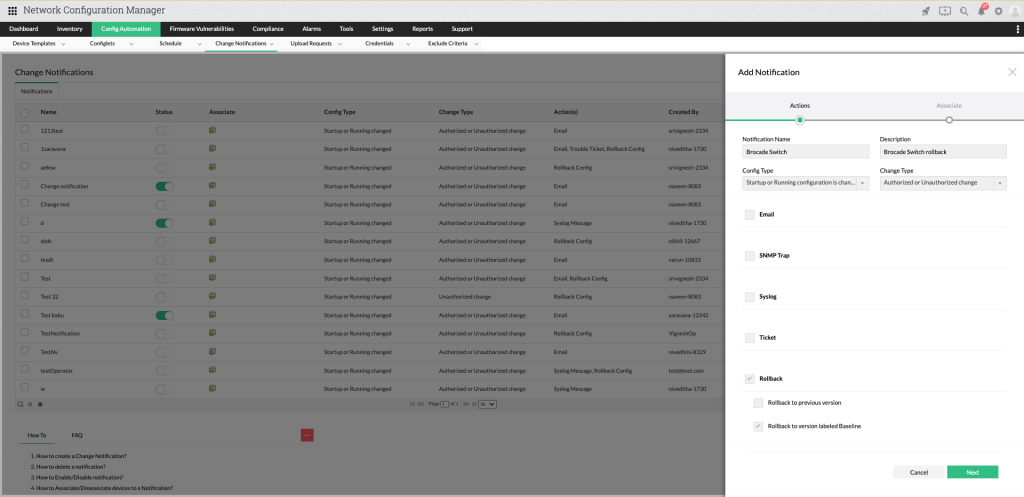 Automation  with script templates
When you need to perform tasks like changing passwords on multiple Brocade switches or enabling/disabling SNMP v3, Network Configuration Manager streamlines these processes through Configlets, which are automated script templates, for rapid task deployment. Configlets can also help remediate non-compliant rules.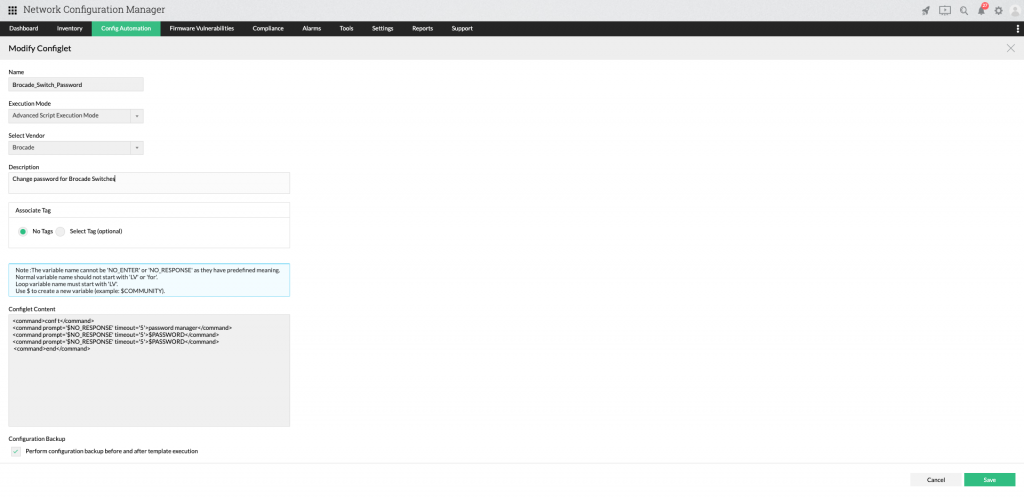 Compliance management
Ensure that your Brocade switches adhere to industry-standard policies such as PCI DSS, SOX, and HIPAA, which are provided as default. Also, Network Configuration Manager provides the option to create custom rules and policies from scratch and associate them with your Brocade switches.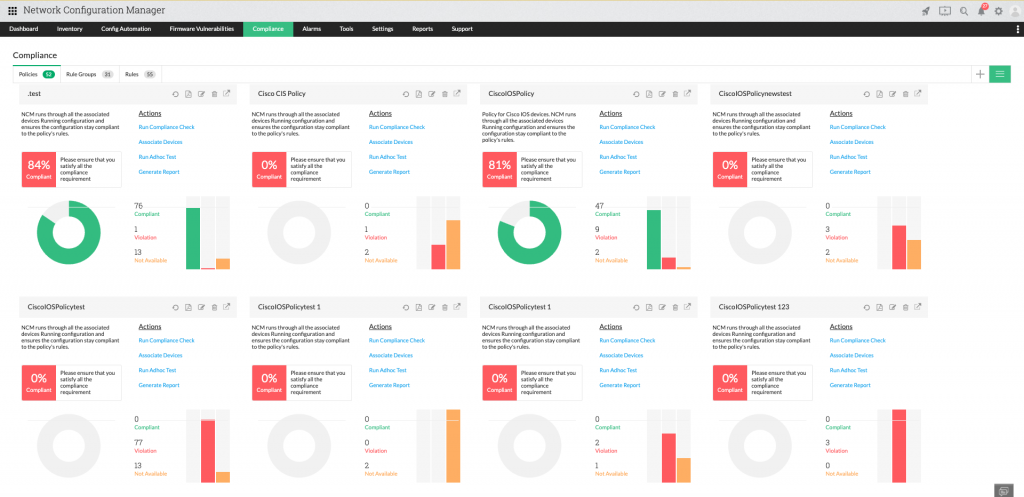 Receive real-time compliance reports to stay informed about your device's compliance status, preventing potential legal penalties and safeguarding your reputation. Non-compliance issues can be addressed directly from the compliance reports.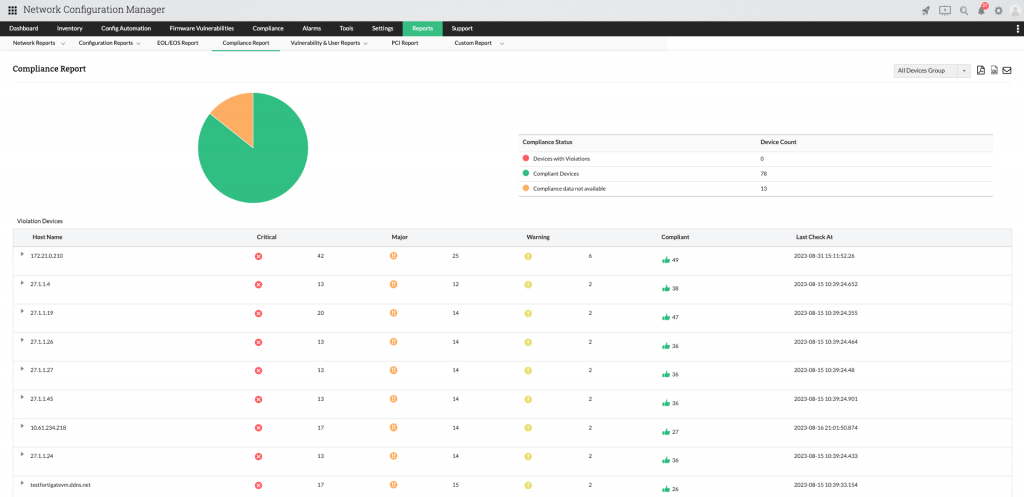 Firmware vulnerability management
Network Configuration Manager safeguards your Brocade switches from external firmware vulnerabilities. The tool retrieves daily updates from NIST and compiles a list of vulnerable devices, including their CVE ID (vulnerability ID), base score, severity level, and links to patch fixes. The base score categorizes vulnerabilities as Critical, Important, Moderate, or Low based on their severity.
Base score 9.0 – 10 – Critical
Base score 7.0 – 8.9 – Important
Base score 4.0 – 6.9 – Moderate

Base score 0 – 3.9 – Low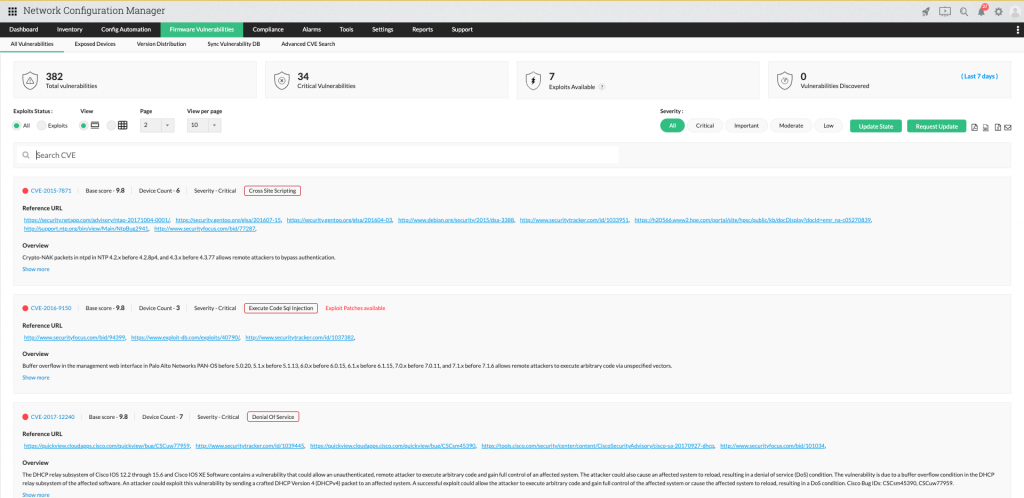 Brocade switches supported by Network Configuration Manager
| | | |
| --- | --- | --- |
| Vendor | Device type | Supported model/series |
| Brocade | Switch | 200E |
| Brocade | Switch | FastIron Switch and Fiber Switch |
| Brocade | Switch | Brocade 648G FWS Switch |
| Brocade | Switch | TI2X24 Switch |
| Brocade | Switch | Brocade 624S FCX Switch |
| Brocade | Switch | XMR Ironware V5.7 Switch |
| Brocade | Switch | 7250 ICX Switch |
| Brocade | Switch | SilkWorm 3850 Fabric Switch |
| Brocade | Switch | VDX Switch |
By adopting Network Configuration Manager as your dedicated tool for managing Brocade switches, you can efficiently handle any number of Brocade devices while minimizing human effort and errors.
Try Network Configuration Manager now by downloading the 30-day trial!
Interested for a free, personalized demo? Fill out this form.
Confused about the right price? Fill out this form to get a personalized price quote.