Configurations are regarded as the core of networks due to their importance. With businesses continually advancing and relying on networks for storing, processing, and transmitting critical data, the complexity of network management has increased, leading to difficulties and human errors that can cause significant network downtime.
During unexpected network outages, network configuration backups become crucial for businesses. In a manual network environment, administrators play a vital role in restoring the network. However, accomplishing this manually is challenging. Administrators have to identify the issue, conduct in-depth root cause analysis (RCA), and then bring the network back up, resulting in considerable time and effort spent along with potential business losses.
So, there is a pressing need for an automated backup tool that can substantially reduce the manual overhead for administrators and offer automation and centralized control to streamline the backup process. This blog will discuss the network backup tool, namely ManageEngine Network Configuration Manager, which addresses these requirements effectively. 
Why a network backup tool is a necessity: A use case scenario
Consider a critical network environment managing numerous network devices from different vendors. In this setup, a dedicated network backup tool is absent, leaving the burden on administrators to manually monitor and manage the devices. Given that administrators are human, the likelihood of human errors cannot be overlooked.
One day, an unexpected network outage occurs due to a faulty configuration change. Now, the administrators face the challenge of restoring the network promptly, but without a centralized network backup tool that contains essential data about the configuration change and the affected device; this is a time-consuming process. The administrators must search the entire network environment to pinpoint the device that underwent the problematic change. This involves identifying the device, reviewing its configuration for recent changes, determining the root cause, and finally correcting the device by removing the faulty configuration. The valuable business time lost in this process can be immense.
However, if the environment had a network backup tool in place, the administrator could effortlessly restore the device's configuration using a stable backup, swiftly bringing the network back online. Following this, the administrators would have the opportunity to investigate the root cause and prevent similar issues from arising again.
Considering that businesses highly value time and productivity as their top assets, having a proper network backup tool becomes crucial. With this tool, managing these valuable assets is more efficient, helping to avoid unnecessary losses. Therefore, a network backup tool is not just a commodity but a necessity in handling the complexities of modern network environments.
Challenges faced without a proper network backup tool
Organizations encounter substantial challenges that can affect their overall efficiency, security, and competitiveness when they lack a proper network backup tool. These challenges include:
Lengthy and laborious disaster recovery procedures.
Irregular and inconsistent data backups.
Exposure to critical security vulnerabilities.
The absence of adequate version control for configurations.

Insufficient centralized control over backup processes.
To address these issues and ensure the protection of critical data, seamless business continuity, and efficient disaster recovery, a reliable network backup tool is imperative.
What Network Configuration Manager brings to the table
ManageEngine Network Configuration Manager is a comprehensive network configuration and change management solution supporting multiple vendors of network devices, including routers, switches, and firewalls.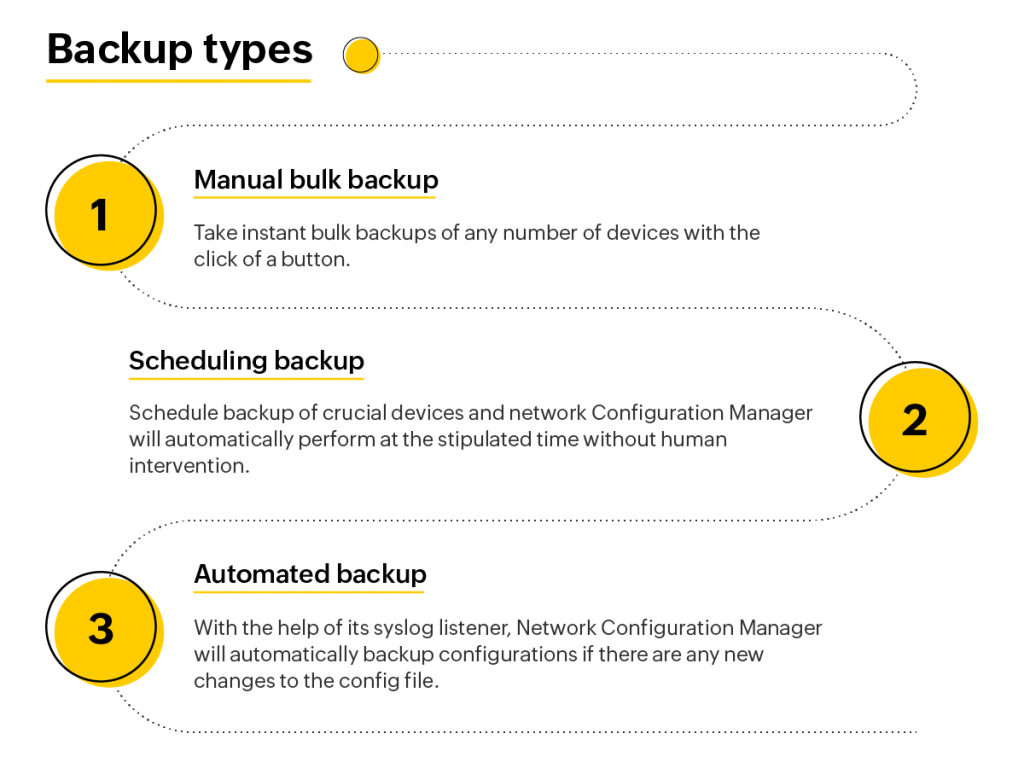 Within Network Configuration Manager as your all-in-one network backup tool, you have three proactive options to manage configuration backups for your network:
Syslog-based automated backups   
Manual backup:
Proactively backing up configuration files before implementing a risky change across the network is essential to ensure safety in case of any mishaps. Having configuration backups in place before making the change allows for quick reversion in case the change results in undesirable outcomes.
With Network Configuration Manager as your network backup tool, you can instantly back up any number of devices or device groups. This includes the ability to select many devices in bulk and back up their configuration files at any desired moment.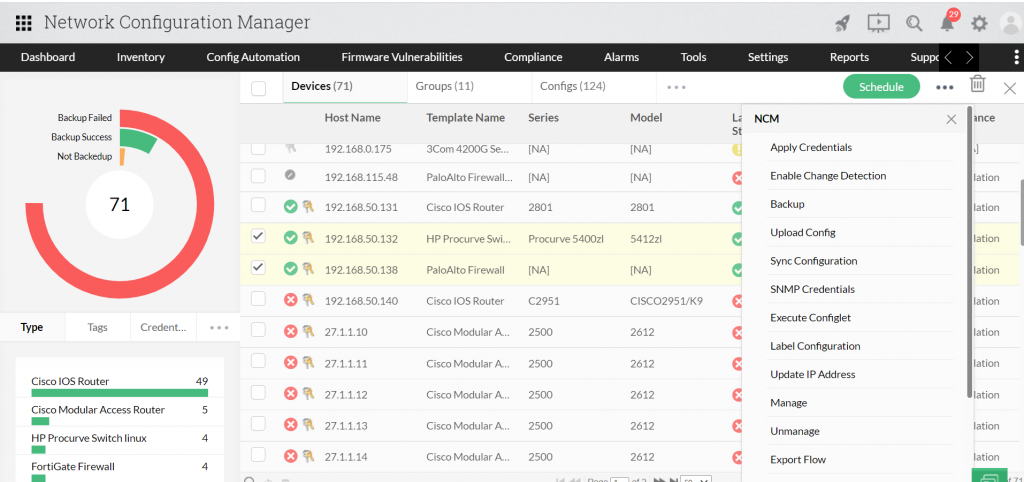 Scheduled backup:
To ensure you always have the latest configuration files, the most effective approach is to schedule regular configuration backups. This is especially crucial in enterprises with a large number of devices, where manually performing configuration backups can consume a significant portion of an administrator's time.
By using ManageEngine's network configuration backup tool, Network Configuration Manager, administrators can easily schedule configuration backups. This automation of an essential yet mundane task allows administrators to focus on more productive and value-added activities, ultimately enhancing overall network productivity.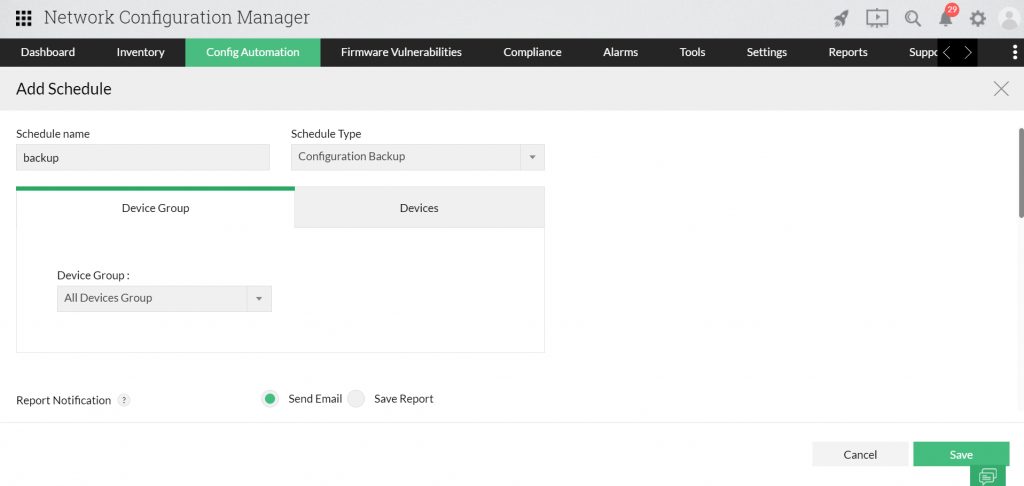 Syslog-based automated backup: 
In a network environment with numerous devices, certain devices like the core router and firewall play a critical role. Any modifications made to these devices can have disastrous consequences for the entire network. To safeguard against such risks, it is imperative to capture and back up any changes that occur in these critical devices, making an automatic network backup tool essential.
The manual monitoring and triggering of backups for each change in these devices would be an almost impossible task. However, with Network Configuration Manager, this process is made seamless. The tool continuously listens to syslog messages from devices, swiftly identifying any changes that occur. As soon as a change is detected, Network Configuration Manager automatically initiates a configuration backup, ensuring the network's crucial configurations are always up to date and protected.
Here is the workflow of the automated backup: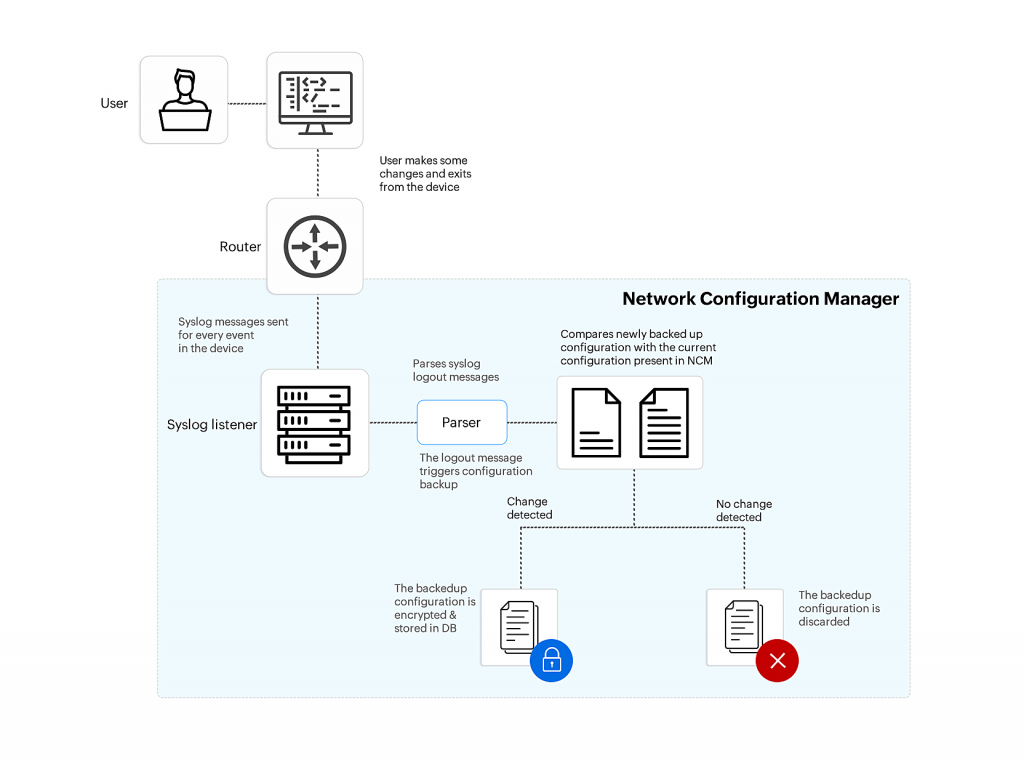 Step-by-step process:
Whenever an admin, operator, or user logs in or out of a network device, the device generates a syslog message.
These syslog messages are sent to Network Configuration Manager's built-in syslog server, which actively monitors for the logout message.
Once a logout message is received, Network Configuration Manager automatically initiates the configuration backup process for the corresponding network device. This is because logging out of a device could indicate that a change has been made to its configuration file.
The backed-up configuration file is then compared to the latest configuration version of that device stored in Network Configuration Manager. It is carefully examined for any new changes. If any modifications are detected, the backed-up configuration file is encrypted and securely stored in Network Configuration Manager's database.
In the absence of any changes detected during the comparison, the backed-up file is simply discarded, as it signifies that no alterations were made since the last backup.
Conclusion:
Network Configuration Manager incorporates industry-standard backup management features and advanced automation capabilities that significantly enhance the working capabilities of your network environment while reducing downtime and offering quick disaster recovery options.
With the variety of backup methods available, administrators can effortlessly upload a stable configuration in a matter of minutes, effectively minimizing RCA time. This leads to a more efficient and streamlined network management process.
Want to try a trial of this network backup tool for 30 days? Download it now!
Do you require a personalized demo of this network backup tool? Fill out this form.