"The IP of that device? Let me look it up in this spreadsheet with a never-ending list of IP addresses! *sigh*"
Sound familiar? Do you often need to block a certain port allowing unauthorized traffic, get the MAC address of the IP taking up most of your bandwidth, or scan for rogue devices entering your network? Then the IPAM SPM add-on is the solution for you!
Monitoring and managing distribution switches, connected ports, and IP addresses (including their availability and the device they're allocated to) can be overwhelming. Maintaining a spreadsheet or a homegrown solution to do all that monitoring and management can be tiring as your network scales.
So, we at ManageEngine bring you the IP Address Management and Switch Port Mapping (IPAM and SPM) add-on, designed especially for NetFlow Analyzer users, which is the best alternative to manually managing your switch ports and IP addresses.
What does the IPAM SPM add-on hold in store for you?
While NetFlow Analyzer gives you comprehensive insights into your network's bandwidth performance and traffic flow patterns, it's also important to inspect and keep track of the IP addresses and netflow switch port associating with the devices that consume your network's bandwidth.
Enabled with real-time scanning and mapping functionalities, the IP Address Management and Switch Port Mapper – IPAM SPM add-on comes with the following features that allow you to manage your network's IPs and switch ports with real-time scanning, holistic reports, and notifications, all within your NetFlow Analyzer console.
IP Address Manager: Analyze the top talkers in your network by getting comprehensive insights into their IP address, such as IP history, availability, and reservation status. The IPAM SPM add-on gives you extensive details to track your IP address space, presenting you with subnet-wise IP address availability, DNS resolution details, an integration with Active Directory, and a curated list of alerts raised by IP addresses under monitoring.
Switch Port Mapper: With NetFlow Analyzer giving you insights into your network traffic flow, this add-on enables users with the Administrator role to block switch ports that are consuming more bandwidth or exhibiting unusual traffic due to a malware attack or hijacking. The add-on also presents you with a complete overview of your switches and ports, including a switch summary and port view.
Rogue Detection: Identify and block rogue devices and intruders causing security breaches or abnormal behavior with the IPAM SPM add-on. Scan your network in real time to view the list of newly discovered devices. You can choose to mark a device as Trusted, Guest, or Rogue.
Highlights of NetFlow Analyzer's IPAM SPM add-on—Look beyond your network flow!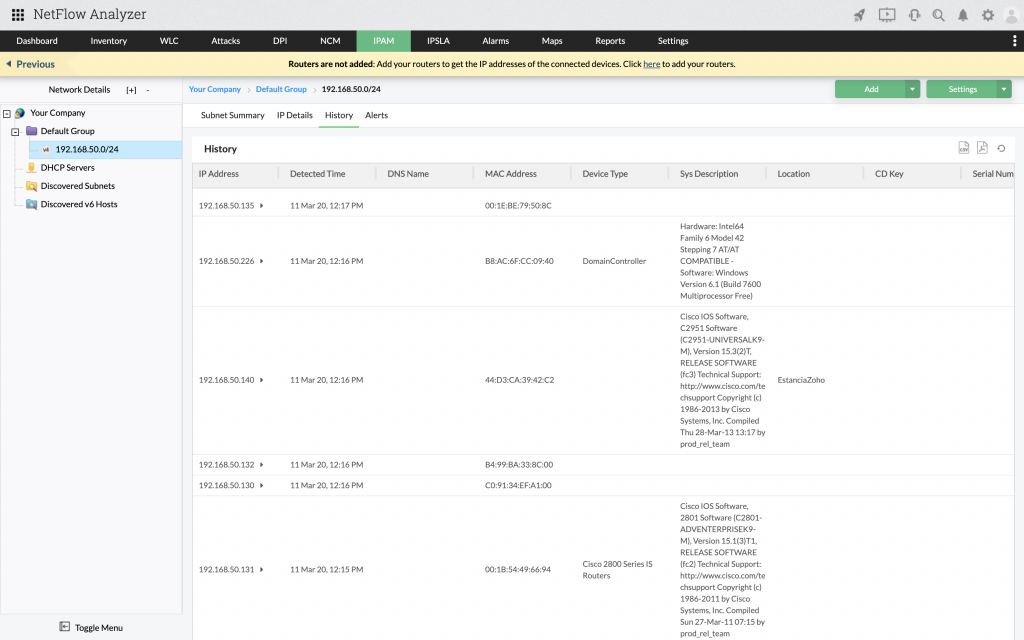 If you're a NetFlow Analyzer user, you have already deployed effective software meticulously built to manage and analyze your traffic, bandwidth, and network flow. Enabling the IPAM and SPM add-on gives you the added advantage of:
Accessing detailed insights on network ports, which allows you to inspect the source and destination devices of your network traffic by knowing what device is connected to which port.
Finding devices in your network by searching by MAC address, IP address, DNS name, or the location of the device.
Viewing details specific to the MAC address associated with the device.
Inspecting details specific to IP addresses, such as availability and MAC address.
Viewing subnet utilization, availability, and performance metrics.
And more!
Don't let IPs and switch ports be a roadblock to your network flow management. Learn more about how the IPAM SPM add-on can enhance your network management, and enable the add-on now!
If you're looking for a solution that offers full-fledged IP and switch port management, you can download OpUtils—an advanced IP address management and switch port mapping solution. OpUtils provides IP address scanning, switch port mapping, rogue detection, remote booting, and over 30 other networking tools that provide comprehensive network resource monitoring.
You can schedule a live demo of OpUtils with our product expert. We would be pleased to answer your questions and uncover all the advanced features OpUtils has to offer or download a 30-day free trial and get started with OpUtils in as little as an hour! OpUtils seamlessly integrates into your existing environment with little to no changes needed to your network infrastructure.