Traditionally, using NetFlow to perform bandwidth analysis on application visibility was primarily based on port and protocol information. The monitoring software identifies applications as HTTP, HTTPS, SMTP, and other protocols based on mapping well-known ports and protocols.
Today, most applications use random ports as well as well-known ports like 80 and 443. In turn,  traditional port and protocol analysis, which was based upon layer 3 information, is no longer very helpful in proving the deep visibility needed to identify the exact application that is consuming bandwidth.
Cisco AVC
Cisco Application Visibility and Control is the combination of multiple technologies found in the Cisco ASR 1000 series and Cisco Integrated Service router generation 2 (G2).  Cisco AVC allows a network administrator to identify the application traffic utilization and performance on his or her network. The administrator can define policies to derive maximum performance on the business-critical applications and control resource usage on the network.
Cisco AVC is capable of:
Providing better application visibility.
Monitoring network performance.
Managing the network in a better way.
Providing better control on the network to the administrator.
Application visibility
Cisco AVC uses next generation deep packet inspection (DPI) technology called NBAR2 (Network Based Application Recognition 2) to identify more than 1,000 applications and subcategories.
With NBAR2, the administrator gets much deeper visibility on application traffic usage like URLs visited and it also helps categorize applications based on similar functionalities like email (Gmail, Yahoo, etc), browsing, and more.
NBAR2 also helps administrators group the applications based on brand, e.g., Microsoft, Cisco, or Citrix. It also identifies peer-to-peer applications, encrypted applications, and other application types.
Performance monitoring
Using Flexible NetFlow (FNF), all the application traffic utilization and performance metrics like jitter, packet loss, latency and ART (application response time) can be exported to the network management software for generating network utilization reports and performing capacity planning.
Flexible NetFlow aids the user in exporting performance data of TCP applications and media-rich information like voice and video. QoS policies and classes are also exported in NetFlow packets, so administrators can identify whether the intended applications are under the right QoS policies applied on the router.
Network management
Based on the performance monitoring information, the network administrator can deploy policies on the network to improve the performance of business-critical applications.
Control
Cisco Performance routing(PfR) allows administrator to select the most intelligent path for a given business-critical application to attain maximum performance.
Advantages of Cisco AVC
Identifies over 1,000 applications, along with their categories
 Provides performance metrics such as jitter, packet loss, latency, and ART
Identifies the QoS policies applied to applications and allows modification of policies
Dynamically chooses the network path based on performance data
Improves the user experience in application usage
Improves capacity planning by providing deeper visibility on application usage and performance
Speeds up troubleshooting and minimizes network downtime
Helps reduce operational costs through network optimization
AVC reports look this: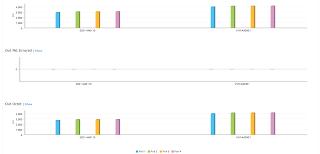 Supported IOS
Cisco ASR 1000 platform: IOS XE 3.4S or above
Cisco ISR G2:  IOS Release 15M&T
You can download NetFlow Analyzer beta version which supports Cisco AVC from here.
Note:
The beta version is available only as fresh install, existing customer and evaluators running older version can not upgrade to this version.
Interested in evaluating the Cisco AVC reporting available in NetFlow Analyzer. Get in touch with NetFlow Analyzer TAC by sending an email to nfs@manageengine.com.
References
http://www.cisco.com/en/US/prod/collateral/routers/ps9343/qa_c67-695977.html
http://www.cisco.com/en/US/prod/routers/avc_control.html#~overview
http://www.cisco.com/en/US/solutions/collateral/ns1015/ns483/ns780/at_a_glance_c45-649117.pdf