Flow based traffic analytics gives better visibility into network traffic compared to SNMP based traffic monitoring. The importance of flow based analysis is increasingly gaining prominence over traditional SNMP based traffic monitoring. As a result, we see a majority of routing & switching devices supporting flow analytics.
Citrix has now joined this bandwagon by adding support for flow based traffic analytics on its Citrix Netscaler device. IPFIX is a major flow export which is now supported by various vendors. In addition to IPFIX, Citrix supports AppFlow.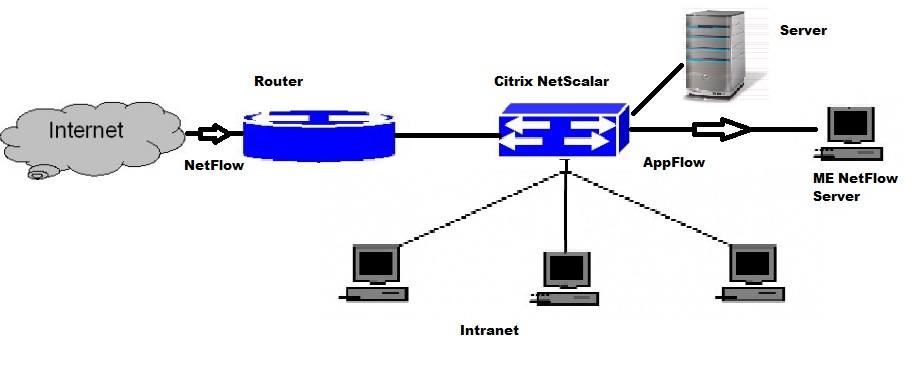 AppFlow:-
AppFlow is a new flow export standard for finding data pertaining to applications & transactions in the network infrastructure. It gives greater visibility to Application traffic utilization and performance.
AppFlow addresses the following requirements of Application Performance Management:
No need for Costly equipment for Application Optimization.
AppFlow Design:-
The AppFlow exported from a device has 2 parts:
TCP based network Information
TCP Based Network Information:
AppFlow provides basic records on network traffic, that is (Source, Destination, Port, Protocol, Flow Volume, Time Stamp, Transactions and Connection ID). Custom IDs are also generated that helps easy identification of Application related traffic.
In addition to this flow record , AppFlow also provides information on RTT(Round Trip Time) which is used to identify latency on the particular application.
Application Layer Data:-
This is an interesting part and the most valuable one when it comes to Application Traffic and Performance monitoring.
Transactional information on each application, per request URL's, user agent and server response time are tightly coupled with network data export. User connection details can also be seen through AppFlow export.
Potential benefits of using AppFlow:-
Following are the benefits of AppFlow export:
Response time for Application and SLA monitoring.

Performance and Availability of Applications

Quickly identifying changes in the network

Tracking Customer Transactions on particular applications

Reports on Top Application, User session, requests etc
NetFlow Analyzer and AppFlow:
Manage Engine NetFlow Analyzer very well supports AppFlow(IPFIX Extended)exported from the devices and helps you to generate the following reports:
http URL specific traffic.

RTT (Round Trip Time)

Application Traffic utilization

Identifying source, destination, port, protocol for applications consuming bandwidth.
For 30 Day Trial, click Download now.
Thanks and Regards
Praveen Kumar