Firewalls act as the first line of defense against external threats and form the core of any network security infrastructure. Cisco firewalls are known for their security features and are available in different types such as stateful inspection, next-gen firewalls, etc. These firewalls do an excellent job at keeping your network safe from threats when paired with a robust firewall monitoring solution.
Understanding Cisco firewalls
Cisco firewalls launched its first dedicated firewall (PIX) in 1994. Since then, several models have come out such as the ASA, next-generation firewalls (NGFWs), and Cisco firepower and they have taken the market by storm. Now, Cisco firewalls are capable of functions such as packet filtering, stateful inspection, IDS, IPS and even offer VPN support. Managing a Cisco firewall requires tool that is fluent in rule management, security auditing, reporting, and VPN monitoring.
Challenges in Cisco firewall management
Like any firewall device, managing Cisco firewalls comes with its own set of challenges. Let us look at a few difficulties with Cisco firewall management: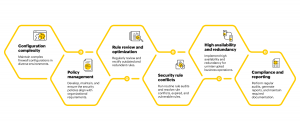 How Firewall Analyzer helps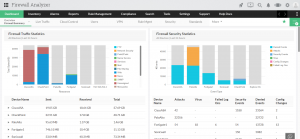 Firewall Analyzer is a comprehensive firewall management and analysis tool that simplifies the management of Cisco firewalls and offers a range of benefits:
Cisco firewall management can be a complex and time-consuming task. However, a tool like Firewall Analyzer simplifies this process with its powerful features, eliminates human errors, and helps you to proactively stay ahead of threats. Download a free, 30-day trial to experience it for yourself.