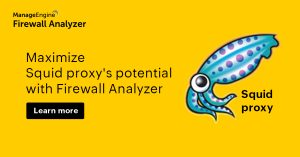 Squid proxies are among the most popular open-source proxy servers preferred by companies across the globe to keep their networks safe and boost performance. Since Squid proxy's release in 1996, companies have preferred it for its high-performance proxying, forwarding, and caching functions.
Squid proxy logs contain information about the HTTP traffic passing through a server. This includes the source IP, destination IP, time of the request, and accessed URL. In the hands of an efficient admin, this data can be used to monitor user-generated traffic, regulate bandwidth consumption, quickly identify security threats, and even troubleshoot network issues.
A study shows that the United Kingdom (18%) and the United States (10%) are among the top countries using Squid proxies for their network needs. Small and medium-sized businesses are the major consumers of this technology, primarily for its flexibility and free license.
Squid proxy has versatile uses depending on how it is employed. It is frequently used for:
Improving network performance by caching frequently used websites and applications.

Encrypting traffic and acting as a layer of protection by restricting malicious data from passing through the server.

Blocking certain types of traffic, such as restricting employees from accessing social media or video streaming platforms.
Why should you monitor Squid proxy logs?
Squid proxy logs are stored in flat text file format, and the amount of data stored can quickly snowball based on the level of detail logged and the volume of traffic handled. Analyzing these logs manually can be tedious and error-prone, especially for large organizations. This is where a tool such as Firewall Analyzer—which can automate Squid proxy log analysis—comes into the picture.
Our solution to your Squid proxy monitoring needs
ManageEngine Firewall Analyzer is a robust network security and traffic analysis tool that offers a comprehensive set of features to help organizations monitor their Squid proxies. The tool provides real-time monitoring, analysis, and reporting of network activity, giving admins valuable insights into user activities, bandwidth usage, and security threats.
Here are some of Firewall Analyzer's squid proxy log analysis and reporting features that help admins gain meaningful insights into squid proxy activity:
Real-time traffic reports: These reports provide a detailed view of the real-time traffic flowing into the network. They include the source and destination of the traffic and the bandwidth consumed. These reports can be used by the organization to identify and respond to any anomalies.

URL report: This report shares detailed information on the URLs that are accessed, the users accessing them, and the frequency and duration of access. This information can be leveraged to enforce web usage policies or block potentially harmful websites.

Website Details report: This report helps you understand the most visited websites, domains, and webpages. You can use this information to know your employees' web usage patterns and block employees who are spending excess time and bandwidth on any particular website (like social media). You can also block the website itself so that no one can access it.

Proxy Usage report: This report displays a comprehensive summary of your proxy usage, including code-wise graphs and HTTP-operation-wise graphs. This information can be used to improve Squid proxy performance. Learn more about Firewall Analyzer's squid proxy reporting feature.
Are you a network security admin struggling to monitor your Squid proxy logs? Try Firewall Analyzer and gain detailed insights into your squid proxy performance, make informed decisions with its in-depth squid proxy reports, and boost your web security. Download the 30-day free trial now or signup for a personalized demo.