With a majority of the workforce now adopting a work-from-home routine, maintaining the normal functioning of your network and ensuring compliance with industry standards is not an easy job. When employees are working remotely, it is especially crucial to ensure network compliance with industry standards and internal policies to secure your network from cybersecurity breaches.
Causes of compliance violations
The sole purpose of compliance checks is to ensure an organization is abiding by the laws and regulations that apply to it. The true impact of a compliance breach is complicated and multifold. Penalties for compliance violations are exorbitant and sometimes lead to serious legal consequences.
Here are five major causes of IT compliance violations:
1. Credit card data theft:
In the last decade, PCI compliance violations have cost hundreds of companies millions of dollars in penalties. The primary causes of PCI compliance violations are remote access vulnerabilities, inadequate configuration standards, and the management's negligence in maintaining a secure network.
For example, back in 2018, British Airways confirmed a breach that disclosed the personal and financial information of more than 380,000 customers. British Airways found evidence of modified scripts on its payment forms. The primary reason for the breach may have been the company's lack of two-factor authentication when accessing customer data. This breach could have been avoided if the access to sensitive data was restricted to authorized employees, or British Airways had maintained a more secure network.
2. Internal accounting errors:
Adhering to the Sarbanes–Oxley Act (SOX) is mandatory for all publicly owned American companies. Analyzing and preserving accounting logs, and conducting internal control reviews, are two of the most important components of a SOX compliance audit. For IT organizations, audits require detailed records on security, accessibility, change management, and data backup.
You should always ensure data integrity by checking the data received from another device has not been tampered with by any third party. It's also important to maintain proper records, as they're necessary for audits.
3. Defense information violation:
In the defense sector, even a small breach can cause unimaginable damage. According to the Defense Information Systems Agency (DISA), defense agencies and their employees must comply with the Security Technical Implementation Guide (STIG) in order to implement the needed security requirements. STIG contains guidelines to prevent data breaches and boost network security.
Standardizing and auditing network configurations, and performing regular checks for compliance violations, will make it easier for network security teams to stay compliant with such critical regulations.
4. Patient information disclosure:
In 2014, a hospital employee in Texas was sentenced to 18 months in jail for the wrongful disclosure of private health information. The employee had possession of the patient's medical records and revealed confidential medical information about his medical condition. The employee could have misused this data for personal gain, like illegal purchase of prescription drugs or insurance fraud.
This case clearly explains how crucial it is to comply with the Health Insurance Portability and Accountability Act (HIPAA), and the consequences of violating it. The mishap above could have been avoided if the organization had better regulatory reports, proper log management, or a more secure network in general.
5. Internal policy mishap:
Many organizations rely on third-party service providers to carry out business requirements. For example, a video call platform or an online conferencing application is necessary for conducting online meetings and webinars. These third-party providers will have complete access to an organization's employee or customer information. If the third-party service misuses that data, it would be a breach of customer trust and could lead to a data breach.
It is highly important to ensure that any third party your organization works with abides by the necessary compliance policies. Draw up guidelines that are in line with your internal data sharing policies, and ensure the service providers abide by them.
How does remote work complicate compliance?
The COVID-19 pandemic has increased the risk of compliance violations since employees are using their own devices to access confidential work documents. Apart from this, the remote work model has also forced network administrators to regularly make changes to network configurations and firewall rules to accommodate all business requirements. A faulty change in either a configuration or a rule could lead to vulnerability and cause any one of the risks discussed above. However, if admins use tools that can warn them about the impact of a configuration or rule change, they can avoid such mishaps in their network.
Network Configuration Manager and Firewall Analyzer help network administrators abide by industry-specific compliance policies, automate compliance audits, and maintain a fully secure network. In addition, admins can use these solutions to:
Automatically run compliance checks for backed-up configurations.
Create custom policies based on specific conditions, and automate compliance checks.
Schedule device configuration backups, track user activity, and spot changes by comparing configuration versions.
Analyze the usage and effectiveness of their organization's firewall rules and fine-tune them for optimal performance.
Implement role-based access controls.
Generate reports and alerts every time a rule or policy is violated.
Schedule mock security audits to ensure their organization is audit-ready.
The compliance policy dashboard in Network Configuration Manager:
The compliance policy dashboard in Firewall Analyzer: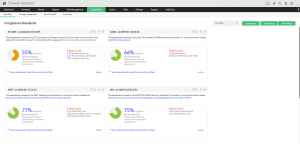 Take control of your entire network, and be aware of even the smallest changes that are made. Be compliant, and secure your network from all possible anomalies. Start a 30-day trial and experience these solutions yourself.
Network Configuration Manager is a part of ManageEngine's ITOM suite of solutions. Apart from configuration management, this suite also offers solutions for streamlining network monitoring, server monitoring, application monitoring, bandwidth monitoring, firewall security and compliance, and IP address and switch port management. This is why ManageEngine's ITOM solutions are the ideal choice for over one million IT admins worldwide.