We are excited to launch the all new user interface for ServiceDesk Plus Cloud, the flagship ITSM software from ManageEngine.
This latest UI update takes cues from the minimal design language and features restructured layouts that puts the user at the center of every module interaction. The new user experience is based on four dimensions:
Context: The new UI includes accessible search that enables you to find information faster, review sorted lists of recent items easier, and evaluate custom views of tickets efficiently before saving them.

Space: The new design show significantly more details by taking advantage of screen space better with slide-out menus for Notifications, Quick Actions, and New Requests. Additionally, the dashboard supports full-screen mode to project the service desk's current state in large displays for the entire team.
Focus: The new UI increases the visible working space for users and technicians, providing more focus on the content. The new layout features borderless sections within tickets, and repositioned menus across modules.
Aesthetics: Flat-line icons and pastel highlights display a contemporary look to your service desk, and give a sense of ease and comfort when technicians and service desk staff provide IT support.
This redesign comes with multiple new features, as well. Some of them include:
Kanban-based ticket management
To make ticket management more agile, we've introduced the Kanban view for the Requests module. The Kanban view offers a visual summary of the incidents and service requests in a single window to maximize efficiency, and requests can be easily moved between statuses, priorities, or technicians by drag-and-drop.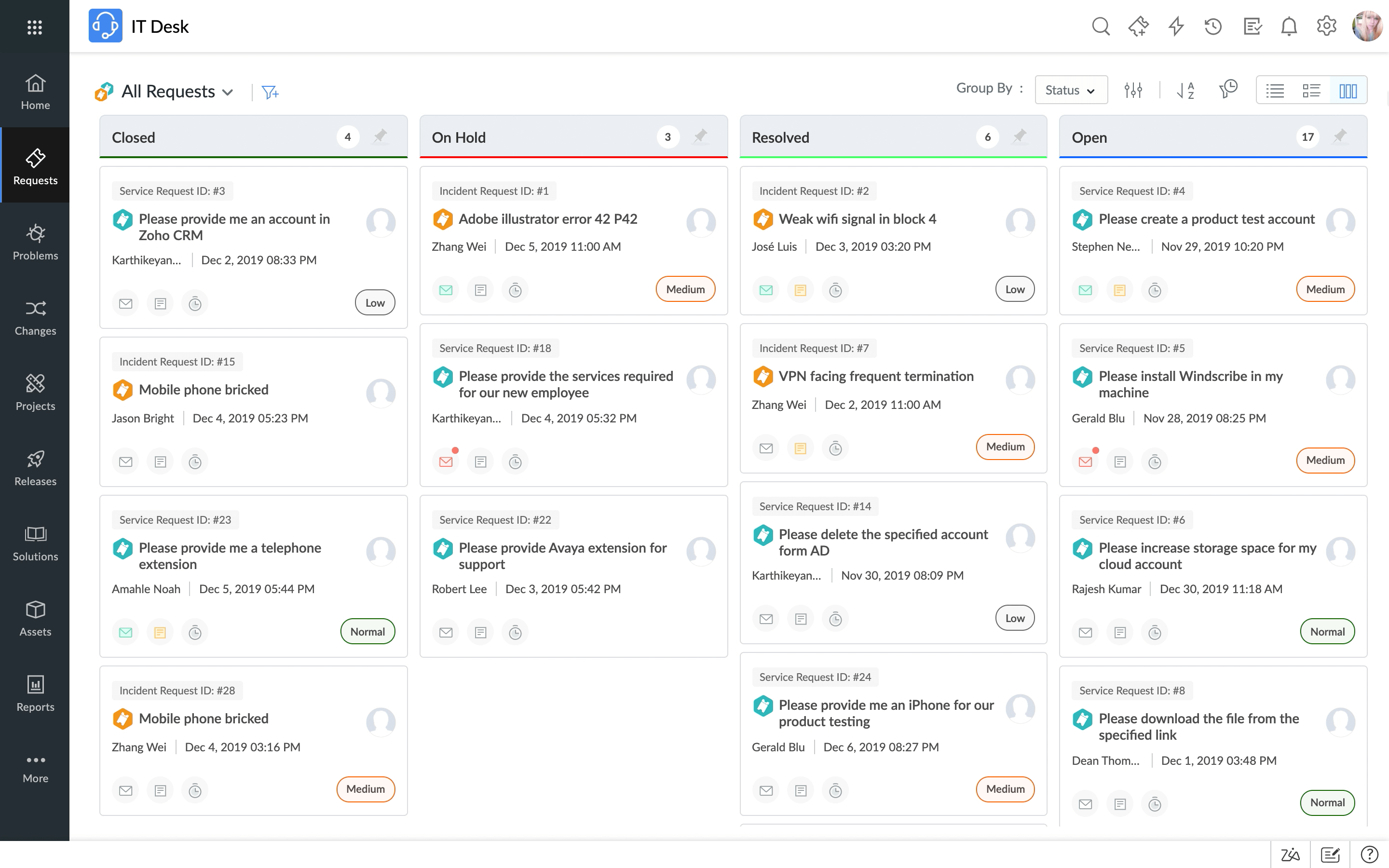 Enhanced dashboards powered by Zoho Charts
With the new design, the dashboards feature a refreshed look harnessing Zoho Charts. The upgraded dashboards now allow technicians to view their service desk data in multiple chart types instantly. The interactive charts also enable you to quickly gauge anomalies, and gain insights with a couple of clicks. The updated dashboards support full screen mode as well to project the current state of affairs to the entire team.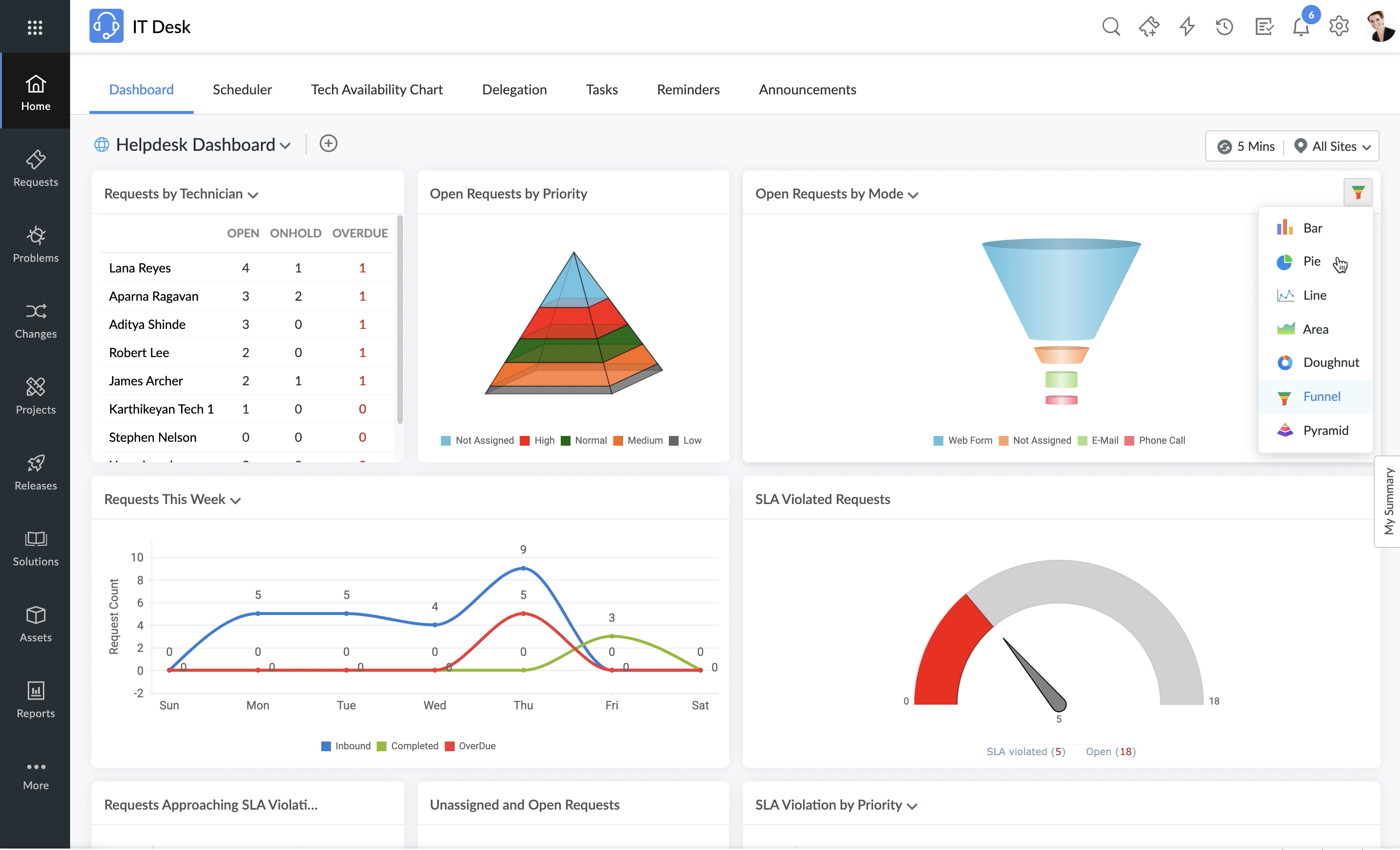 An adaptive service desk layout
The new user interface provides layout personalization options to the service desk layout. The navigational menu can be placed either on the top of the screen, or to the side, for the technician's convenience. The new interface features multiple pastel color options for highlighting information across all modules while displaying pleasing aesthetics.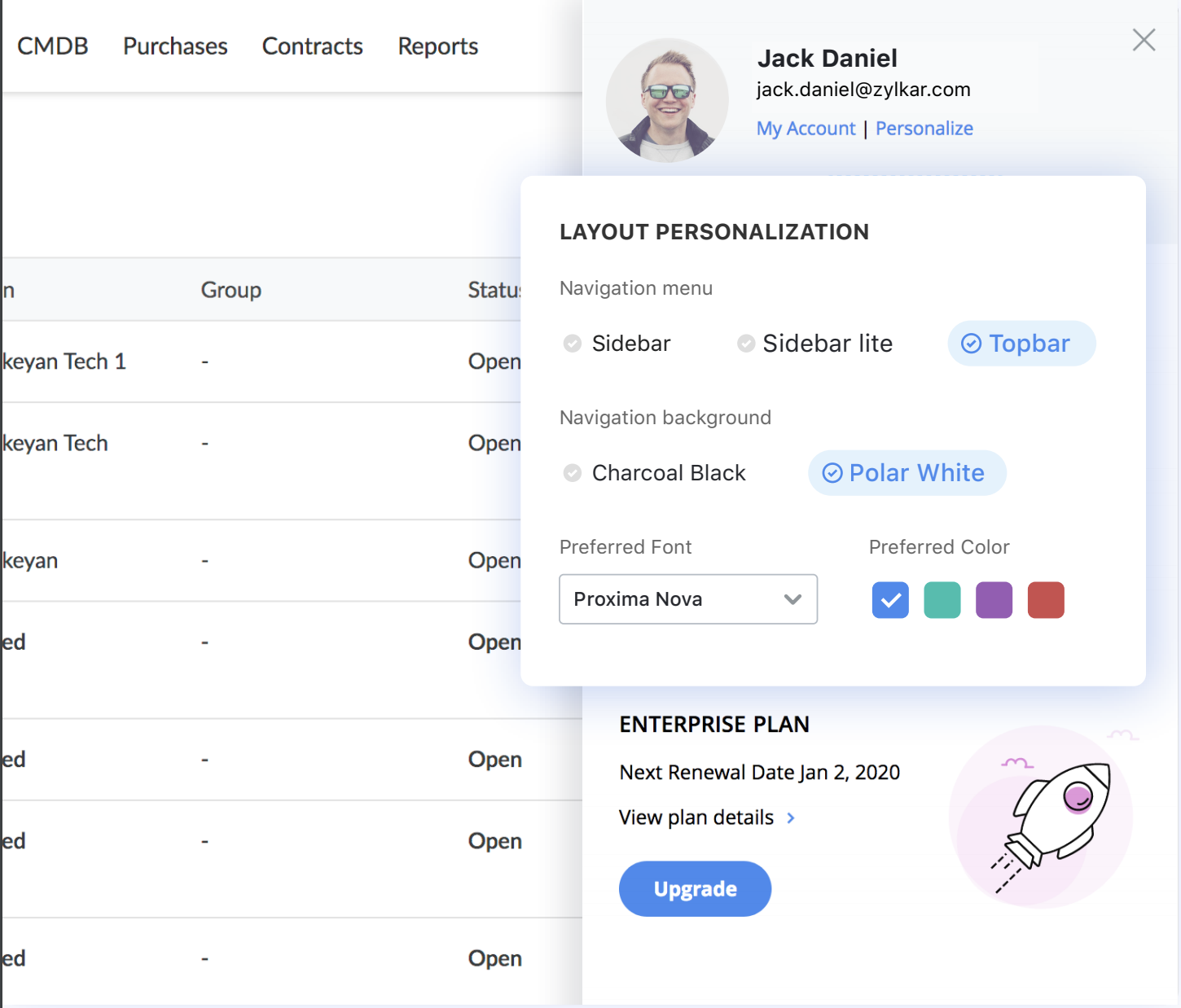 Further, there are more ServiceDesk Plus upgrades that smooth the user experience, including table enhancements, a unified search experience, and better notification management. To discover more about all the updates, please visit our website.
Experience the new UI of ServiceDesk Plus Cloud through a fully functional 30-day free trial. Learn how ServiceDesk Plus can help streamline your IT service delivery on-premises or in the cloud. Schedule a free personalized demo.