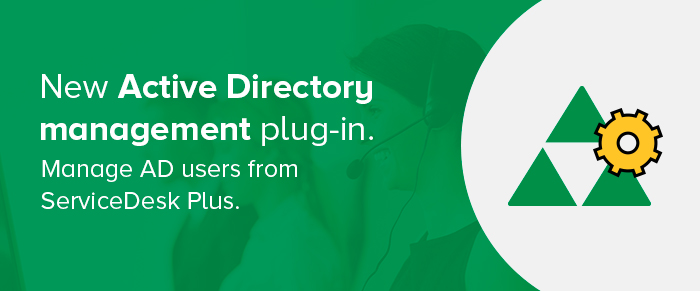 ServiceDesk Plus users can now use an AD management plug-in to create and manage Active Directory (AD) users from the ServiceDesk Plus console. This plug-in will automatically add all AD user management actions to this help desk tool's service catalog. Beyond technicians logging into ServiceDesk Plus to execute requests, regular users can access the tool to raise requests for user management actions.
 This plug-in enables the following features in the ServiceDesk Plus console:
Simultaneous user account creation for multiple platforms—including AD, Office 365, Exchange, G Suite, and Skype for Business—using custom-made templates.

Password reset for AD accounts.

User account unlock.
And that's not all! This plug-in also allows AD administrators and help desk technicians to log on to ADManager Plus, ManageEngine's integrated tool for AD, Office 365, Exchange, G suite, and Skype for Business (Lync). Service desk technicians can perform the above actions from the ADManager Plus console. However, privileged help desk technicians and administrators can perform all sorts of complex actions from ADManager Plus, including access management (NTFS permissions and group memberships) and AD reports generation. Learn more.
Want to see these features in action? Sign up for a free, personalized demo. Ready to start managing AD from ServiceDesk Plus? Download the plug-in.
Senior Product Marketing Specialist