Now then in this new year I want to make it simple on Self service portal setup that most of the users get back to us with.
Please take note that both the users and the requestors log into the same URL and if you have linked ServiceDesk Plus with Active directory then the users can simply use their username / password to log into ServiceDesk Plus to get a status track on their requests.
The following is how a self service portal looks for a requestor/user.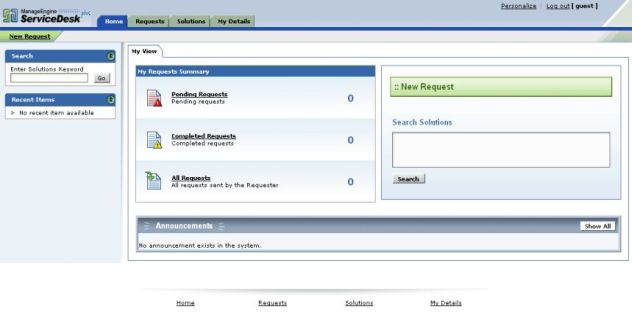 And as for technicians logging with their credentials, they will be led to a portal where they would be able to see requests raised by users.
Hence in other words, ServiceDesk Plus adapts itself according to the access mode granted for each username by the administrator i.e either as a technician or user/requestor.
I would be glad to write more on such simple yet complex look alikes surrounding ServiceDesk Plus. Well, all that I can say now is ?.?expect more? 🙂
For more information on this, kindly click here.
Related posts :