Patch Manager Plus recently joined ManageEngine's flagship unified endpoint management software, Desktop Central, in SoftwareWorld's list of Top 10+ Best Endpoint Protection Software in 2020. In the platform's review of several alternative tools, both ManageEngine products received a score of 98/100.
SoftwareWorld reviewed Patch Manager Plus based on a number of factors, including the benefits it offers businesses, unique features, technical details, languages, pricing, and the support offered to its users. Patch Manager Plus was also praised for its Test and Approve feature, a unique tool that enables admins to test out patches prior to their deployment in a network. The review describes how the third-party patch management feature helps save time by managing updates for third-party applications in a single interface.
SoftwareWorld is a software discovery and review platform that helps readers make well-informed decisions in choosing the right business tools available in the market today. Over 70 different categories of software can be found on this platform, including enterprise resource planning (ERP) software, cybersecurity, cloud management, and compliance monitoring software.
 In addition to product reviews, SoftwareWorld also conducts independent market research with its own in-house team of experts, who carefully analyze and profile products from a diverse set of vendors and prepare extensive surveys for the best tools in each category of business apps, i.e., IT management, endpoint protection, server tools, etc.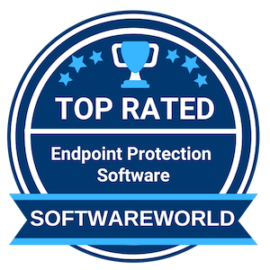 Research Source: Top 10+ Best Endpoint Protection Software In 2020
Read the full review of Patch Manager Plus today to learn more about securing network endpoints with patch management!