Want to cultivate mobility in your organization without compromising data security? Check out this new e-book to find out how mobile device management (MDM) can help.
To effectively manage your enterprise setup, it is important to understand the entire mobile landscape, including enterprise-owned and user-owned devices (the latter are also known as bring your own device, or BYOD). To give new users a comprehensive introduction to MDM, this e-book covers the following topics: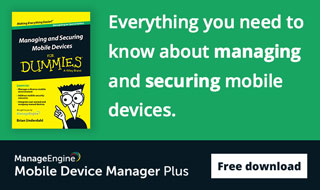 Creating device management guidelines
Overcoming mobile security threats
Making the most of BYOD and corporate-owned devices
From the book:
"Organizations are moving to mobile devices to serve the communication and computing needs of their people. These devices enable greater mobility, faster responses, and higher productivity. At the same time, mobile devices present new challenges in areas such as compatibility, security, access, and device management."
"The rapid growth of mobile technology has created some new concerns for enterprise. Unlike the traditional workstation that typically resided within your physical workspace, mobile devices can be used from a wide variety of locations, thus making controlling access to corporate resources and securing apps far more complicated."
"Rapidly evolving mobile environments demand that organizations have the ability to adapt and adjust quickly to remain competitive while ensuring the security of their assets and the data they store."
Download this free e-book now for the MDM primer that will jumpstart your mobility initiative.